There are many possibilities for landscaping around an above ground pool. You can use your imagination and creativity to turn your regular pool into an outdoor oasis, giving your backyard the appearance of a tropical paradise. You can enhance the beauty of your above ground pool area with lush foliage, vibrant flowers, creative decking, and elegant seating areas. This article will provide you with some of the most popular above ground pool landscaping ideas to help you design a beautiful outdoor area that you will feel proud to display.
How Do You Make An Above Ground Pool Nice?
To enhance the appearance of an above ground pool, it is recommended to incorporate landscaping elements such as plants and flowers. To increase privacy and provide shade on sunny days, consider planting trees, shrubs, and other foliage around the edge of your pool. You can make your pool the most attractive in the neighborhood by adding colorful floral arrangements that droop over the pool's edge. To increase stability and enhance the appearance of your pool, consider incorporating hardscaping elements such as rocks and pavers.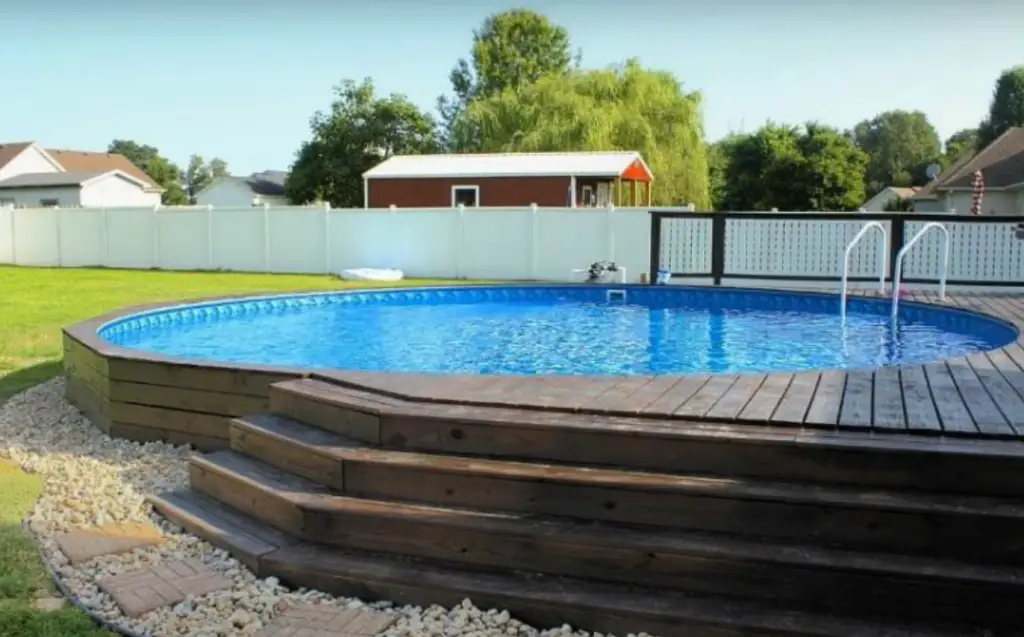 Here's another great idea to enhance your above-ground pool landscape: consider adding decking to your overall design. A wraparound deck can serve as a stylish pathway encircling the pool and also offer your guests a spot to unwind and sit in-between swimming. In addition, you have the option of incorporating seating spaces for relaxation, and tables for dining or enjoying card games. Consider adding outdoor lighting fixtures to your above ground pool to create a cozy atmosphere.
You can enhance the look of your above ground pool landscaping by incorporating decorative elements such as statues, fountains, and waterfalls. Adding these elements to your pool area can enhance its appearance and create a more welcoming atmosphere. You can design an amazing outdoor area that will bring you and your family joy for many years by using your imagination and resourcefulness.
What Is The Best Thing To Put Around An Above Ground Pool?
There are different ways to landscape around an above ground pool that can enhance the look and usefulness of your outdoor area.
Using pavers or stones around the pool is a popular option. Pavers and stones offer a wide range of options in terms of size, shape, color, and texture, making them an excellent choice for crafting unique designs and walkways. They can also be used to create a retaining wall or raised seating area near the pool.
Using plants and shrubs around the pool perimeter is also a viable option. This will create a natural look with pops of color and texture, as well as provide privacy if desired. Around an above ground pool, there are various types of plants that can be used including evergreens, flowering shrubs, grasses, and shade-loving plants.
You can enhance the beauty of your above ground pool area by including outdoor living spaces such as a deck. You will have ample space to entertain or unwind by the pool. Decks can be constructed in various sizes or shapes using either wood or composite materials.
Adding lighting to your above ground pool landscaping can enhance the ambiance during evening hours and make it more welcoming. There are different kinds of lights that you can choose from including string lights, hanging lanterns, and landscape lighting. The lights will make it easier to enjoy the pool at night and create a warm and inviting atmosphere. [1]
Above-Ground Pool Ideas
Having an above-ground pool in your backyard is a fantastic option to beat the summer heat and have fun in the sun. But, they don't have to look like an eyesore!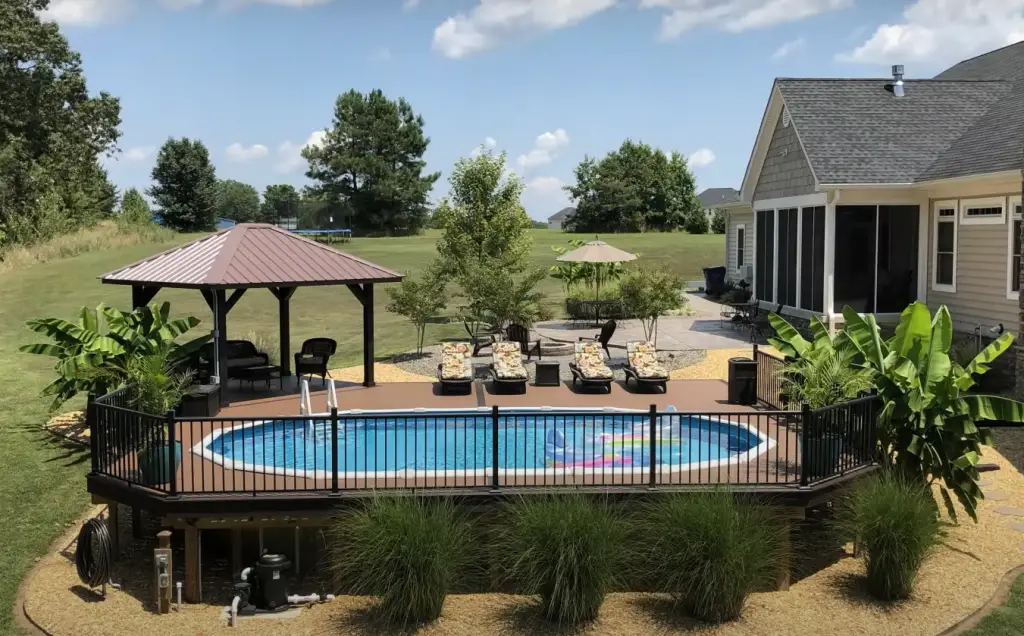 You can enhance the appearance of your above-ground pool area by implementing imaginative landscaping ideas.
Above-Ground Pool With A Colorful Garden
One simple way to enhance the appeal of the space around your above-ground pool is by designing a delightful garden with vibrant colors. To create a garden that works with the pool, start by using plants that are not likely to be damaged by splashing water or other outdoor elements. Roses and daisies are excellent choices for adding texture and color to the area around your swimming pool because they are hardy perennials. Pair them with a few evergreens for color in winter and you'll have a garden that looks inviting year-round. To create a peaceful atmosphere and draw in nearby animals, you may want to think about incorporating water features such as fountains or bird baths. You can even install a waterfall near the pool to create a soothing and relaxing sound. Finally, don't forget to use lighting to accentuate your colorful garden and extend its visual appeal into the evening hours.
Above-Ground Pool With Waterfall Deck
You can give your above-ground pool a unique and luxurious resort-like vibe by adding a waterfall deck. The waterfall feature and surrounding plants will provide a stunning backdrop that's sure to impress guests. To complete this project, you will be required to construct a deck surrounding the pool perimeter and install a water pump system to produce the desired waterfall effect. You can even add a few plants near the deck for extra flair! If you're looking to make your pool the envy of your neighborhood, this project is definitely worth considering.
A Sophisticated Brick Walkway
Adding a brick walkway is a great way to enhance the sophistication and style of your above ground pool area. If you want to keep things simple, line the walkway with some flower pots or a few small trees for a touch of color.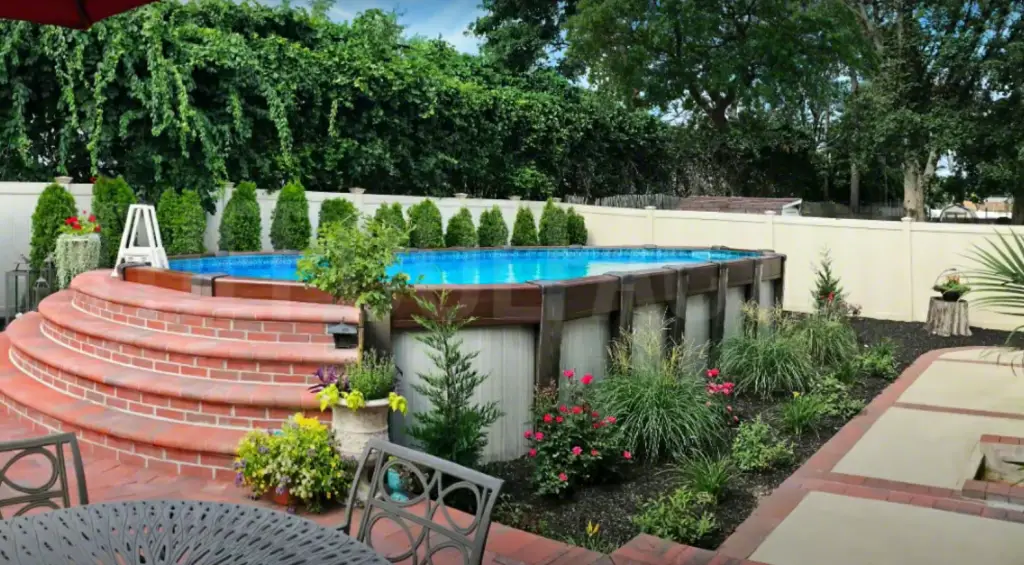 To make it more interesting, consider adding curves or patterns in the brickwork so that it stands out from other landscaping designs. If you have the space, a brick pathway leading to your pool area can create an inviting atmosphere and make it easier for guests to access your pool without having to worry about stepping on wet grass or dirt. [2]
The Gorgeous Gazebo
Consider installing a beautiful gazebo for a luxurious landscaping idea for your above ground pool. Whether you choose to build one or buy one pre-made, the addition of a gazebo will add a high-end feel to your outdoor oasis. You can select wood, metal or stone as your material and decide whether you want an open layout or one with enclosed walls for more seclusion. You can create seating areas around your gazebo to enhance the look of your pool area. If you are looking for an extra element of sophistication, consider installing a small outdoor kitchen in one corner. This will allow you to entertain guests and family while preparing meals close to the pool!
Minimalist And Compact Above-Ground Pool
For maximizing a small above-ground pool, consider implementing simple and space-efficient landscaping techniques. Keep it simple by surrounding the pool deck with small shrubs or flower beds. Or create a walkway from your home to the pool and plant large potted plants along either side for a lush look. You could also use hanging plants from the pool's edges to create a unique look while giving yourself more space around the pool.
This will give you a refreshing backdrop without making the pool feel cramped.
Lovely Lattice
Lattice is an excellent way to enhance the appeal of an above ground pool when landscaping. You can choose from a variety of materials including redwood or vinyl, painted or stained in your choice of color. It can be used as a wall to separate the pool area from the rest of the yard or as a decorative frame around the pool. If your pool is located close to a patio or deck, lattice can be used as an attractive divider between the two areas. As an added bonus, trellis designs can also provide privacy when you want to take a dip!
Above-Ground Infinity Pool
Consider getting a large infinity pool if you want an above-ground pool that blends in seamlessly with the surrounding landscape. These pools create the illusion of being connected to the horizon with their built-in filtration and overflowing edges. Infinity pools are perfect for placing near terraces or patios for a relaxing escape from the heat. To make your pool blend into the landscape, consider using pavers or decking to create a space that looks natural and inviting. Adding planter boxes around the perimeter will help mask any visible edges of the pool and add a soft, green touch to the area. You can also use tall shrubs or trees to provide privacy and further enhance the look of the pool. With a bit of creativity and careful planning, you can create an infinity pool that will be an eye-catching part of your backyard oasis. [3]
A Cozy Backyard Spa
Remember to include a backyard spa when you plan the landscaping for your above ground pool. When the weather's nice, why not relax in your own backyard oasis? An outdoor spa is perfect for that extra bit of luxury. Try adding some comfortable seating and a fountain to create an extra inviting atmosphere.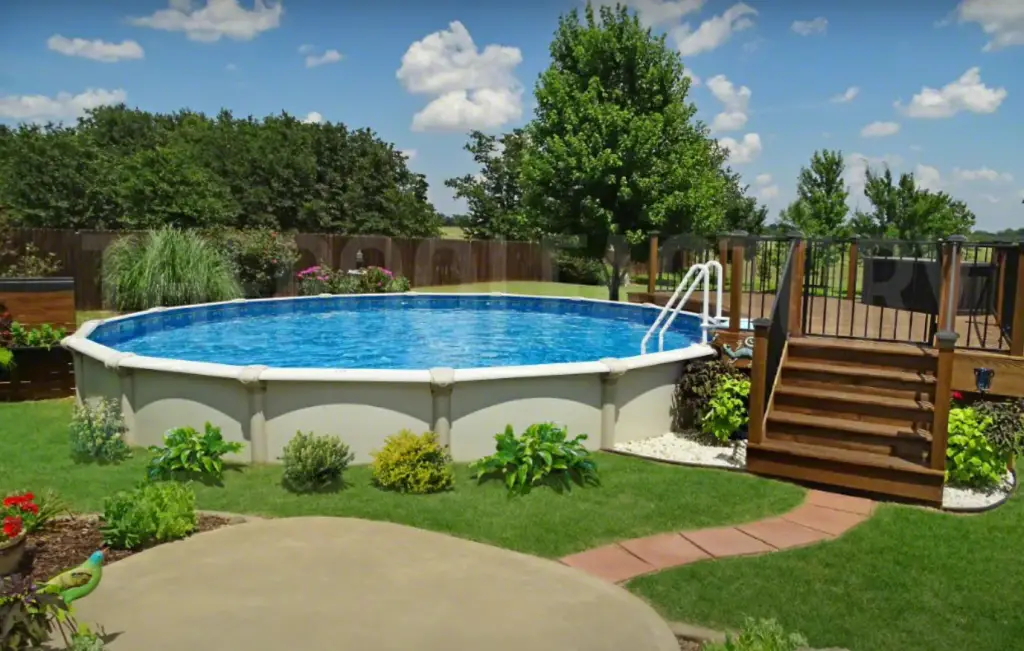 Add some privacy with a few trees or tall plants, and you'll have a relaxing retreat that's perfect forging around. You can even consider adding some outdoor lights to enjoy your pool area in the evening hours. With all of these beautiful landscaping ideas, you'll be able to create an outdoor oasis that everyone will love.
Bridge To Bliss
Incorporating above- ground pool landscaping into your outdoor living space can be done effectively by adding a bridge to bliss.Whether you are looking for an elegant way to access the pool, or just a little more visual appeal, a bridge is sure to fit the bill! Consider adding some potted plants along the edges of the bridge and adding colorful lighting for a night-time effect. Pergolas and lattice designs can also be used to create an even more eye-catching design. The options are endless for creating a bridge that will instantly add beauty and charm to your backyard.
Glowing Pool Decks
Adding a pool deck to your above-ground pool can be a great way to personalize and enhance your backyard. Consider adding an illuminated pathway along the edge of the deck for a fun accent that will light up at night. You can also use glowing stones on the steps leading down into the pool or around the pool itself for a stunning visual effect. By adding subtle touches, your above-ground pool will look more inviting, especially when the lights are turned on at night.
Fancy Poly Pool
If you want to really impress your friends and family with a show stopping above ground pool deck, consider building one in polygonal form.
To create a poly pool deck, use paving stones or bricks arranged in the desired shape and size. Use mortar to secure them in place, then fill any gaps with sand or gravel. The end result should be a solid pool deck that won't shift or crack under the weight of its users. For an extra touch of luxury, you can also add decorative tiles around the perimeter of your deck. Applying this treatment will make your pool deck look sleek and distinct from other decks in the neighborhood. Adding landscaping around your deck can also help to enhance its beauty. Plant colorful flowers and shrubs around the perimeter to give it an extra touch of life and color. You can also add outdoor furniture to create a luxurious area for relaxing and entertaining by the pool.
[4]
Desert So Divine
Creating a pool landscape in the desert can be a challenge, but with the right plants and design elements, your above ground pool area can be filled with life. A great way to enhance your pool is to incorporate cacti and succulents into the design. Their colors pop against the earthy tones of the desert landscape, while their thick foliage is a perfect backdrop for your swimming oasis. For additional greenery, consider adding in some wild grasses or ground cover plants.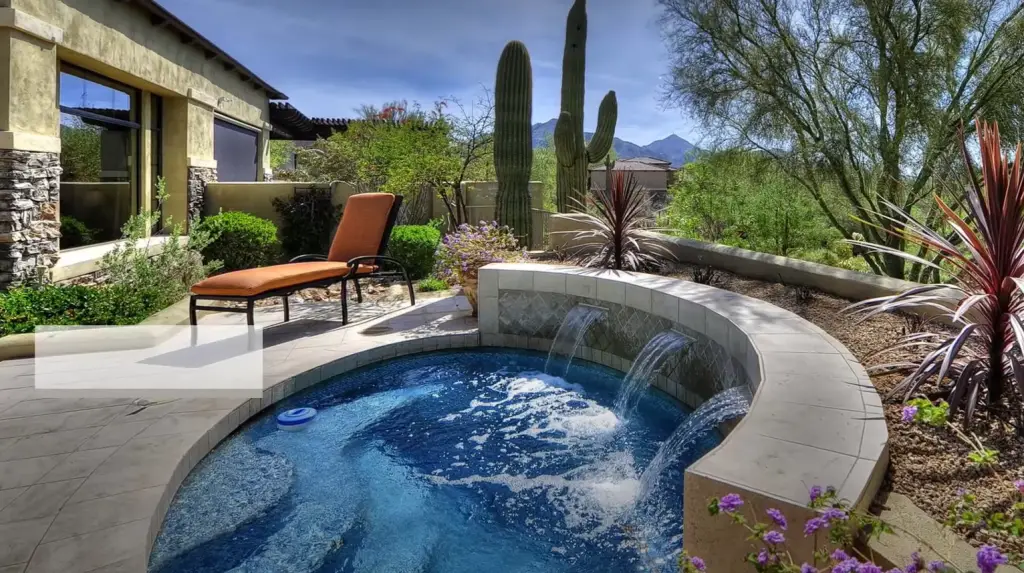 Adding these will not only enhance the appearance of the area but also prevent soil from eroding and keep sand out of your pool. Finally, don't be afraid to use materials like rock and gravel as accents in your design. This can be a great way to add visual interest while also complementing the natural elements of the desert landscape.
The Glass And Decorative Wall Combo
A combination of a glass wall and decorative elements added to your above ground pool landscaping can provide both aesthetic and functional benefits. On one hand, the glass provides a modern look while the decorative wall allows for more visual interest. To achieve a seamless transition between the two sides of an infinity edge pool, it is recommended to use the same material on both sides. You can also use the wall to hide any equipment, such as pumps and filters, or to create a focal point within the space. The options for customizing this look are endless!
Rooftop Pools
For those who live in an area where backyard pools aren't feasible, rooftop pools may be the perfect solution.
If you want to make your rooftop pool area look more attractive, you may want to consider planting high-altitude plants, like succulents, cacti, and other types that can withstand drought. Hanging planters can add a splash of color to the area and create privacy from any nearby neighbors or onlookers. For safety reasons, be sure to surround your pool with a wide railing that meets local building codes. With some creative landscaping, your rooftop pool can be the perfect escape.
Above-Ground Pools Provide Many Benefits
Having an above-ground pool can bring several advantages to your outdoor area. Compared to traditional in-ground models, they are cheaper to install, need less maintenance, and are easier to clean. Additionally, you don't have as many safety risks associated with an above-ground pool compared to an in-ground one. [5]
---
FAQ
What is the best thing to put on the ground around an above-ground pool?
The best thing to put on the ground around an above-ground pool is a non-porous material such as gravel or pavers. This ensures that water can easily drain away from the pool and will not cause damage or staining. Additionally, adding a layer of sand underneath the paving materials can help to prevent shifting and sinking over time.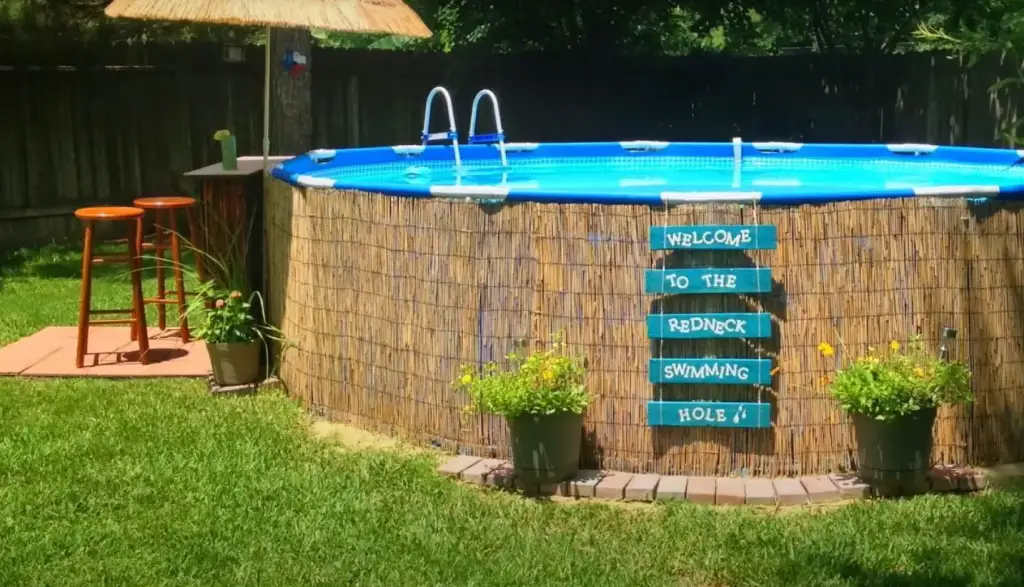 Also, it may be helpful to add an edging material such as brick or plastic around the pool's perimeter for added safety and aesthetics. However, it is important to ensure that any edging materials are securely installed and will not cause a tripping hazard.
How do you decorate the side of an above-ground pool?
When decorating the side of an above-ground pool, it is important to keep safety in mind. Make sure there are no sharp edges or corners that could injure swimmers when they enter or exit the pool. Here are some ideas for how to add decoration and visual interest around your above-ground pool:
Install a fence or railing around the pool. This will provide an attractive border, while also preventing people from accidentally stepping into the pool area.
Add some pots of colorful flowers or shrubs to give your backyard a vibrant look.
Hang string lights or lanterns around the perimeter of the pool for a romantic glow in the evening.
Plant a row of evergreen trees or bushes along the edge of the pool to provide privacy and shade.
Use landscaping rocks, stones, pavers, or bricks around the perimeter of the pool to create an attractive border.
Place furniture such as lounge chairs, tables, and umbrellas around your pool area to provide guests with comfortable seating.
Place potted plants, sculptures, or decorative items around the edge of your pool to give it a fun and inviting atmosphere.
Install an outdoor shower near the pool for easy clean-up after swimming.
Hang wind chimes or other decorative objects from the surrounding trees or fence posts to add some charm to your backyard.
Incorporate a wooden deck or gazebo with seating for guests to enjoy the pool area in comfort and style.
Is it better to mulch or rock around a pool?
One of the crucial decisions to make when landscaping around an above ground pool is choosing between using mulch or rocks as ground cover. Both have their merits and drawbacks, so depending on what you want your landscape to look like, either option could be right for you. If you're looking for a natural look, mulch is the way to go. It's soft, and it easily blends in with the surrounding environment. However, if you want a more modern look or are worried about weeds growing around the pool, rocks might be the better choice. Rocks provide a long-lasting, durable barrier between your pool and any nearby plants and animals. They also help keep the area around the pool free of weeds, and they are available in a wide range of colors and sizes.
How can I make my pool look expensive?
Incorporating landscaping into the design of your pool is one of the best ways to make it look impressive. Adding plants, trees, and shrubs can give your above ground pool a luxurious feel and add to the overall aesthetic of your backyard. A few ideas for sprucing up your pool's surroundings include:
Adding a rock wall or stone feature to the perimeter of your pool
Installing attractive rocks or stones around the edges of the pool and nearby areas
Plant trees and shrubs that match the size and shape of the surroundings.
How to make an above-ground pool look like an inground pool?
There are multiple ways to give an above-ground pool the appearance of an inground pool. You can use landscaping materials such as rocks and stones to create a natural looking setting.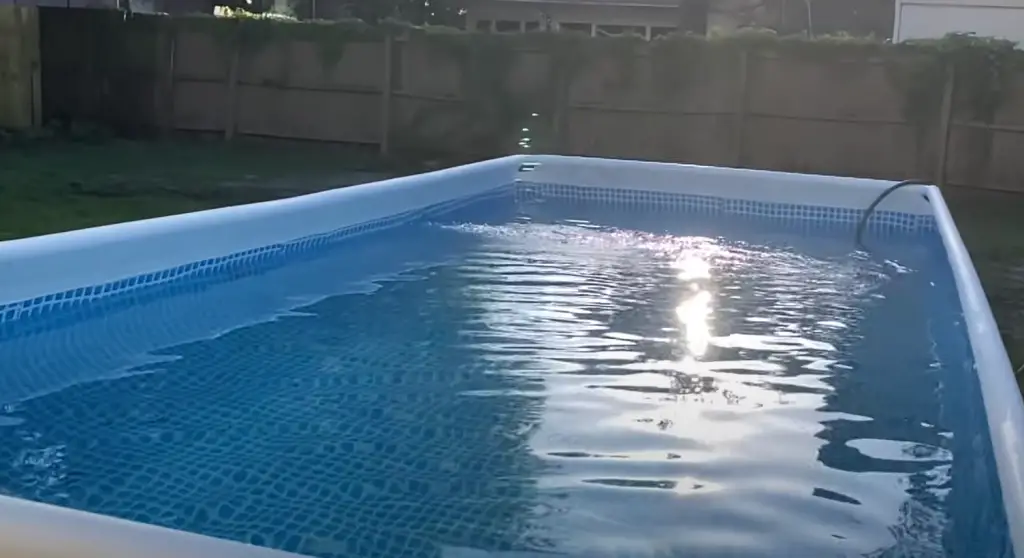 Another option is to build a deck around the pool, which will give it a more finished look. If you want something even more permanent, you can also install a vinyl liner that looks like an in-ground pool. In addition to these options, consider using plants and shrubs to create a lush environment around your pool. When selecting plants, opt for ones that will not take over the area and are easy to maintain. Finally, add some lighting and furniture for a more inviting atmosphere. By opting for the appropriate landscaping, your above-ground pool can have the appearance of an inground pool!
How many years do above-ground pools last?
Above-ground pools typically have a lifespan of 7 to 15 years on average. The lifetime of an above-ground pool is affected by different things like its quality and level of maintenance. Quality materials such as durable PVC and resin can help extend the life of your pool. Properly maintaining your pool with regular filter changes and chemical treatments is also essential for keeping your pool healthy and running smoothly. Also, be sure to properly cover the pool during winter months when it isn't in use. This will help protect it from the elements and prolong its life. You can enjoy summers filled with fun for years to come with your above-ground pool, as long as you take good care of it.
What should you not do with an above-ground pool?
You should not leave your above-ground pool uncovered for extended periods of time. Without a cover, the pool will be exposed to leaves, dirt, and other debris that can clog or damage the filtration system. Additionally, if you live in an area with frequent rainfall, leaving your pool uncovered may result in water buildup around the pool, which can lead to flooding and other water-related damage. Finally, animals may be attracted to an uncovered pool, potentially leading to unsanitary conditions that could make it unsafe for swimming.
Why put rocks around the above-ground pool?
Enhance the aesthetics and create a natural look for your above-ground pool by adding rocks. Rocks or stones can add texture and color to your backyard, as well as provide a safe base for visitors to walk on when they enter the pool area. Rocks are also excellent at trapping heat, so they can help keep the water in the pool warmer for longer. Finally, rocks can provide a natural barrier to protect your pool from dirt and debris. Also, rocks can be used to create interesting landscaping features such as waterfalls and bubbling rock fountains. However, before you start adding rocks, there are a few things to consider. Worth noting, rocks should not be placed too close to the pool's edge as they can damage the liner. Furthermore it is important to use large stones or pavers that are appropriately sized and secured into the ground so they don't move around when people walk on them. Once you have chosen the right type of rocks for your pool, you can get creative with the design.
How do I beautify my pool area?
The pool area can be the centerpiece of any backyard and the perfect place to relax and entertain during summer months. When designing your outdoor space, it's important to think about landscaping ideas specifically for above ground pools in order to create an attractive poolscape. You can start by creating a border around the pool with colorful flowers and plants. For a cohesive look, try planting the same type of flowers and plants around the pool's perimeter.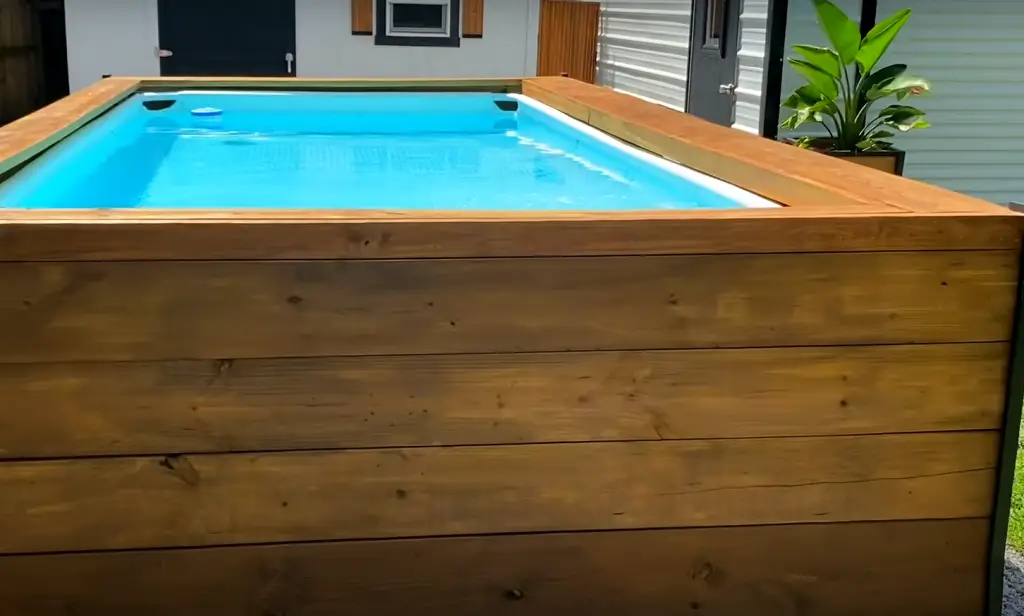 You can also include poolsides such as rocks, stepping stones or other decorative items to further create a theme and make your space more inviting. To add an extra touch of beauty, include lighting like tiki torches or string lights that are both attractive and functional. You can create a beautiful outdoor space for entertaining or relaxation with your above ground pool by implementing suitable landscaping ideas.
What plants are good to put around an above-ground pool?
Choosing the right plants for the area surrounding an above-ground pool is important for both visual appeal and durability in the poolside environment. Generally, plants should be chosen based on their ability to tolerate sun, heat and humidity. Some of the best plant varieties for above-ground pools include flowering perennials like daylilies and flowers, ornamental grasses like pampas and grass, evergreen shrubs, boxwoods and hollies, and shade-tolerant trees such as maples or dogwoods. All of these plants can help to minimize evaporation from the pool by providing some additional shade, while still looking attractive. Additionally, be sure to choose plants that are not invasive or difficult to contain in a garden setting, since these may become problematic for pool owners. Keep in mind that the plants you select must be low-maintenance and able to withstand exposure to chlorinated water on a regular basis.
What accessories do you need for an above-ground pool?
To enhance the look and experience of your above-ground pool, there are some accessories and features that you can consider after setting it up. For starters, you'll need some type of pool cover to debris out while not in use and to help maintain the temperature of the water. To make your swimming experience more enjoyable, consider investing in a pool filter, heater, and ladder system. Additionally, if you want to add some aesthetic appeal to your above-ground pool, consider installing an LED light system or floating fountain decorations. Finally, don't forget about safety! Invest in a quality pool alarm and fence to keep kids and pets out of harm's way.
Useful Video: What are the Best and Most Unique Above Ground Pool Landscape Ideas?
Conclusion
Landscaping around an above ground pool provides multiple options to enhance the aesthetics and usefulness of your outdoor area. With some basic principles in mind, you can create a beautiful landscape that enhances the enjoyment of your pool. Consider incorporating elements like terraces, decks, fire pits, flower beds and more to enhance the look and feel of your backyard oasis. With these ideas, you can create a stunning space that friends and family will enjoy for years to come.
No matter which direction your backyard landscaping takes, having an above ground pool is a great way to add value, beauty, and enjoyment to your outdoor living area. Get creative and make the most of your pool with attractive landscaping designs that are sure to make a lasting impression!
---
References:
https://www.mydomaine.com/above-ground-pool-landscaping-ideas-5537266
https://thecardswedrew.com/above-ground-pool-ideas/
https://www.decoist.com/above-ground-pool-ideas/?chrome=1
https://www.homeprosverified.com/blog/above-ground-pool-landscaping-ideas
https://homeyinsider.com/above-ground-pool-landscaping-ideas/