Transform your backyard into a paradise with the addition of a cabana. A cabana is an ideal way to add extra living space, and it can be used for entertaining, relaxing, or simply enjoying your outdoor oasis. Whether you're looking to build a cozy hideaway or create an elaborate outdoor entertainment area, there are plenty of backyard cabana ideas to explore. From traditional designs to modern-day marvels, these structures offer endless possibilities for creating the perfect outdoor retreat.
English Garden-Inspired Cabana
For a classic look, consider an English garden-inspired cabana. This style features elegant details, like arbors and trellises adorned with climbing vines, wooden benches for seating, and flower beds filled with colorful blooms.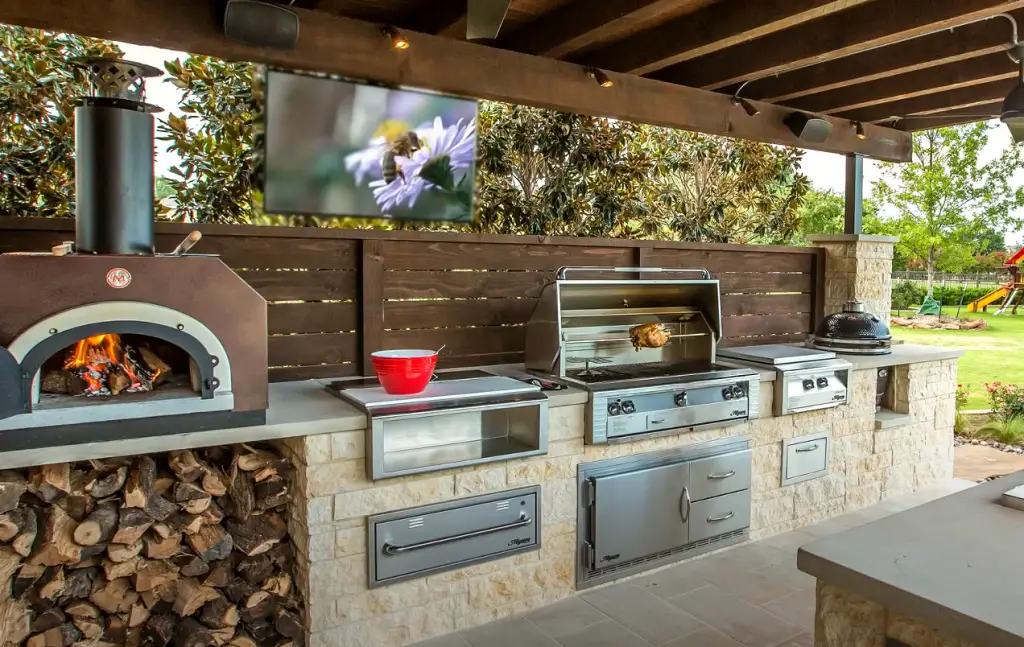 To complete the look, add hanging plants to the walls of the cabana and choose cushions in summery colors and patterns for the seating areas. This type of cabana is perfect for hosting intimate gatherings, enjoying a peaceful afternoon cup of tea on a rainy day, or simply admiring your garden's beauty from a cozy corner.
Guest House Cabana
If you have a bit of extra space in your backyard, consider adding an elegant guest house cabana for visiting family and friends. With just a few modifications, a standard garden shed can be transformed into a cozy guest house with plenty of room to relax and entertain. Deck it out with comfortable seating, colorful pillows and blankets, and maybe even a mini-fridge stocked with refreshments. Your guests will love having their own private area to enjoy when visiting your home and you'll have the perfect spot for hosting summer parties!
For even more backyard luxuries, consider adding solar-powered outdoor lighting, a simple fire pit for making s'mores, or a professional grill for up delicious meals. Your guest house cabana is sure to become a favorite stop on any visit! Add your own personal touch with decorations and furnishings, and you'll have the perfect environment for entertaining family and friends in style.
Privacy-Focused Cabana
If you are looking for a cabana that provides maximum privacy, there are several options to consider.
Or if you'd like a more natural look, consider using living walls of trees or shrubs to provide a natural privacy barrier.
Another option is to build your cabana on the edge of the yard, near a fence or along a property line. This will help ensure that no one can see in from outside, while still giving you an outdoor space to enjoy. You could also consider adding a trellis, fence or lattice structure around part of the cabana for additional privacy.
Finally, don't forget about choosing furniture and accessories that provide some degree of privacy. A large umbrella, outdoor curtains or even a shade sail can help block prying eyes and give your cabana an extra layer of privacy. With these backyard cabana ideas in mind, you'll be able to create the outdoor sanctuary of your dreams. [1]
Outdoor Kitchen Cabana
Outdoor kitchen cabanas are a great way to add ambiance and comfort to your backyard. Whether you're looking for a place to cook meals with friends and family or just enjoy some time alone, an outdoor kitchen cabana can provide the perfect spot.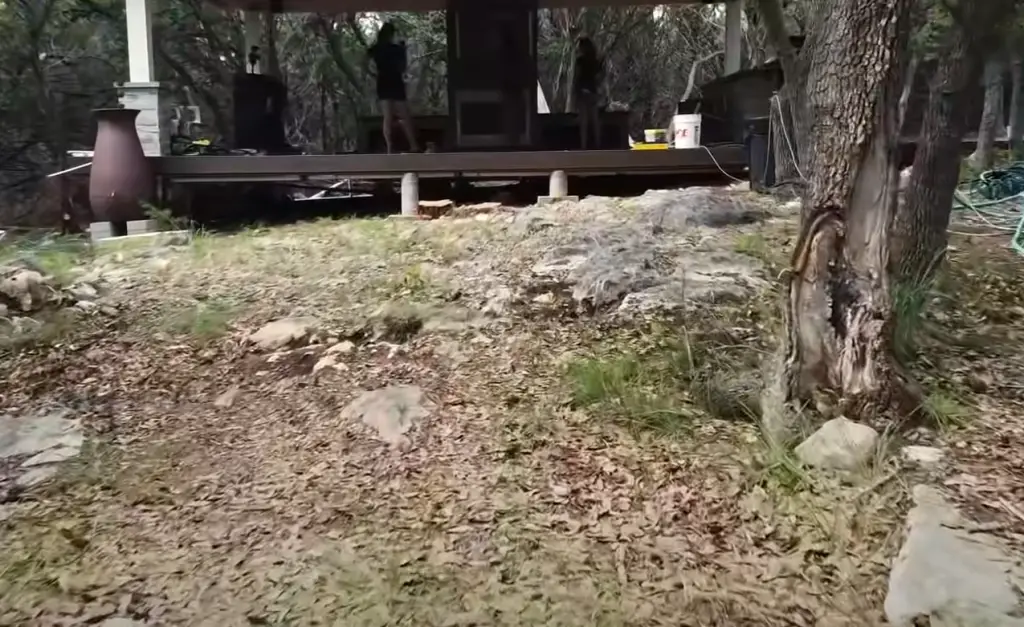 Here are some great ideas for how to incorporate an outdoor kitchen cabana into your backyard:
Include the essentials. An outdoor kitchen cabana should include all the necessities for cooking and dining, such as a stovetop, oven, dishwasher, refrigerator, sink and counter space. Depending on your preferences, you can also add a bar area or additional seating to make more room for entertaining.
Add extra amenities. To make your outdoor kitchen cabana even more functional, consider adding extra amenities like a pizza oven, wood-burning fire pit or outdoor TV. These additions will help turn the area into a true backyard oasis.
Incorporate smart storage solutions. Utilizing drawers, shelves and other smart storage solutions will help keep your outdoor kitchen cabana organized and clutter-free. If you're short on space, try installing wall-mounted cabinets for storing dishes and utensils.
Choose the right furniture. To complete the look, select weatherproof furniture that will stand up to harsh weather conditions and match the style of your backyard. For a classic look, opt for wicker or wooden furniture, or if you're aiming for a modern feel, try metal pieces.
Backyard Office Pool House
A backyard office pool house is the perfect blend of work and play. With a comfortable cabana-style space, you can both relax in style and get your work done without having to leave the comfort of your own backyard. Complete with plenty of natural lighting and comfortable seating, this cabana idea allows you to truly make the most out of your outdoor space. Include a wet bar complete with an outdoor fridge or build in a sink to make it even more functional and enjoyable. And for added privacy, add curtains or shutters to the windows. With so many possibilities, this backyard cabana idea is sure to be both practical and stylish!
Tropical Shack
If you're looking for an easy way to bring the summer vibes home, consider a tropical shack in your backyard. These cabanas can come in many different sizes and styles – from simple tiki-style huts to larger structures with built-in seating areas and thatched roofs. You can even add some fun decor pieces like tiki torches, bamboo blinds, and colorful cushions to create a truly tropical atmosphere in your backyard. And if you're feeling extra ambitious, why not add a hot tub or pool to your cabana for the ultimate summer hangout spot? No matter what you decide to do with it, a tropical shack will certainly make your backyard feel like a slice of paradise. [2]
Rooftop Cabana
If you have a sloped backyard or rooftop area, consider building a cabana! These structures offer protection from the sun and rain while also offering a great view of your outdoor space.
To complete the look, add some stylish lighting and perhaps a fireplace to make it a truly inviting retreat. And when you don't need the extra cover, you can use the space as an additional entertaining spot or even as a makeshift outdoor kitchen. You also have plenty of options for customizing the cabana with accessories like curtains and umbrellas, making it a one-of-a-kind piece of architecture.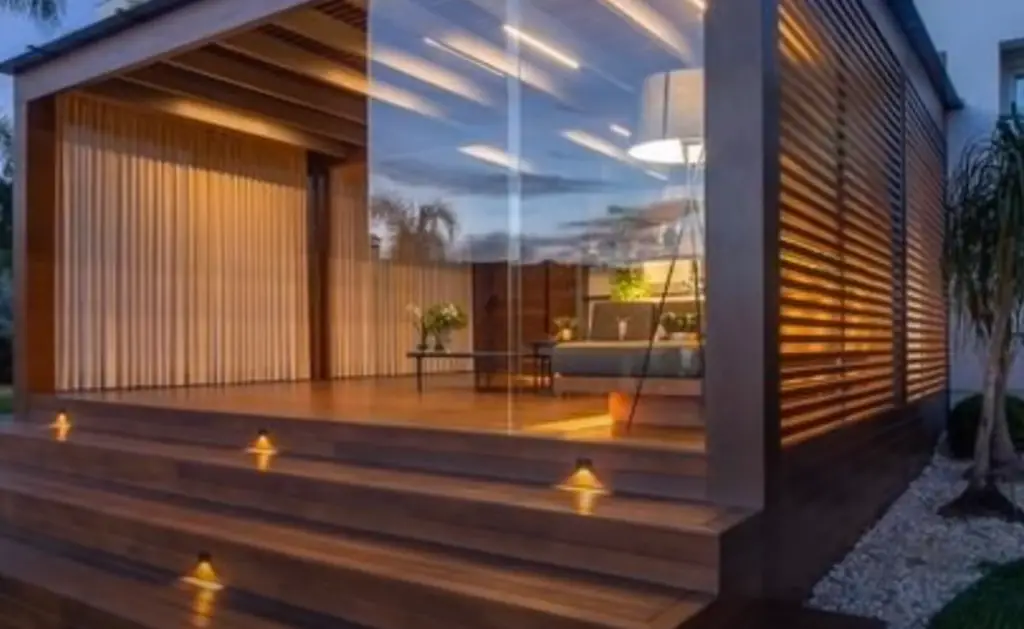 Don't forget to add some planters with colorful blooms and foliage to bring your rooftop cabana to life!
Outdoor Bed
Outdoor bedrooms are a luxurious and peaceful way to enjoy your backyard cabana. An outdoor bedroom will provide you with privacy and comfort as you relax in the shade of trees or under the stars. To create an outdoor bedroom, consider installing a comfortable hammock, canopy bed, daybed, or chaise lounge. You can enhance this space with soft furnishings like outdoor pillows, blankets and rugs to make it feel inviting. Additionally, add some ambient lighting such as string lights or lanterns to further create a cozy atmosphere. Adding plants around the area will also help bring nature into your outdoor bedroom, making it an ideal spot for relaxation and rejuvenation.
Adjustable Daybeds
An adjustable daybed is the perfect centerpiece for any backyard cabana. Not only do they provide a comfortable, sun-soaked spot to relax and take in the summer weather, but they can also be adjusted to create different types of seating arrangements. Create an L-shaped couch with multiple daybeds or just one oversized bed for a more intimate setting. You can also add cushions, blankets, and pillows to make it cozier. If the daybed allows, you can even attach a canopy or roof if you want extra shade in your cabana. Whatever design you choose, an adjustable daybed is sure to be a stylish addition to any backyard retreat. [3]
Sunken Pool House With Pavers
For a modern look with an open feel, consider building a sunken pool house with pavers. This will give your backyard cabana the effect of being surrounded by nature without the need for traditional walls or fences. The sunken design allows you to integrate seating and other features into the perimeter of the space while still maintaining a minimalist, modern look. The use of pavers can also provide additional textural detail to the overall design, making it an interesting and inviting space. With appropriate lighting, this sunken pool house with pavers will make a great backdrop for late-night conversations or a romantic dinner under the stars.
Additionally, adding in some vegetation like trees, shrubs, and flowers can help to create an outdoor oasis. This will help complete the natural effect of the sunken pool house and provide shade for those hot summer days. With a few added features like deck chairs, lounge chairs, and maybe even a fire pit or water feature, you'll have your own private paradise in no time!
Yoga And Meditation Cabana
A backyard cabana can be the perfect place for practicing yoga and meditation. Create a space where you can relax, stretch, and get in touch with your inner peace.
Choose calming colors like blue or green to create a soothing atmosphere. Incorporate natural elements like plants, bamboo screens, and wooden furniture to enhance the tranquil setting. Use soft lighting and candles to create a serene ambiance. Then, bring in comfortable pillows, mats, and blankets so you can drift away during your yoga and meditation session.
Waterfall
A waterfall feature is an eye-catching addition to any backyard cabana. Not only does it provide a tranquil atmosphere for a peaceful retreat, but it can also help keep the area cool in summer months. There are many different styles of waterfalls that you can choose from, such as natural boulder-type waterfalls, cascades with multiple tiers, or sheet waterfalls with a more modern feel. To keep maintenance minimal, you can choose to use pondless systems that don't require regular water changes like traditional ponds. [4]
Built-In Seating
A great way to add seating to your cabana is by incorporating built-in seating. Whether you choose a simple bench, an L-shaped sofa or even some cushioned chairs, built-in seating will provide a comfortable place for your guests and offer extra storage for outdoor items. Consider adding colorful pillows and throws for added comfort and style. You can also consider adding built-in tables and shelves to store items like sunscreen, books, or even a cooler! With the right design and layout, you can easily create an inviting space for your guests to relax in.
Rustic Pool House
For those looking for a cabin-style pool house, there are plenty of rustic backyard cabana ideas to choose from. A rustic look can be achieved by using natural materials like stone, wood, and even weathered metal to create a sense of warmth and coziness. For the walls and flooring, reclaimed lumber or aged brick can be used to add a beautiful and inviting look. A large window in the front of the cabana will allow for plenty of natural light to come in, creating an airy atmosphere. Inside your rustic pool house, you can include comfortable seating, bar stools, or even outdoor kitchen appliances like a mini-fridge and freezer to create a complete outdoor living space. Don't forget to include some rustic accents like hanging lights or lanterns, cozy blankets, and plenty of greenery for an inviting atmosphere. The possibilities are endless with this type of cabana!
Outdoor Shower Or Bathroom
Adding an outdoor shower or bathroom to your backyard cabana is a great way to extend the relaxation outside. This could be as simple as installing a hose and sprayer for easy access to cool off, or you could go all-out with a full shower and toilet setup. With some creative design touches, like tile accents or decorative lighting, you can make your outdoor bathroom a luxurious retreat.
This will allow you to freshen up after a dip in the pool or clean off after working in the garden. Having access to running water outdoors is also great for washing up after a day at the beach.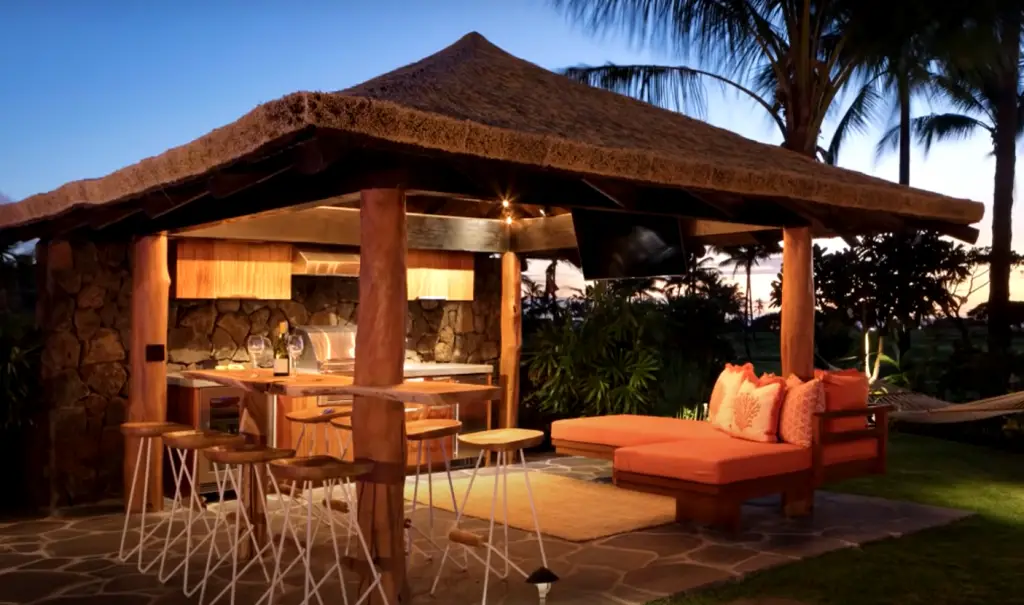 When considering an outdoor bathroom, it's important to think about the materials you use. Natural stone, brick or tile are great options because they can withstand exposure to moisture and temperature changes. You should also opt for fixtures that are designed for outdoor use so they can stay in good condition over time. Lastly, make sure that the space is well-ventilated and gets plenty of natural light so you can enjoy it year-round. [5]
---
FAQ
What is a good size for a cabana?
The size of your cabana should depend on how you plan to use it and what type of furniture or amenities you would like to include. If you plan on using the cabana primarily for entertaining, a larger space may be more suitable. However, if you simply want an area for relaxing, a smaller cabana may suffice. Ultimately, the size of your cabana should be determined by the amount of space you have in your backyard and what features are most important to you.
What is the best size for a pool cabana?
The size of a pool cabana depends on the individual needs and preferences of the homeowner. Generally, an 8 feet by 8 feet structure is the minimum size recommended for a pool cabana. This size provides enough room to install comfortable seating, store necessary items such as towels, and provide shade from the sun. For larger spaces or when more amenities are desired, such as a wet bar or bathroom facilities, larger cabanas can be built. The maximum size of the structure is often limited by local building codes or other restrictions.
What makes a cabana at a cabana?
A cabana is a small, open-sided structure that is often used as an outdoor shelter. It can provide shade and protection from the elements and serve as a comfortable place to relax or entertain guests. Cabanas usually have at least one side open, although some may be fully enclosed. They are generally constructed with wood or canvas roofs and include amenities such as furniture, outdoor lighting, and even grills.
What are the benefits of cabanas?
Cabanas offer a wide range of benefits, including providing shade and shelter from the sun, rain, or wind. They are typically made with weather-resistant materials, making them highly durable and long-lasting. Cabanas also provide a great spot to relax, entertain guests, and host outdoor activities such as barbecues or pool parties. Adding a cabana to your backyard can give it an inviting look and make it a more pleasant place to spend time outdoors. A cabana can also be an ideal spot for entertaining guests or hosting outdoor events like pool parties. It provides ample space for seating and dining areas that can accommodate large numbers of people comfortably. Additionally, cabanas often come equipped with amenities like ceiling fans and outdoor kitchen appliances like grills and refrigerators, making it easier to prepare meals for your guests. There are many styles of cabanas available, so you can choose one that best suits your needs and fits in with the overall look of your backyard. From classic gazebos to modern designs, there is sure to be a cabana perfect for any outdoor space.
What is the difference between a pergola and a cabana?
Pergolas and cabanas are both popular outdoor structures used to create a comfortable space for entertaining, relaxing, or dining outdoors. While they share many similarities, there are some key differences between the two. A pergola is an open-air structure with vertical posts or pillars that support rafters and lattice work on the top.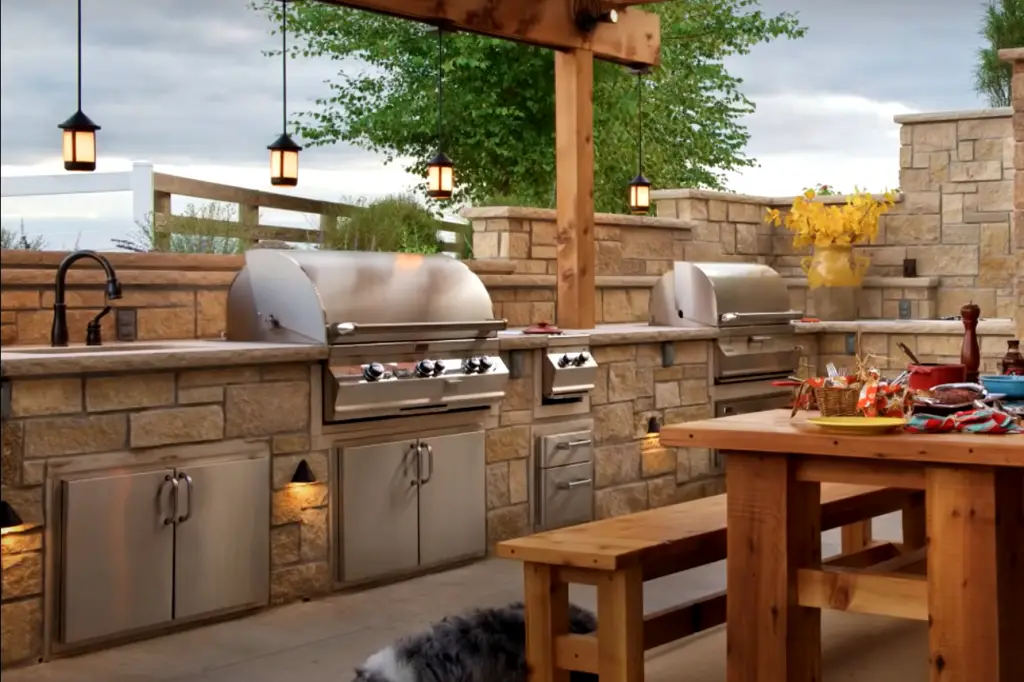 It provides partial shade from the sun but still allows light to pass through. Pergolas can be either freestanding or attached to the side of a home as a way to extend outdoor living space. They are often covered with climbing plants such as wisteria or ivy for additional shade and beauty. Cabanas are similar in size and shape to pergolas, but they are closed on at least one side and often feature solid walls or a lattice wall. Cabanas offer more shade and warmth than pergolas, making them ideal for summertime entertaining. They can also be used as changing rooms or pool houses. Both pergolas and cabanas are great options to turn your backyard into an inviting outdoor living area. The choice of which structure is right for you depends on how you want to use the space — whether it's as a place to dine al fresco, entertain guests, or just relax in the sun.
Why is it called a cabana?
A cabana is a type of roofed, open-sided structure that is commonly found in tropical and coastal areas. Typically constructed from wood or metal, it can be used as additional shade and shelter when enjoying the outdoors. The term "cabana" originates from the Spanish word for cottage and has been popular since the mid 20th century.
What is a traditional cabana?
A cabana is a traditional outdoor structure that can provide shade and a place to relax. Cabanas typically have an open-air design with columns, posts, or walls covered in fabric like sail cloth or canvas. They are often situated near a pool, garden, patio, or other outdoor area and can be used for entertaining guests or simply relaxing outdoors. Cabanas come in all shapes and sizes, from large pavilions to small gazebos. Some feature built-in furniture such as tables and chairs while others simply provide space for users to bring their own seating arrangements. While many cabanas are made of wood and other natural materials, some modern cabanas may also use metal frames or plastic components.
What makes a cabana?
A cabana is a small, covered shelter or structure typically found in a backyard. Cabanas are typically open-air structures with no walls and often have ornate designs. These outdoor shelters can provide much-needed shade and an area for relaxation during hot summer months. Cabanas come in many shapes and sizes, from simple gazebos to elaborate pavilions. When designing your own cabana, there are several factors to consider such as size, materials, roofing material, accessories, furniture placement and landscaping options. It's best to measure the space you have available before making any decisions as this will help determine what type of cabana is right for you. Additionally, choosing the right materials can help ensure your cabana is both durable and attractive.
What is the perfect size pool?
When it comes to a backyard cabana, the perfect size pool is determined by your needs and wants. If you're looking for a place to relax and enjoy the outdoors, then a smaller pool may be ideal. However, if you plan on entertaining guests or hosting larger gatherings in your backyard space, then you may want to consider a larger one. When selecting the right size of pool, it's important to take into account both function and aesthetics.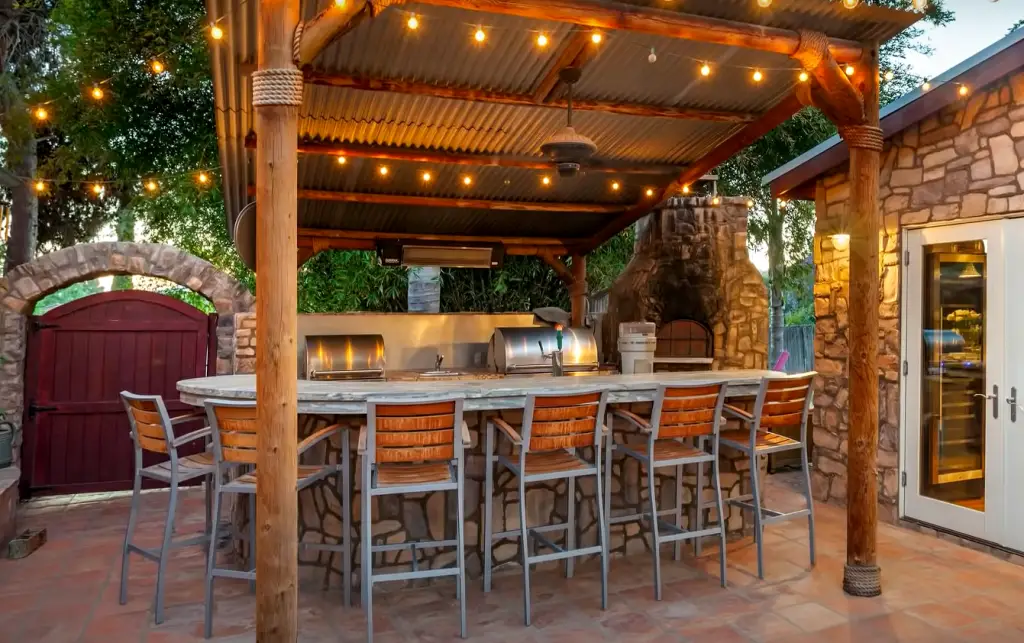 For instance, if your cabana is located close to other buildings or landscape elements such as trees or fences, you might want to opt for an oval-shaped pool that fits snugly against these features without encroaching on their space. Likewise, if the cabana is situated in an open area, a more free-form rectangular or circular pool may be preferable.
Do you tip on a pool cabana?
Whether you should tip your pool cabana attendant or not will depend on the establishment's policy. Some places may include a service charge in the rental fee, while others might expect a gratuity for providing attentive service during your stay. If you're unsure if tipping is expected at your specific location, it's best to either inquire ahead of time or ask when you check-in. Generally speaking, it's nice to leave around 10% of the total cost for good service. After all, having someone available to help with food and beverage orders or provide additional towels can make a big difference in your overall experience!
Useful Video: 100 Patio Design Ideas 2023 Backyard Garden Landscaping ideas House Exterior Rooftop Terrace Pergola
Conclusion
No matter what your backyard cabana style is, it can provide a space of respite and relaxation. From simple structures to elaborate designs, there are many ways to make the most of this outdoor addition. By considering factors like budget, size, and aesthetic preferences, you can create the perfect backyard retreat for friends and family alike. With just a few creative ideas or professional help you can turn your dream into reality and enjoy time spent in your own private oasis.
---
References:
https://www.landscapingnetwork.com/backyard-ideas/luxury-cabanas.html
https://definebottle.com/pool-cabana-ideas/
https://www.thinkoutsidegardens.com.au/outdoor-cabana-design
https://www.homestratosphere.com/swimming-pool-houses-cabanas-pergolas/
https://www.houzz.com/photos/query/small-pool-cabana