Enclosed gardens are a wonderful way to create a secluded spot within your garden. Not only do they provide privacy, but also allow you to create a unique style that suits your personal preferences. Whether you're looking for an enclosed vegetable patch or a cozy seating area, there is sure to be something here to inspire you! In this article, we'll provide answers to frequently asked questions and useful tips on Enclosed Garden Ideas.
A Stand-Alone Garden Oasis
The first question that comes up when planning an enclosed garden is what kind of enclosure to use. You may be tempted to build a permanent wall or fence, but this can be quite expensive and time consuming. Instead, consider using freestanding structures such as trellises, pergolas, or arbors to define the area and create a sense of privacy. Planting vines or other climatic plants along the sides of these structures can also provide additional screening and a beautiful green backdrop. [1]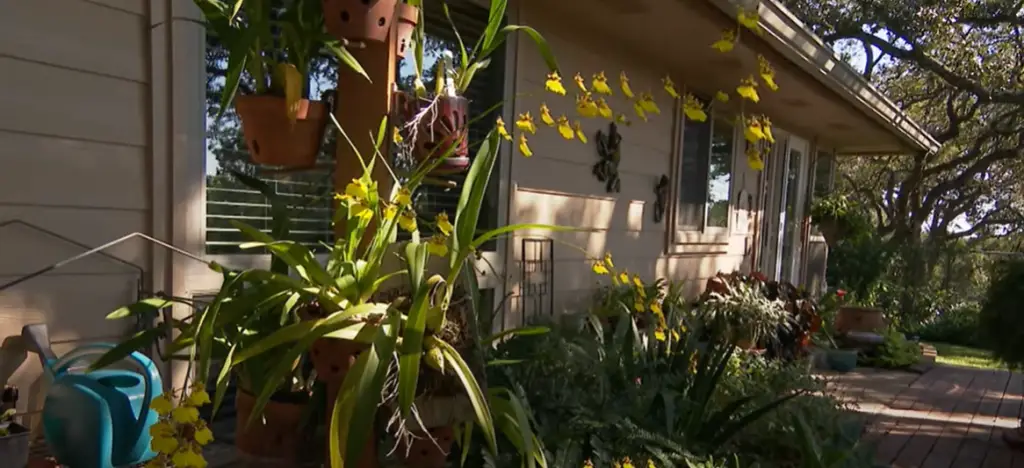 Turn An Existing Fenced-In Area Into A Cottage-Style Garden
If you already have a fenced garden, then why not make use of this space and create a cottage-style garden? This type of garden is filled with colorful flowers and plants, making it the perfect place to relax and unwind. All you need to do is add some furniture, planters and other accessories to bring your vision to life.
To complete the cottage-style look, add outdoor furniture and accessories that fit your style. Look for weather-resistant furniture, such as wicker or teak, for a classic look. Consider adding some cozy pillows, string lights or wind chimes to give the area an inviting ambiance. Finally, bring your garden to life with accents, such as bird baths or gazing balls. [1]
Enclose A Little Or Enclose A Lot
When it comes to enclosed garden ideas, you can go as small or as large as you'd like. If your yard is smaller and you don't have much room for a gazebo, consider something like an arbor with climbing ivy. It will create a cozy atmosphere while still giving your plants the chance to thrive. If you have a bigger outdoor space and want to create something more elaborate, consider building an outdoor room. This type of enclosure can include seating areas, water features, a fire pit, and all sorts of amenities that will help make your garden truly unique.
Of course, the most important thing when it comes to enclosed garden ideas is making sure whatever you create is practical and functional. Think about your budget, the size of your space, and what kind of lighting or furniture you'll need to complete it. Make sure that whatever you build can withstand the outdoors, whether it's an arbor or a full outdoor room. [1]
Glass Dome Enclosures (Garden Cloche)
Not ready to commit to a full-blown fence around your garden? Glass dome enclosures, often called "garden cloches" are a great way to add a touch of elegance and protection without the added cost. These decorative glass domes come in various shapes and sizes perfect for any size garden space. They offer protection from wind, rain and animals while allowing natural sunlight to reach your plants.
The best part of glass dome enclosures is that they look beautiful both during the day and at night with a few strategically placed lights. They allow you to get creative with adding other decorative items on top for an added touch of elegance. Plus, if you're looking to add some privacy, you can choose a frosted glass for added opacity. [1]
Raised Bed With Protectors
Raised beds with protectors are a great way to create an enclosed garden. These types of gardens can be used in any area, regardless of size or shape. They provide protection from the elements, including rain and wind, while still allowing plenty of sunlight to reach your plants. Benefits include improved drainage, reduced need for weeding and an easy way to control soil quality.
When constructing raised beds, you'll need to choose the right type of protector for your garden. Options include wire mesh, plastic mesh, or even a solid wall. Some raised bed frames come with included protectors, but if yours does not, you can easily purchase one separately. Be sure to choose one that is the right size for your raised bed and will fit securely.
When installing the protector, you'll need to secure it with stakes or other anchoring materials. This will help keep it in place and prevent animals from getting into your enclosed garden space. [1]
Small Greenhouse With Maximized Space
If you are looking for an easy way to maximize the small amount of space you have, consider a small greenhouse. The smaller size allows you to keep your plants in one area while still providing them with the necessary light and warmth they need to grow. You can also control the temperature within the greenhouse, ensuring that it is perfect for whatever type of plants you are growing.
If you want the look of a traditional greenhouse, but don't have the space or budget for one, a small greenhouse could be the perfect solution. It can even fit in an apartment balcony or patio. All you need is some plastic sheeting and a few pieces of wood to build your own mini structure. [1]
The "Go Big Or Go Home" Greenhouse
If you want to go all out with your enclosed garden project, then a greenhouse could be the perfect fit for you. Greenhouses are great for protecting plants from pests and bad weather, but they also provide plenty of sun and warmth. With a greenhouse, it's easy to create an environment that will keep your plants thriving year-round!
When it comes to greenhouse design, the possibilities are endless. Consider how much space you have available, and what type of enclosure you want – there are many different materials that can be used for this purpose. If you're looking for a more natural look, then cedar wood is a great option. However, if you want something more durable, then a metal frame with glass panels would be ideal. [1]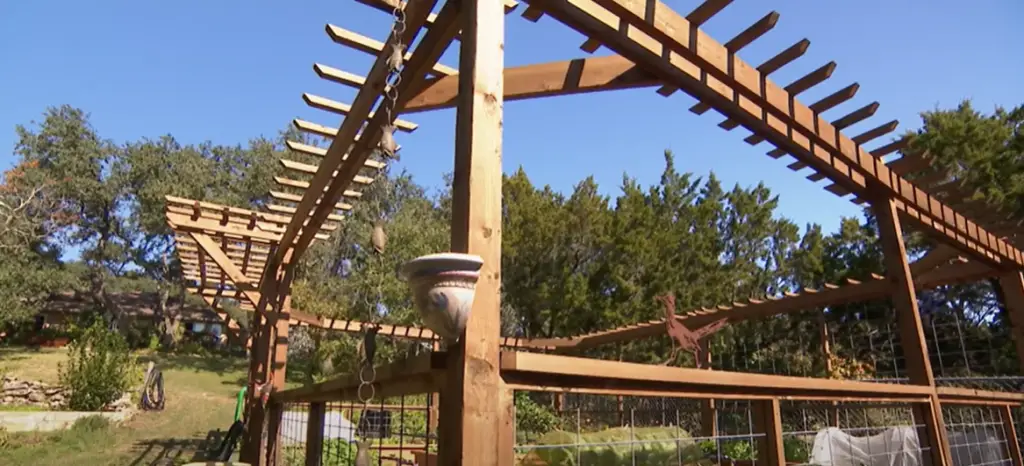 Garden Structure for Outdoor Dining
The right garden structure can create an inviting environment for outdoor dining. If you're looking to make your garden more usable, a few strategic additions can go a long way. Consider adding a trellis to support climbing plants, or a gazebo for shelter from the sun and rain.  You can also create a canopy using trees or fabric.
Keep in mind that it's also possible to purchase garden furniture and accessories like lamps, cushions and planters to add comfort and style. Plus, adding a few plants can bring life and texture to the area. Strategic lighting will help you make the most of your outdoor dining experience, and create a beautiful ambiance. [2]
Backyard Greenhouse
Backyard greenhouses are becoming a popular way to nurture plants and grow food in an enclosed space. Not only do they provide a controlled environment for you to tend to your plants, but they also offer protection from pests and disease.
Once you've got an idea of the type of greenhouse that works for your needs, the next step is to create a budget and plan out the construction. You'll need to decide on the materials, size, and design of your greenhouse. You may also want to consider adding additional features such as shelving or benches. [2]
Trellis Garden Shed
A trellis garden shed can be a great option if you want to create an enclosed outdoor space. It has the convenience of being larger than a traditional shed and offers more flexibility when it comes to layout. You can choose between different sizes, styles, and materials for your trellis garden shed depending on your needs. The frame of the trellis can be made from wood or metal and you can add climbing plants or other foliage to give your shed a touch of greenery. The roof of the shed can also be enclosed with glass or mesh screens, providing additional protection from the elements. With an enclosed garden space like this, you'll be able to enjoy outdoor activities in comfort and style. [2]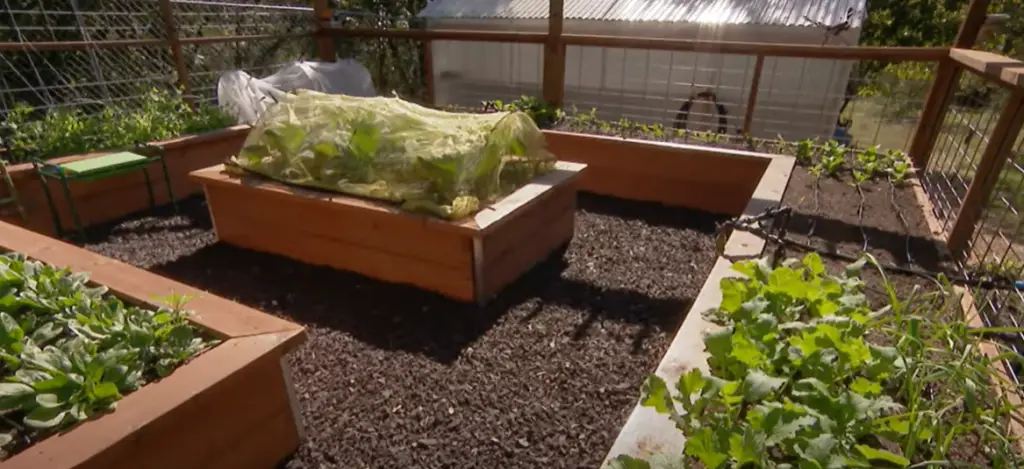 Gazebo Garden Structure Ideas
Gazebos are a great way to bring an enclosed garden experience to your backyard. Whether you want an elegant look or something more rustic, there are plenty of gazebo designs that can provide the perfect backdrop for your outdoor space. Here are some ideas for creating a beautiful and functional gazebo in your garden:
Consider adding an outdoor kitchen or bar to your gazebo space. This allows you to entertain and dine under the stars without having to leave your cozy enclosure.
Plant some colorful climbing vines along the sides of the gazebo to draw more attention to it, while also providing a natural privacy screen.
Hang some wind chimes or string lights to create a dreamy atmosphere in your gazebo garden.
Install a trellis on the sides of the gazebo and use it as a support for vining plants, like clematis or wisteria. Not only will they add color to your space, but they will also provide some welcome shade during the hot summer months.
Place benches or chairs around the perimeter of the gazebo and make sure to put a few pillows in for extra comfort. This is perfect for when you want to relax and enjoy a cup of tea with friends. [2]
Classic Pergola Structure
If you're looking for a structure that will provide shade and visual interest, then consider building a traditional pergola. Pergolas are often used to lend support to climbing plants while also offering some protection from the sun's rays. A classic style pergola is perfect for creating an inviting space in your enclosed garden, as it can be used to add an element of structure and style.
When choosing a design for your pergola, consider what type of plants you plan to have in your garden. You'll want to make sure that the pergola is big enough and has enough support for them so they can reach their full potential. You may also want to choose a design that will match your outdoor furniture and other structures.
Finally, make sure to take into account the size of your garden when selecting a pergola design. If you have limited space, then choose something smaller or opt for an open-sided design. You'll want to be sure that there's enough room underneath the canopy so that your plants can get plenty of sun. [2]
Screened Gazebo Garden Structure
A screened gazebo structure is the perfect way to enjoy nature while keeping away any unwanted pests. Not only does it provide shelter from the elements, but it also creates a beautiful setting for your garden. Screened gazebos come in a variety of sizes and shapes so you can choose one to fit perfectly into your space. They can be foliage-covered or open to the elements, depending upon your desired style. If you are looking for an enclosed garden structure with some privacy, a screened gazebo may be exactly what you need.
You can easily add a few pieces of patio furniture to complete your private oasis. Add cozy cushions and blankets for a comfortable spot to relax. Or, you can hang plants and other decorations for a beautiful ambiance. With some imagination, the possibilities are truly endless! [2]
Private Garden Pavilion
If you're looking for a way to enjoy the outdoors year-round, then a private garden pavilion is an ideal choice. These are enclosed areas that provide shelter from the elements and create a private space in your own backyard. They come in various sizes and styles, and can be customized with features such as benches and lighting. Some also feature a retractable roof that allows you to enjoy the sunshine and stars. A pavilion is a great way to create a private spot for relaxation, entertaining or even for dining al fresco. [2]
Enclosed Garden Structures for Small Yards
If you're looking for ways to maximize your small yard and make the most of what you have, consider installing an enclosed garden structure. Not only does it provide a beautiful focal point for the yard, but it can also help protect your plants from animals, insects, and other environmental hazards. Plus, an enclosed structure gives you more control over the climate within your garden, making it easier to grow certain plants that might otherwise be difficult.
Once your structure is installed, it's time to get creative with the space within it. Whether you're growing vegetables, flowers, herbs, or all of the above, make sure that your plants have enough room to thrive by spacing them properly. Consider using raised beds to make it easier for you to tend your garden without having to bend over or strain your back. [2]
Lath House Garden Structure
Lath houses are an excellent way to create a sheltered garden environment that is both private and aesthetically pleasing. A lath house is an arch-shaped structure, usually constructed from wood or metal, which can be used to protect delicate plants from harsh weather conditions. It also serves as a barrier against pests and helps regulate temperature levels for optimal growing conditions.
When creating a lath house, you need to consider its size and shape. The size of the lath house will depend on the type of plants being grown as well as the amount of sunlight they require. For example, if you're planting sun-loving plants like tomatoes, peppers, and cucumbers then you'll want to opt for a larger lath house.
The shape of the lath house is also important, as it affects the amount of sunlight that enters the structure. For example, an arch-shaped structure allows more light to enter than a flat structure does. You can also choose from different kinds of latticework materials, such as bamboo or metal.
When it comes to construction, a lath house is usually constructed on either concrete blocks or wooden posts that are driven into the ground. You can use lumber and other materials to create an aesthetically pleasing design for your structure. [2]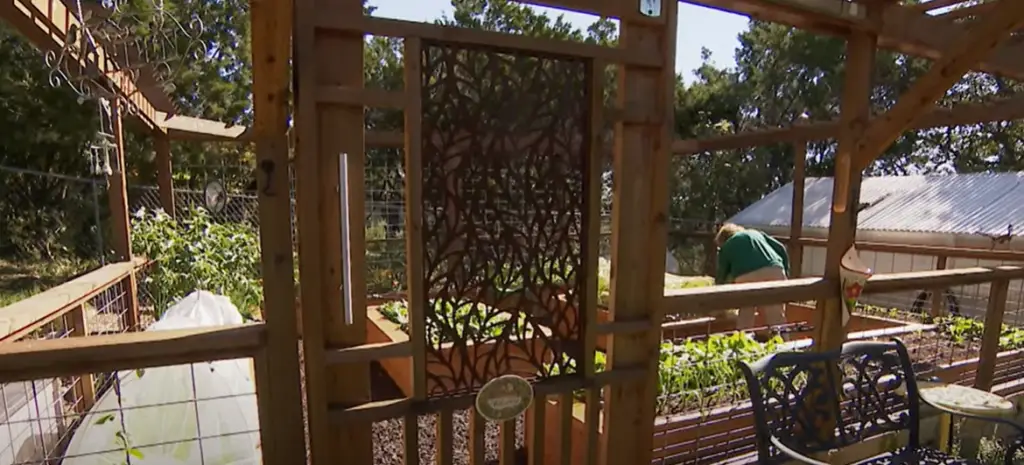 Recycled Materials Tunnel Tent
A creative and fun way to add some shade and shelter to your garden is by creating a recycled materials tunnel tent. This is an easy project that can be done with just a few items, most of which can be found in the recycling bin or at the local thrift store. You'll need two poles (such as bamboo or metal), some fabric (old sheets or a curtain will work perfectly), and some string.
Begin by constructing the frame of the tunnel tent. Take two poles of equal length and tie them together at the top with string. This forms an arch. Then, attach fabric to the poles with more string, so that it hangs down from the arch like a fabric tent. Once your frame is complete, you can use more string to tie the fabric sides together at the bottom and create a small tunnel for shade and shelter. [1]
Take Advantage Of Existing Structures
Over the years, your outdoor space may have seen a few changes. Old arbors or sheds can now become part of your enclosed garden ideas by simply being repurposed. For instance, you could transform an old shed into a quaint potting shed, complete with windows and benches – perfect for growing flowers or herbs! Alternatively, you could repurpose an old arbor into a beautiful gazebo that's surrounded by lush plants and flowers.
No matter what structure you choose to upcycle, make sure it is sound and structurally intact first. A little bit of paint and some minor repairs can go a long way in helping to create the perfect space for your new enclosed garden. [1]
Let Us Not Neglect The Almighty Power Of Shrink Wrap
When considering Enclosed Garden Ideas, one must not forget the almighty power of shrink wrap. Shrink wrap is a great way to protect your plants from the elements and keep pests out. It also helps retain moisture in the soil so that your plants stay healthy and hydrated. If you're looking for an easy way to protect your plants without breaking the bank, shrink wrap is an excellent choice.
Shrink wrap works by covering the area that needs to be protected and then applying heat. This heats up the plastic material and shrinks it down to fit snugly around whatever you are trying to cover. Once the plastic has cooled, it forms a protective barrier that can help keep out pests, animals, and even the weather. Shrink wrap is great for protecting plants from wind, rain, snow and sun.
When it comes to setting up your shrink wrap enclosure, you'll need some tools such as a heat gun or hair dryer and scissors. It's important to measure the area that needs to be covered so that you get the right amount of shrink wrap. If you are doing multiple plants, it's a good idea to measure each one separately in order to get an exact fit. [1]
FAQ
What is an enclosed garden called?
An enclosed garden is typically referred to as a courtyard garden, walled garden, or patio garden. These types of gardens are usually surrounded by walls or fences, and may feature potted plants, raised beds or flowerbeds.
Should I enclose my vegetable garden?
Enclosing your vegetable garden can be beneficial to protect it from pests, wind and other elements. It is also a good idea if you have children or pets, as the walls will help keep them safe. However, it is important to ensure that there is enough space for your vegetables to grow and plenty of light for them to thrive.
How do you make a garden enclosure?
There are many ways to create a garden enclosure. You could use wood or metal fencing, bamboo panels, trellis, lattice and more. If you want complete privacy, opt for solid walls such as brick or stone. Additionally, you can add climbing plants to your walls and fences to give the garden an extra touch of greenery.
How do you make a sandbox garden?
A sandbox garden is a great way to add interest and height to your garden. To create one, start by digging out a hole in the ground large enough for your desired plants. Then, fill the hole with soil and compost before planting your choice of flowers and shrubs. Finally, top off the garden with sand or gravel for texture and color.
How to build a covered garden box?
Building a covered garden box is a great way to keep your plants sheltered from the elements. Start by building a raised bed and enclosing it with walls or fencing. Then, construct a roof with wood or metal sheeting and attach it securely to your walls. Finally, cover the roof in plastic sheeting or other waterproof materials for protection from wind and rain.
Useful Video: Enclosed Raised Bed Garden Design | Peggy Jones
Conclusion
The possibilities for creating an enclosed garden are nearly endless. With the right combination of materials, plants, and design elements, you can create a truly unique and beautiful space that suits your needs perfectly. Whether you're looking to create a peaceful retreat from the world or simply add privacy to your outdoor area, enclosed garden ideas are an easy way to make the most of your outdoor space. No matter what type of enclosure you choose, always remember to consider how much sunlight and water the plants will need, as well as any maintenance needs like trimming or pruning. With a little bit of planning and creativity, you can create an enclosed garden that is both beautiful and practical.
We hope you found this article useful and that it has given you some great ideas to get started with creating your own enclosed garden. With the right combination of materials, plants, and design elements, you can create a truly unique and beautiful space that adds privacy, beauty, and even more value to your home. Good luck on your project!
References:
https://foodgardening.mequoda.com/daily/garden-design/enclosed-vegetable-garden-ideas-for-every-budget/
https://www.bhg.com/home-improvement/outdoor/pergola-arbor-trellis/enclosed-garden-structures/