Gardens are a great way to add beauty and interest to any outdoor space. But why settle for the same old plants and shrubs when you can take it up a notch with garden murals? Garden murals are an imaginative, creative way to make your garden stand out from the rest. Whether you're looking for something whimsical or something more traditional, there are countless ideas that can help bring your vision to life. From colorful mosaics to intricate landscape paintings, these garden mural ideas will give your outdoor space a unique touch that is sure to impress. So get ready to transform your backyard into an artful masterpiece!
Garden Mural Ideas For Beginners
If you're a beginner when it comes to painting murals, start small and work your way up. Choose a simple design such as a sunflower or a colorful mosaic of geometric shapes that add visual interest without overwhelming the space.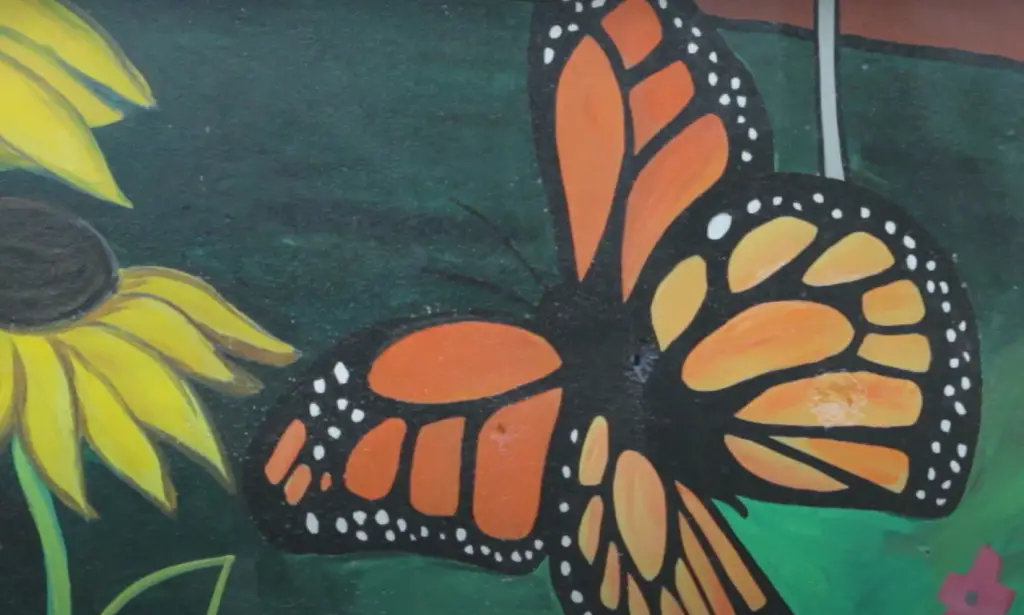 You can also opt for more intricate designs like painted trees or detailed scenes from nature. Whatever vision you have, you'll be sure to add a unique touch of artistry to your garden with these mural ideas.
Striped Slats
Adding colorful stripes to vertical slats is a great way to add movement and texture to your garden mural. Consider using colors that coordinate with the rest of your outdoor space, or opt for bold hues that will make the mural truly stand out. Add extra dimension by alternating wide and narrow stripes, or stagger two colors together for a unique look. Also keep in mind that the stripes don't have to be perfectly straight; try a wavy pattern for a more whimsical feel.
Inspiring Astronomy
Astronomy is a fascinating and mysterious subject that can inspire awe and wonder in all of us. If you're looking to bring some starry magic into your garden, then look no further than astronomy-inspired mural ideas! Whether you're an aspiring astronomer or just enjoy gazing at the night sky, these murals will provide the perfect backdrop for your garden. For a classic astronomy mural, consider painting a star pattern on your walls or fence. This design can be as simple or complex as you like, depending on how much work you're willing to put in. You could even go all out and paint constellations that line up with their real-life counterparts in the night sky. However, if you're looking for a more modern take on the theme, then why not opt for an abstract mural that features galaxies, planets, and other cosmic phenomena? You could even construct your own 3D model of a space shuttle or rocket ship to hang from your walls. With all these possibilities in mind, there's sure to be an astronomy-inspired garden mural that will wow your friends and family!
Colorful Curves
Bring your garden to life with a striking mural featuring colorful curves and swirls. This eye-catching mural can be used to create an interesting focal point in the garden, or simply add some extra color and texture.
You can use bright hues for tropical vibes, pastel shades for a vintage feel, or primary colors for a contemporary look. Use your creativity to choose the perfect colors and shapes that will add a unique and stylish touch to your outdoor space. With this mural, the possibilities are endless! [1]
Arty Garden Mural Ideas
Garden murals are an increasingly popular way to liven up your outdoor space. These creative and artistic designs can enhance the look of any garden, whether it's a small courtyard or a sprawling estate. From vibrant abstract patterns to more traditional depictions of nature scenes, there are plenty of ways to add a unique touch to your garden with a mural. Here are some of the best garden mural ideas for your outdoor space.
Make Great Waves
Wave patterns are a popular choice for garden murals and can give your outdoor space a calm, oceanic vibe. To create this effect, use muted shades of blue or green paint, with touches of white to create the illusion of foam cresting off each wave. You can also add seashells or beach stones around the mural to really bring the scene together.
Abstract Pastels
If you are looking for a timeless, classical garden mural design idea, then abstract pastels may be the perfect choice. By using soft tones of pink, yellow, blue, and green you can create an atmosphere of tranquility and beauty in your outdoor space. This style is ideal for gardens that feature water features or other elements that benefit from a subtle, yet vibrant color palette.
However, be sure to balance your colors with plenty of neutral tones and textures for a finished product that will enhance the beauty of your garden.
Dream Destinations
Take your garden to new heights with a dream destination mural. Imagine having the perfect beach, forest, or mountaintop view just outside your window. With a little creativity and paint, you can turn any outdoor wall into a piece of paradise. Create subtle textures and details like rocks, trees, plants and sand to truly bring your mural to life. With this mural idea, the possibilities are endless! [2]
Small Garden Mural Ideas
If you have a small garden, you don't have to miss out on the fun of creating an outdoor mural. Here are some ideas for small gardens:
A Burst Of Colour
Garden murals can be a great way to add an extra touch of colour and liveliness to your outdoor space.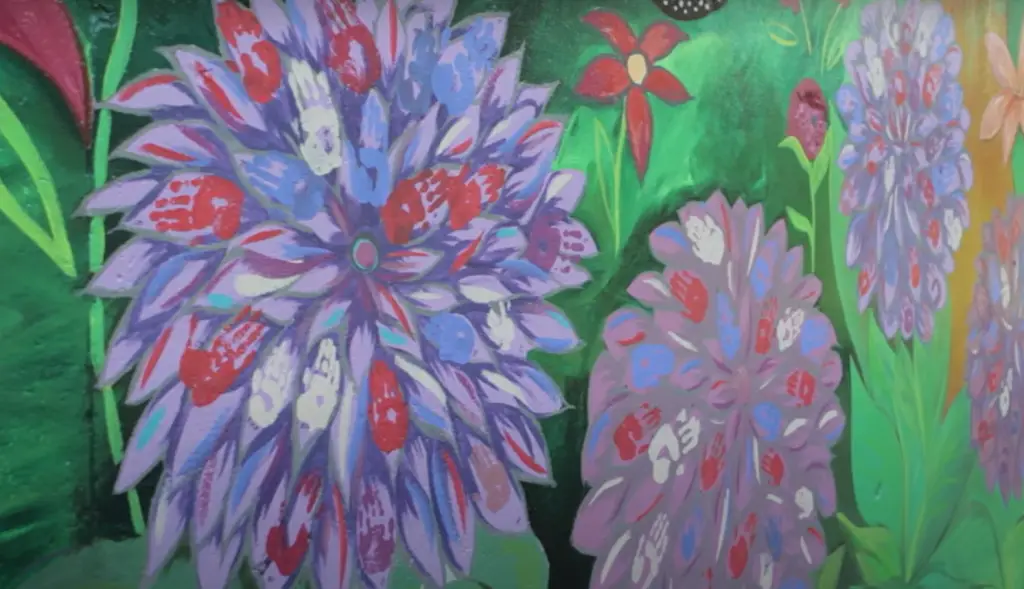 With the right materials, you can have a mural that lasts for years and adds life to your backyard or other outdoor area. Here are some ideas for creative garden murals:
Create a nature-inspired mural with bright and colorful flowers, leaves and butterflies.
Use bold abstract shapes in a variety of colors to create an eye-catching mural.
Create a mosaic pattern using coloured pebbles or stones for the background and then add in smaller details such as plants, bugs and animals.
Paint a whimsical mural on a wall or fence featuring your favourite characters or animals.
Use stencils to create a repeating pattern of shapes and colours.
Whimsical Windows
Create a garden mural with a window-like frame as the focal point. Place brightly colored flowers, plants and vines along the sides of the window to create an inviting atmosphere. You can also add some small creatures or birds to the scene for added charm. This is a great way to bring nature into your home, while adding some playful touches too. For a more realistic touch, add in some outdoor furniture or a birdhouse to the window frame. You can also paint the window frame with various colors and designs to make it look even more vibrant and cheerful.
Patterned Planters
Adding a patterned planter to your garden mural is an easy way to add texture and bright colors. You can opt for large, brightly colored ceramic pots or choose something more creative like vintage-style galvanized buckets. If you're feeling adventurous, try creating your own painted pottery with stencils or freehand designs. The possibilities are endless! Adding a patterned planter to your mural is sure to make it stand out and add an extra layer of interest. Worth noting: make sure to drill holes in the bottom of your pot or bucket to ensure proper drainage. [3]
Trompe L'oeil Garden Mural Ideas
Trompe l'oeil is a painting technique that creates an illusionary 3D effect. With this method, it can make your garden look bigger and more inviting. If you're looking for creative ways to decorate your outdoor space, then trompe l'oeil is worth considering. Here are some ideas for incorporating this technique into your garden mural:
Fantasy Landscapes
Fantasy landscapes are often seen in garden murals, where gardens and lands of fantasy come together to create a scene that's more magical than reality. A fantasy landscape mural can be created with a variety of colors and textures, from the deep blues of an ocean to the lush greens of a forest. You can also use bolder colors like purples, oranges and yellows to create a brighter atmosphere.
If you're looking for a mural that's out of this world, consider a fantasy landscape mural.
Tropical Dreams
If you want to bring a bit of the tropics into your garden, why not create a mural with an island paradise theme? You could paint lush palm trees and tropical flowers, or even add in some exotic animals.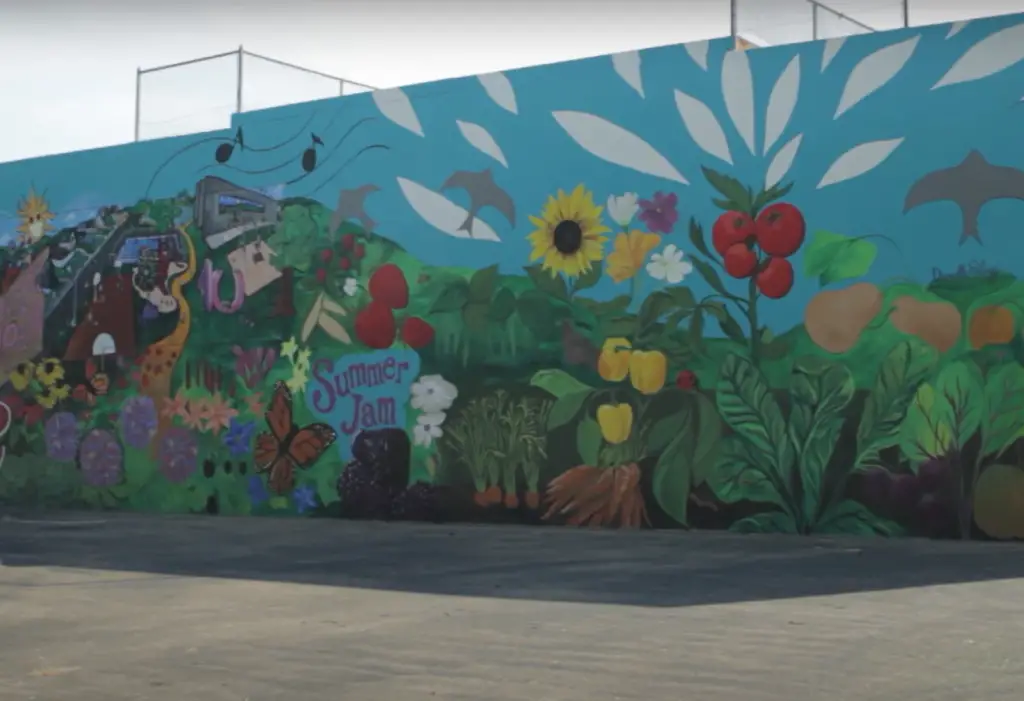 With bright, vivid colours and attention to detail, your mural will be sure to bring a little piece of paradise right into your own backyard. For a truly unique touch, use materials like shells or pebbles to create an added layer of texture and depth. Whatever your tropical dreams may be, they can become reality in your garden mural!
Secret Doorways
Secret doorways can transport you to a magical world of the imagination. These murals are perfect for avid readers and daydreamers alike. Whether it be an enchanted forest, a mysterious desert, or a distant land of fairy tales, secret doorways offer endless opportunities for creative expression and exploration. With the right design and materials, your mural can become a portal to a world of your own creation. You can also choose to incorporate existing elements from stories and movies, such as a wardrobe that leads to Narnia or an owl's nest leading up to Hogwarts castle. [4]
---
FAQ
What can I use for an outdoor mural?
For outdoor murals, the best materials are either ceramic tiles or weather-resistant paints. Ceramic tiles can stand up to moisture and temperature changes better than paint, but may be more expensive. If you're looking for an economical solution, use high-quality exterior acrylic paints on a wall that will not get wet from rain or snow – this is the most cost-effective way to create an outdoor mural. Also, keep in mind that whatever material you use may need to be sealed or protected against the elements. Worth noting is that outdoor murals should be designed to last long-term and should be created with the weather in mind.
What is a garden mural?
A garden mural is a large-scale painting or illustration created outdoors, often on a wall or fence surrounding a garden. Garden murals feature bright and vibrant colors that can help transform an outdoor space into something special. These artworks are popular among gardeners and homeowners alike as they add a unique touch of beauty to any landscape. Aside from their aesthetic appeal, garden murals can also provide meaningful messages or representations of the space they inhabit. Also, they are often used to express a theme or idea that the homeowner wishes to communicate. However, garden murals are not limited to just painting; they can also include mosaics and other forms of decorative art.
What are the best materials for outdoor murals?
When creating a mural outdoors, it's important to use materials that can withstand the changing weather and environment. Acrylic paint is a popular choice for outdoor murals because of its durability, fade resistance, and ability to be used on almost any surface.
High-quality exterior grade latex paints are also good options since they contain mildew inhibitors and are highly resistant to cracking and fading. Other materials that can be used for outdoor murals include ceramic tiles, brick, stone, wood, glass mosaic pieces, and metal. Each of these materials has its own advantages and should be chosen based on the climate in which it will be used. Additionally, coating the mural with a sealant or clear coat after it is completed will help ensure its longevity.
How do I get ideas for a mural?
There are many ways to get ideas for creating a mural in your garden. The most important thing is to identify the purpose of the mural and use that to inform its design. For example, if you want the mural to be decorative, consider using motifs related to nature, such as birds or flowers; if you want it to have a message, look for phrases or symbols related to the theme you want to convey. Additionally, you can use art tools such as sketchbooks, paints and collage materials to bring your idea to life. If you're stuck for ideas, websites like Pinterest have plenty of inspiration. Finally, don't be afraid to take risks – a unique mural will stand out in your garden and make it more memorable. With these tips, you're sure to create a beautiful, one-of-a-kind mural that perfectly matches the atmosphere of your garden.
What are the 2 types of murals?
Murals can come in two different types: painted murals and wallpapers. Painted murals are typically created with acrylic or oil-based paint and require the use of a paintbrush, roller or airbrush to apply the colors onto the wall. Wallpaper murals, on the other hand, are made from vinyl or fabric-backed materials and usually feature large photographic images that are printed directly onto them. Both types of murals offer a unique way to add beauty to your garden space but they each have their own distinct advantages and disadvantages that you should consider when selecting which one is right for your project.
How long do outdoor murals last?
Outdoor murals are painted with exterior-grade paints, so they can last for years in weather-protected areas. The longevity of the mural will depend on several factors, such as the quality and type of paint used, the amount of direct sunlight it receives and how much foot traffic it is subjected to. In general, an outdoor mural can last between five and 10 years if properly maintained. To extend the life of your mural, ensure that you use high-quality paint that is designed specifically for outdoor surfaces. You should also regularly clean your mural with mild soap and water to prevent oxidation or fading due to extreme temperatures or humidity levels. Additionally, if you decide to add a protective sealant after painting your mural, make sure that you use one that is suitable for outdoor surfaces. With the proper maintenance and care, your garden mural can last for years to come!
What are the different types of murals?
When it comes to garden mural ideas, there are two main types of murals: hand-painted and digital. Hand-painted murals are typically painted directly onto a wall or other surface using spray paint, brushes, sponges, stencils or other painting tools.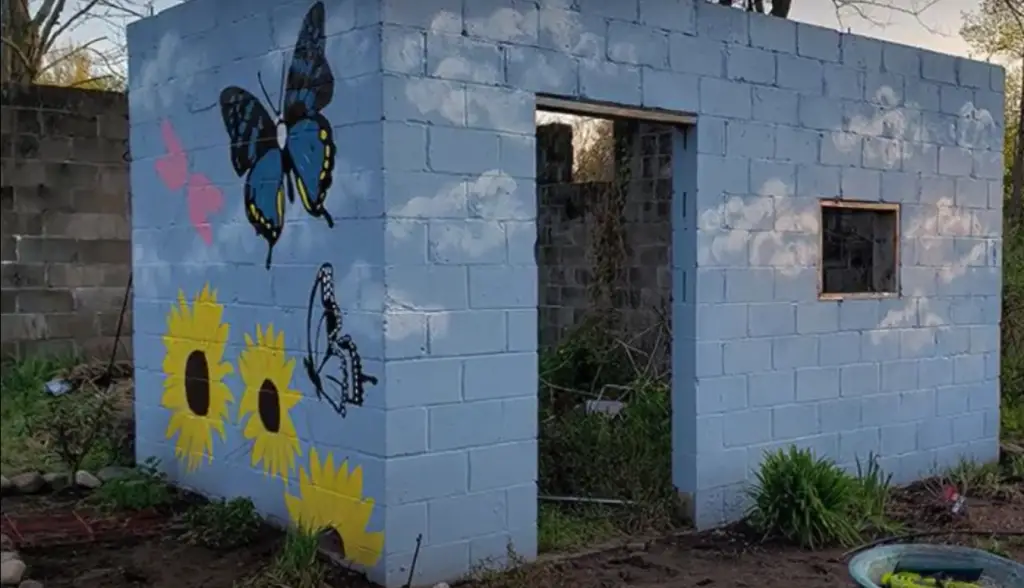 These murals can be customized with a variety of colors and designs to create a unique look. Digital murals, on the other hand, are created using computer-generated software and printed onto vinyl or other material. They come in a wide range of colors, patterns, textures and sizes, making them ideal for creating large scale garden murals with intricate details. No matter which type of mural you choose, the possibilities are endless!
What is the difference between a mural and a painting?
Mural and painting are two terms commonly associated with art, but they have different meanings. A mural is generally a large-scale work of art that covers an entire wall or ceiling in an indoor space, such as a lobby or hallway. Murals often depict a scene or tell a story, and can incorporate various mediums including oils, acrylics, enamels and mosaic tiles. Painting is the process of applying color to a surface, typically canvas or paper. Paintings usually feature one subject and are usually much smaller than murals. When it comes to gardening design ideas, murals can create stunning outdoor displays. Murals can be painted directly onto walls using paint designed for outdoor use; alternatively you could purchase pre-made tile murals to create a unique, eye-catching feature. Mosaic murals created from broken tiles can add color and texture to garden walls; you could also create your own mosaic mural using broken pottery or other materials. Alternatively, a mural could be painted directly onto a fence or wall in the garden – this is an excellent way of introducing vibrant colors into the outdoor space and creating an eye-catching feature for family and guests to admire. Murals are also great for making boring and plain walls look amazing! If you're looking for inspiration, there are plenty of ideas online that you can use as a starting point, whether it's landscapes or trees and plants or abstract art designs.
Are murals waterproof?
Yes, murals can be waterproof depending on the materials and preparation used. For outdoor garden murals, artists typically use a combination of exterior paint, sealers, and varnishes to ensure that their artwork is weather-resistant and durable. The varying levels of protective coatings depend on the location and exposure of the mural; some areas may require several layers of protection. Additionally, many artists choose to use high-quality outdoor materials such as ceramic tiles or metal prints for extra durability. By ensuring the right type of preparation and materials are used, an artist can create a stunning outdoor mural that will last for years. Worth noting is that regular maintenance of the mural may be necessary to keep it looking fresh and vibrant.
How do you weatherproof an outdoor mural?
One of the most important steps to creating a lasting outdoor mural is to make sure it is properly weatherproofed. Weatherproofing your mural will help protect against fading and damage caused by sun, rain, wind, snow, and other environmental factors. To weatherproof an outdoor mural:
Start with a durable base material like concrete or plywood that can withstand all types of weather conditions.
Utilize acrylic-based paints for high quality coverage that won't be prone to fading over time.
Apply several coats of sealant or protective coating once the painting has dried completely in order to ensure long-term protection from water and UV radiation.
Use marine-grade varnish for additional protection against the elements.
For murals in areas prone to vandalism, consider using graffiti-resistant coatings or paints.
Weatherproofing your outdoor mural is essential for ensuring its longevity and vibrancy over time!
Useful Video: OUTDOOR GARDEN Mural Painting in Timelapse Mode. PART 1
Conclusion
Garden mural ideas can be fun, decorative, and artistic. They are a great way to add character and charm to any outdoor space. Whether it is adding color and texture with mosaic tiles, or creating an abstract landscape painting, garden murals will bring life and personality to your garden. With a little bit of creativity, you can create a beautiful and unique mural that will be the envy of your neighbors. So don't wait any longer, grab your paints and get creative with garden mural ideas!
---
References:
https://coastalcreative.com/garden-wall-mural/
https://www.gardenpatch.co.uk/29-unique-garden-mural-ideas/
https://www.magicmurals.com/subject/nature/gardens.html
https://plantminders.com/garden-wall-mural/