Patio seating can be one of the most enjoyable ways to spend time outdoors. Whether you're hosting a summer barbecue or just relaxing in your backyard, having comfortable and stylish outdoor furniture is essential. From classic wicker chairs to modern modular designs, there are plenty of patio seating ideas that will help create an inviting atmosphere for your guests. Here are some tips on how to choose the best seating for your outdoor space.
Bring the Outdoors In
When it comes to choosing outdoor furniture, comfort is key. Look for seating that's designed with deep cushions and comfortable fabrics. This will help keep your guests relaxed while they're enjoying the outdoors. For added convenience, consider pieces with waterproof materials so that you can easily clean them in case of spills or stains.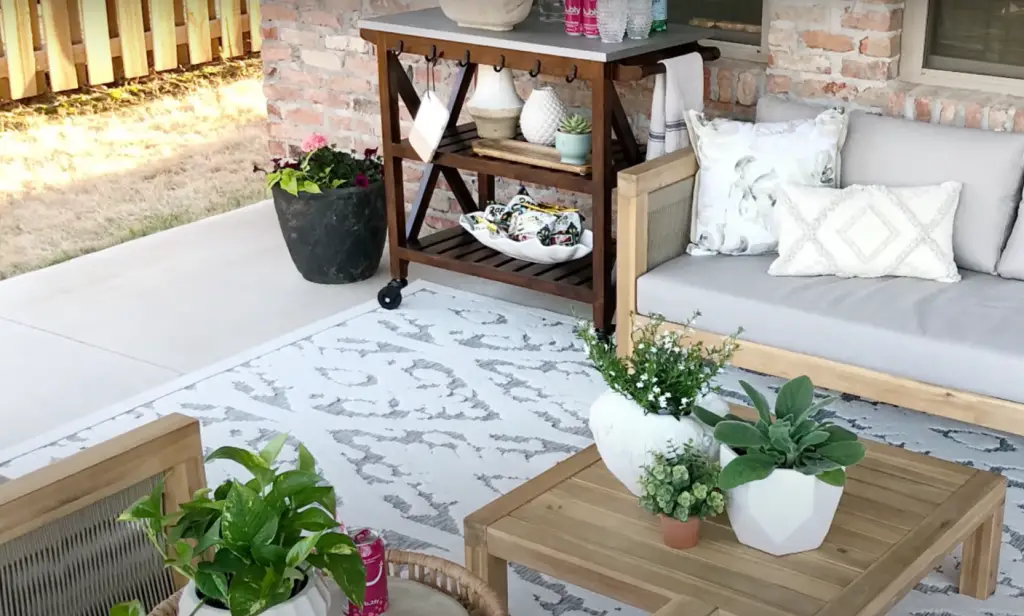 You should also think about bringing the comforts of indoors to your outdoor space. Look for seating options with armrests, adjustable backs, and comfortable headrests that will make your patio feel like an extension of your living room.
Add Warmth for Chilly Nights
When the sun sets and temperatures begin to drop, it can be hard to enjoy outdoor seating. Adding heat to your patio is an easy way to keep things cozy. Install a fireplace or fire pit in your outdoor seating area for cozy nights around the fire. Or if you're looking for a simpler solution, consider using electric heaters to keep the chill away. You can also add blankets or throws to your outdoor furniture for extra warmth on chilly evenings. With a few simple touches, you'll be able to enjoy your patio seating no matter what time of day it is.
Know Where to Splurge
When creating a patio seating area, it's important to be mindful of where you spend your money. If the furniture will need to be stored away come wintertime or if it will have a shorter lifespan due to weather conditions, then spending less might make more sense. For pieces that are meant for frequent use during all seasons, you may want to opt for higher quality materials that will be able to withstand the elements.
You can also save money by looking for furniture pieces with multiple uses or features. Look for seating with storage built in, or a table that can easily transform into an entertainment center. If you're planning on entertaining frequently, consider furniture that can easily be rearranged to accommodate groups of different sizes. [1]
Relax Outside With Minimal Space
If you're looking for patio seating ideas to make the most of a small space, there are several great options available.
Try adding some colorful cushions and pillows to add comfort and style. If you have room, an outdoor sofa provides comfortable seating while still maintaining a small footprint. You can also choose bench seating, which provides extra storage and seating in one piece of furniture. Finally, if you're looking to entertain, an outdoor dining set is the perfect way to create an inviting atmosphere for friends and family.
Host a Movie Night or Game Day
Hosting an outdoor movie night or game day is one of the most popular patio seating ideas. Gather a few chairs and set up a projector screen, or lay out some blankets for people to sit on. Provide some cozy pillows to make it extra comfy! Add in a few snacks and drinks and you're all set.
For game day, you can set up an outdoor gaming table and chairs or a bean bag toss. Have some lawn games ready for your guests to play too; this is a great way to get everyone involved no matter their age. To make it even more fun, bring out some pool toys or floaties and have an afternoon of fun in the sun.
Lighten a Moody Outdoor Space
A patio is a great place for relaxing or entertaining. Unfortunately, patios can also be quite dark and moody due to lack of light or tall buildings in the area. If this is the case, one of the best ways to brighten up your outdoor space is by selecting brightly colored furniture. Brightly colored furniture like teal or yellow chairs, orange ottomans, and blue benches can bring a cheerful energy to the space and instantly make it appear more inviting.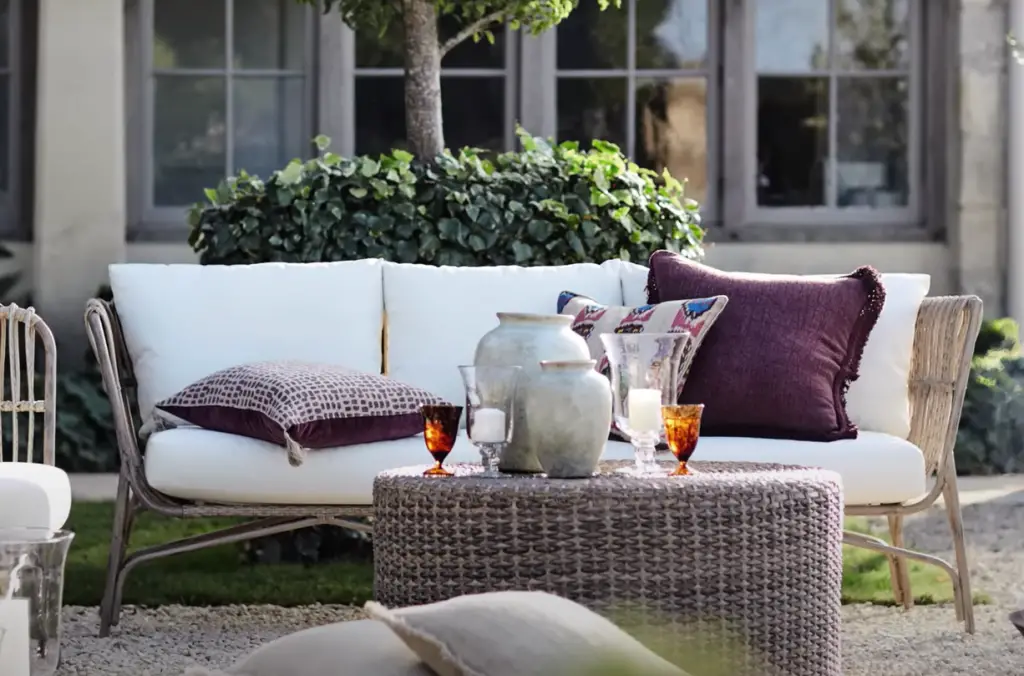 Additionally, adding colorful cushions or throws can also help add brightness to the area. For an even bolder look, you could combine different colors together for a more eclectic vibe. With the right combination of color and design, you can easily spruce up a dull patio space and transform it into an inviting oasis. [2]
Have Dinner Outside
One of the best ways to enjoy patio seating is to have dinner al fresco. You can easily set up a small bistro table and chairs on your patio for an intimate outdoor dining experience. Decorate the table with fresh flowers, candles, and other decorations that match your decorating style. If you're feeling ambitious, you can also fix a full-course meal and have a romantic dinner on your patio. This is sure to be a memorable experience that you'll cherish for years to come.
Provide Seating Options
When it comes to patio seating, one size doesn't fit all. That's why having multiple options is important for accommodating different types of gatherings. Some great ideas include:
Low chairs or benches around a fire pit – perfect for casual conversations and storytelling in the evening.
A wrought iron table and chairs – great for formal dinners or outdoor brunches.
Adirondack chairs, chaise lounges, and hammocks – perfect for relaxing in the sun.
Casual seating like picnic tables and benches – ideal for outdoor parties with kids.
A bar area complete with stools and high tables – great for entertaining and casual cocktails.
Roast Marshmallows in Comfort
There's nothing like sitting around a fire on a cool night, roasting marshmallows and enjoying the company of friends and family.
Fortunately, there are plenty of patio seating ideas that incorporate a built-in fire pit or fireplace, so that you can relax and enjoy the warmth of a fire while still enjoying your outdoor space. From cozy nooks tucked away in corners to large fire pits that become the centerpiece of your patio, there are plenty of great seating ideas to choose from.
[3]
Hang Outside All Day
When the weather's nice, it can be hard to tear yourself away from your patio! Make sure you have plenty of comfortable seating that will encourage you and your guests to stay outside all day.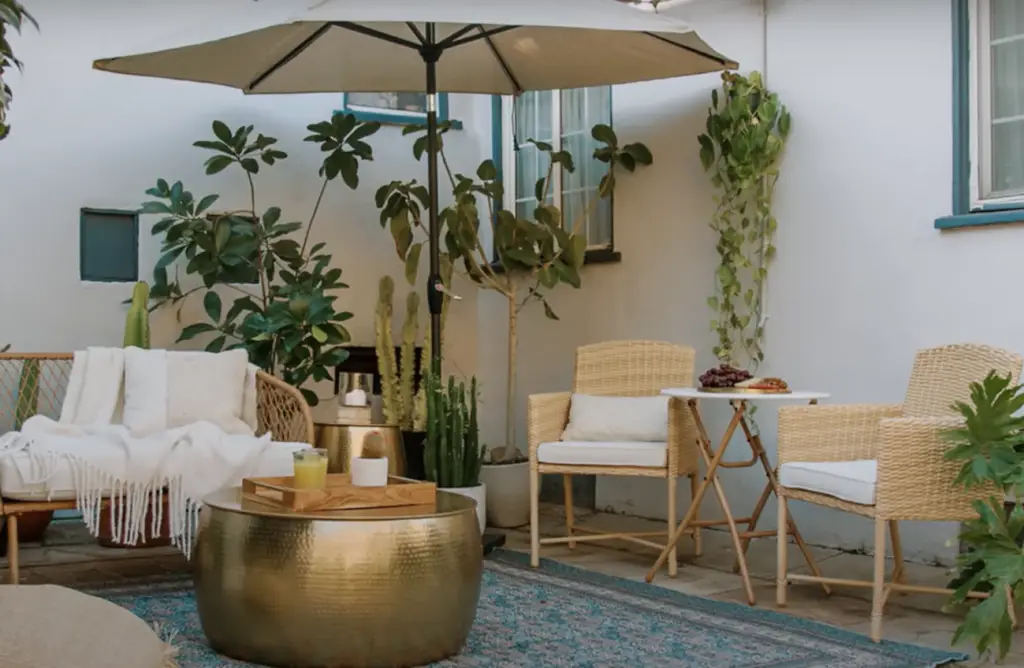 Get creative with different types of seating arrangements like cushions, bean bags, hammocks, or even just a few outdoor chairs set around a low table. If you have the space, add an outdoor sofa or daybed for some luxurious lounging! Make sure to invest in durable cushions and covers that are weather-resistant so they'll last long into the summer months.
Create the Ultimate Outdoor Living Room
If you're looking to make the most of your outdoor space, creating a comfortable seating area is essential. There are lots of creative and stylish patio seating ideas you can use to create an outdoor living room that's perfect for entertaining or just relaxing with friends and family.
Consider adding a sofa set or sectional, with plenty of comfortable seating and cushions to make it inviting. If you're looking for an area to entertain, add a coffee table and side tables to hold drinks and snacks. To keep the space from feeling too large or overwhelming, consider adding a few small outdoor rugs or an outdoor rug runner. You can also use furniture pieces to create distinct seating areas, such as a dining area or conversation nook.
Your outdoor living room should also be equipped with the right lighting. String lights are a popular choice for adding extra illumination and creating a cozy atmosphere for your guests. You can hang the string lights from nearby trees or poles and adjust their length for the right look. To complete the look, consider adding some outdoor-friendly decor, like colorful pillows or throws. [4]
Add an Outdoor Rug
Adding an outdoor rug to your patio seating area can be a great way to define the space and add vibrant color and texture. Outdoor rugs come in all sorts of colors, patterns, sizes, and materials. Choose one that suits the style of your home and complements your furniture for a polished look.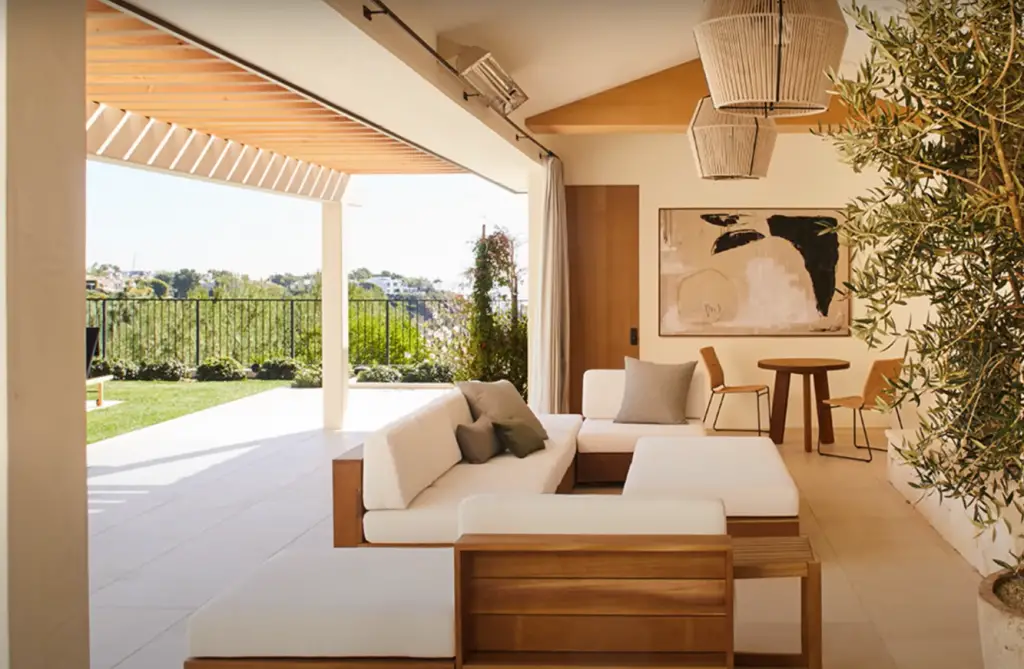 Make sure you choose one designed for outdoor use so it can withstand the elements and last longer. An outdoor rug also adds a layer of comfort to your patio seating area, making it a cozy spot for relaxing and entertaining. With an outdoor rug, you can create the perfect atmosphere for enjoying beautiful days in the sun or starlit nights beneath the stars.
Go Bold at Home
Bring the cinematic experience to your own backyard with a custom outdoor theater. Set up a projector and screen against a wall or fence, or hang one from the roof for a truly immersive movie-watching experience. Comfortable seating and cushions will keep you cozy while enjoying your favorite films in the great outdoors. Don't forget the snacks! An outdoor theater set-up is sure to be a hit with friends and family, making it an unforgettable addition to your patio seating area. [5]
---
FAQ
How can I make my patio look nice?
There are many ways to make your patio look nice! Depending on the size of your patio, you may want to consider adding some seating and decorative elements. Outdoor furniture such as chairs, tables and benches can provide cozy places for people to sit and relax. Adding a rug or outdoor pillows can also add a touch of color and warmth.
These elements can provide additional seating and create great gathering spaces for family and friends. Finally, decorating your patio with plants, artwork and other decorative items can help to give it a personal touch!
How do I make more outdoor seating?
Creating more outdoor seating can be a great way to transform your patio into an inviting and comfortable place for family, friends, and guests. There are many different ways to create additional seating in an outdoor space—from adding extra chairs or benches to building larger structures such as built-in seating walls or multipurpose furniture arrangements.
How do I make my patio look like a room?
When designing your patio, it's important to think of it as an extension of your living space. To make your patio feel like a room, consider adding elements that would be found indoors, such as rugs and curtains. Additionally, you can add furniture pieces that are comfortable and inviting to create an inviting atmosphere.
Invest in pieces that can withstand the elements, such as wicker or metal furniture. Also, incorporate lighting to make your patio feel like an outdoor living room. String lights, lanterns and tiki torches can all be used to create a warm glow on your patio. Finally, add some greenery to complete the look of a cozy outdoor space.
How to furnish a patio for cheap?
Adding furniture to an outdoor patio can be a great way to enjoy the outdoors while also adding style and comfort. However, furnishing a patio can often be expensive, especially if you are looking for high-quality pieces. Fortunately, there are a few ways to furnish a patio on a budget. One of the most cost-effective ways to furnish a patio is by creating DIY furniture pieces.
By using repurposed materials such as pallets, wood boards, and fabric scraps, you can create stylish seating solutions that are both comfortable and affordable. If your patio is on the larger side, adding a hammock or daybed can be a great option for providing comfortable seating without taking up too much space. Another budget-friendly option is to search for second-hand furniture pieces from thrift stores or online classifieds like Craigslist and eBay. You can also find great deals on patio furniture by shopping during off-season sales at home improvement stores or other retailers. Finally, you can always make your own cushions or covers for your existing furniture to give them a new look.
What makes a patio cozy?
When designing your patio seating space, there are a few factors to consider that can make it more cozy and inviting. First, think about how much sunlight you want to have in your area. For those who prefer some shade, incorporating an outdoor umbrella or sun sail can provide relief from the heat while still allowing natural light to filter in. Additionally, adding some cozy outdoor cushions and pillows to your seating area can create a relaxed atmosphere for guests. Lighting is also an important factor in creating a cozy patio. String or fairy lights hung around the area can add a magical touch and provide warm lighting when it gets dark. Finally, incorporating soft textures like rugs, blankets and throws will further create a welcoming environment.
How do you jazz up a patio?
There are many ways to make a patio more inviting. With the right furniture, accessories and décor, you can create a space that's perfect for lounging with friends and family. Here are some patio seating ideas to help you get started:
Furniture – Invest in durable outdoor furniture that will last through the seasons. Consider chairs, loungers, benches and tables that can fit your style and patio space.
Accessories – Add a few accessories like colorful pillows or decorative rugs to give the seating area more personality. A fire pit or outdoor heater can also help make the patio more inviting during cooler months.
Greenery – Potted plants, flowers and trees can bring life to the patio. Place them around the seating area to create an inviting atmosphere.
Lighting – To create ambiance in the evening, hang string lights or lanterns around the seating area. Solar-powered lights are a great option for outdoor spaces as they don't require extra wiring.
How do you make a COZY outdoor seating area?
Creating a cozy outdoor seating area is all about creating an inviting atmosphere that encourages people to relax and enjoy the outdoors. Start by choosing comfortable furniture such as deep armchairs or sofas with plush pillows. Add accent rugs for texture, and use plenty of throws and blankets to add warmth. Place these around a central fire pit or outdoor fireplace for a cozy focal point.Think about lighting too — string lights, candles, or torches will all add to the ambience. Hang planters or window boxes filled with lush plants and greenery to create a serene atmosphere. Finally, don't forget to add a few extra touches like cushions or throws in bold colors and patterns, or a water feature for gentle background noise. With these tips, you'll have the perfect patio seating area in no time!
How to style your outdoor furniture?
When it comes to outdoor furniture, the possibilities are endless. You can go for a classic rattan set or something more modern; you can also choose from a variety of colors and materials. Here are some simple tips on how to style your patio seating: 
Choose versatile pieces: Invest in pieces that will be able to transition from day to night. A chaise lounge, for example, could be the perfect piece to move around and create different seating arrangements throughout the day.
Add some color: Incorporate fun colors into your outdoor furniture to create a vibrant and inviting atmosphere. Colors like bright yellow or orange can help add a cheerful vibe to any space.
Utilize different textures: Combining different materials and fabrics will help create a cozy atmosphere. For example, adding wood or wicker furniture can contrast nicely with plush outdoor pillows and throws.
Incorporate greenery: Adding plants to your patio seating area is an easy way to add visual interest and texture. Choose from potted plants, hanging planters, and even trellises to bring the outdoors into your outdoor space.
Create zones: Use furniture placement to create different "zones" within your patio seating area. Place a few chairs around a fire pit for an intimate conversation area or use a large table and chairs for a dining space.
How can I make an outdoor area more inviting?
No matter the size of your outdoor space, there are plenty of ways to make it more inviting. Here are some patio seating ideas that can help turn any outdoor area into a cozy oasis: 
Create Multi-Level Seating – Adding tiers for seating is an easy way to add depth and texture to your outdoor space.
Incorporate a Fire Pit – Cozy up around the fire with your friends and family on cool evenings.
Hang String Lights – Create a warm, inviting atmosphere by stringing lights from trees or pergolas in your outdoor area.
Install Outdoor Furniture – Invest in comfortable furniture for entertaining and relaxing outdoors; consider buying furniture with cushions that can be easily stored away.
Add Shade and Privacy – Install a pergola or an outdoor canopy to provide shade and create privacy for your outdoor space.
Decorate with Plants – Incorporate plants into the design of your patio seating area; they will add color, texture, and bring life to the area.
Add Pillows and Throw Blankets – Provide extra comfort with pillows and throws for cooler evenings, or use them to decorate your outdoor area during the day.
Useful Video: 60+ Best Outdoor Seating Area Ideas
Conclusion
When it comes to patio seating ideas, there are a variety of options available to suit any space. Outdoor furniture such as sofas and loungers provide comfort and style while creating an inviting atmosphere for family and friends. For smaller patios, bistro sets or individual chairs can be used to create a cozy gathering area. If you have the space, a bar seating area is a great way to entertain guests. When choosing patio furniture, it's important to consider the materials used as well as how much maintenance it will require.
---
References:
https://www.thespruce.com/outdoor-seating-ideas-4691734
https://www.homesandgardens.com/gardens/outdoor-seating-ideas
https://www.livingetc.com/ideas/outdoor-seating-ideas
https://www.bhg.com/home-improvement/patio/designs/patio-ideas/
https://www.idealhome.co.uk/garden/garden-seating-ideas-225435