Are you looking to create the perfect outdoor oasis? A pool pavilion is a great way to add style and function to your backyard. Pool pavilions offer a sheltered space for entertaining, relaxing, or just enjoying the outdoors. They can also be used as an extra storage area for pool supplies or patio furniture. With so many options available, it's easy to find a pool pavilion that fits your style and budget. In this article, we'll explore some of the different types of pool pavilions available so you can make an informed decision when choosing one for your home.
What Is The Purpose Of A Pool Pavilion?
A pool pavilion serves a variety of purposes, making it an ideal addition to any backyard.
It can provide shade and shelter from the sun's rays, allowing you to enjoy your outdoor space even when the weather isn't cooperating. It also offers extra storage for furniture or pool supplies, such as floats or toys. Plus, a pool pavilion provides an aesthetically pleasing spot to entertain, gather with friends and family, or just sit back and relax.
Cambridge Pavilion
For those who want to create a backyard oasis, the Cambridge Pavilion is an ideal option. This elegant pavilion makes for a great gathering spot that can be used for entertaining or just relaxing in your outdoor space. With its spacious interior and large windows, this structure has plenty of natural light and ventilation.
The Cambridge Pavilion also features detailed trim and decorative panels that add a touch of classic sophistication. With plenty of space for seating, this pavilion is perfect for hosting family and friends during those warm summer days. If you're looking for a sophisticated pavilion with plenty of style and space, the Cambridge Pavilion is the ideal solution.
Cottage Style Pavilion
A cottage style pavilion is a great way to bring the charm of rural living to your poolside area. This type of pavilion features a classic, rustic aesthetic with cedar wood shingles and white trim. The wood provides a natural warmth that complements any outdoor setting, while the crisp white adds an element of refinement. Inside, you can add plenty of comfortable seating and decorative touches to create a cozy gathering place for friends and family. With an open layout, this type of pavilion makes it easy for everyone to socialize while they enjoy the pool. To further enhance your cottage style pavilion, consider adding gable windows or cupolas to let in natural light and provide a beautiful view of the outdoors. With its timeless design, this type of pavilion is sure to provide years of enjoyment for your family. [1]
Large Poolside Pavilion
If you are looking to create an outdoor oasis, a large poolside pavilion is the perfect solution. Not only can it be used as a shady retreat while swimming and sunbathing, but also as an ideal spot for entertaining family and friends.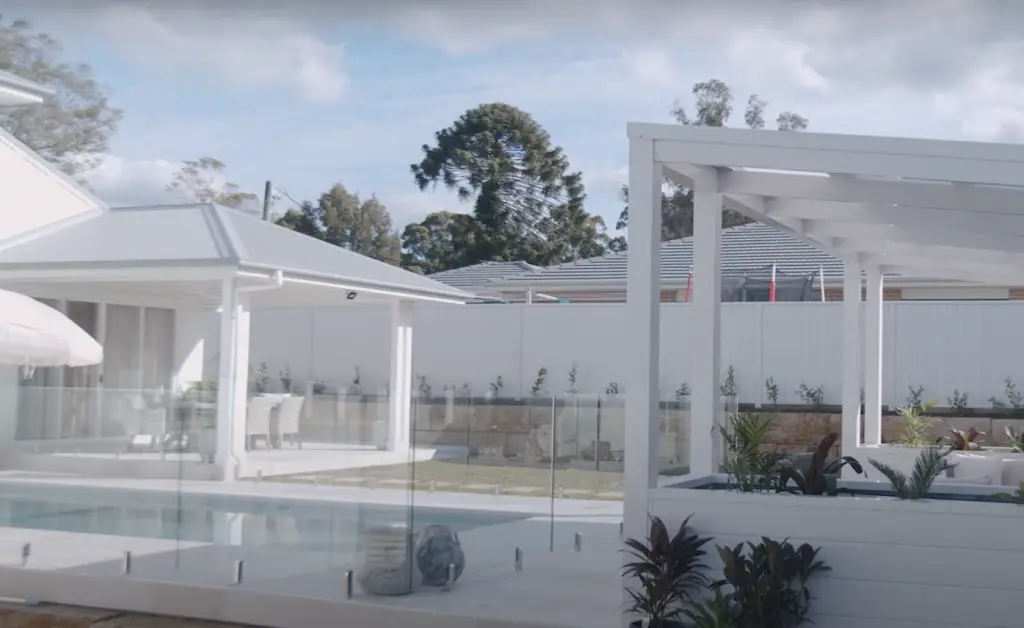 Pavilion designs come in many different shapes and sizes, allowing you to customize your outdoor space to fit your lifestyle. Using neutral colors and materials, such as wood or metal, can help create a timeless look that will last for years to come. Adding decorative elements, like outdoor rugs and lighting fixtures, can also enhance the ambience of your poolside pavilion even further. With a large poolside pavilion, you'll be able to enjoy the outdoors in style and comfort all year round.
Open Air Backyard Pavilion
An open air backyard pavilion is a great way to entertain guests or simply enjoy the sunshine while relaxing in your own private space. It can provide shade from the sun, protection from rain and wind, and create an intimate area for entertaining. Depending on the size of your yard and budget, there are many different designs and features you can choose from.
You can choose between building a permanent structure or opting for a more temporary solution with fabric or tarp walls and roofing. When selecting materials, consider your budget and local climate conditions. This will help you to ensure that your backyard pavilion is both durable and attractive.
Pool House Pavilion
A pool house pavilion is a great way to enjoy the benefits of having a swimming pool without sacrificing comfort or style.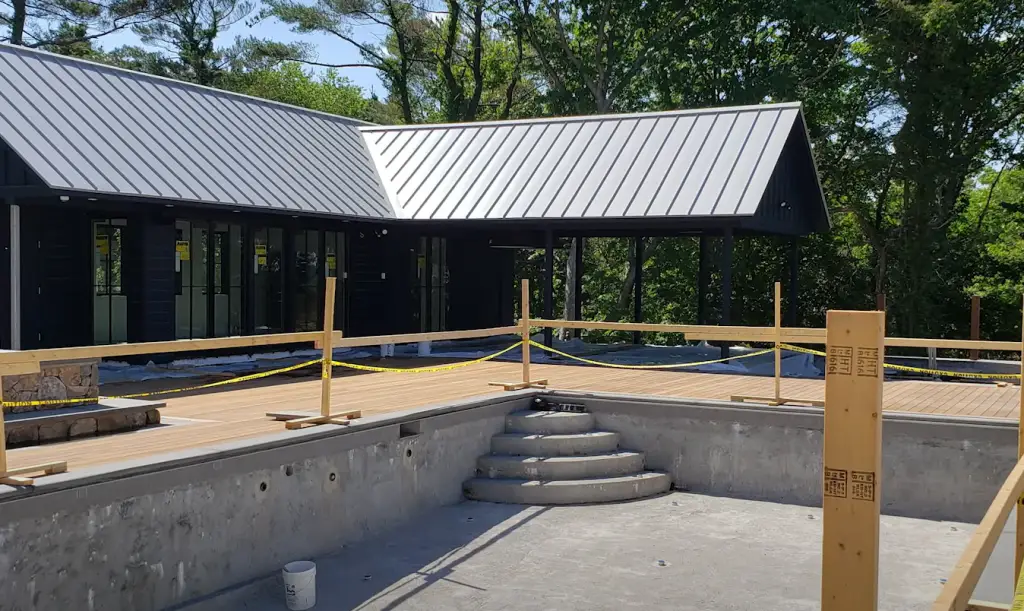 It provides shade, shelter, and even more fun activities than just lounging in the sun. Here are some ideas for incorporating a pavilion into your backyard pool setup:
Install an outdoor kitchen. An outdoor kitchen with a refrigerator, stovetop, and sink is perfect for grilling burgers and other poolside snacks.
Add comfortable seating. A pavilion gives you plenty of room to set up some comfortable seating for family and friends.
Create an entertainment corner. An entertainment corner with a flat-screen TV and stereo system is great for hosting pool parties and movie nights.
Include a bar area. A bar area gives you the opportunity to mix drinks for your guests while they relax or swim in the pool. [2]
Traditional Pavilion
A pool pavilion is a great way to provide shade, shelter, and seating around your swimming pool area. Traditional pavilions are typically built with wood or metal posts and beams, creating an open-air structure. These traditional designs offer a classic look that will help complement the existing architecture of your home as well as other outdoor features.
You can choose from many different styles of traditional pavilion designs to complement your outdoor area. Wooden posts and beams provide a rustic look, while metal supports offer a modern feel. Depending on the materials you use, you can create an open-air design or one that is completely enclosed with walls and a roof. Additionally, there are many different options for seating, including benches and chairs.
Bamboo Roof Pergola
A bamboo roof pergola is the perfect way to create a dramatic outdoor space for relaxing and entertaining. Bamboo creates an airy, exotic ambiance while providing excellent sun protection. The addition of a fabric canopy allows you to adjust the amount of shade and sunlight that enters your pool pavilion area. This type of pergola is perfect for beachside or tropical-themed pool pavilions, as the natural material creates a relaxing ambiance and visually connects your space to the outdoors. Bamboo is also an extremely durable material that can last for years if properly maintained. With minimal upkeep required, this is an excellent choice for anyone looking to create a timeless pool pavilion area.
Mini Pergola
A mini pergola is an ideal choice for a small pool pavilion. It will provide shade and create a cozy atmosphere in your backyard oasis. The pergola can be easily built with materials like wood and metal, or you can choose to have it professionally installed.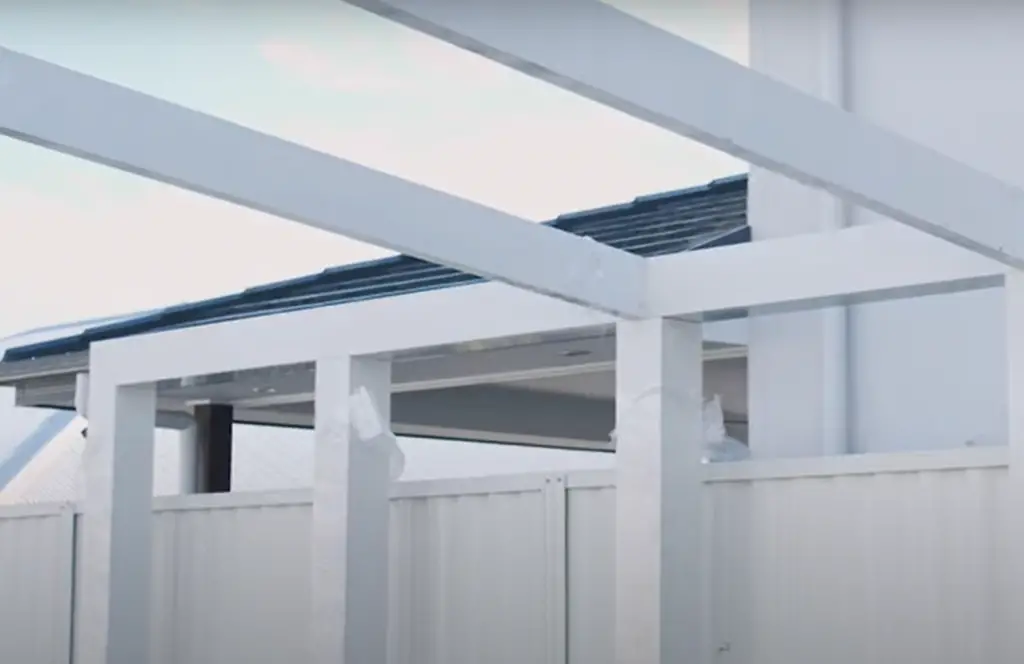 With its open-air design, the mini pergola is perfect for outdoor entertaining and adding a bit of style to your pool area. The shape and size can be varied to fit any space, and you can use it as the centerpiece of your patio or deck. You can also add curtains, string lights, and other decorations to create a more intimate atmosphere that will make your guests feel welcome. With its timeless beauty, a mini pergola is an excellent choice for adding charm and character to your pool pavilion. [3]
Cabana Pavilion
A cabana pavilion is a great addition for pool owners looking to add luxury and style to their outdoor space. This type of pavilion provides an area of shade and protection from the sun, rain, and wind while still allowing you to enjoy your pool area. Cabanas come in many shapes and sizes, ranging from small gazebos to large, elaborate structures. They're a great way to add visual appeal and a sense of sophistication to the pool area while also providing convenience when you need it most. Cabana pavilions come in many materials, including wood, metal, and canvas, so you can find one that matches your existing style or choose something completely unique. With a cabana pavilion, your pool area can become an oasis of relaxation and comfort for you and your guests!
Mini Pool House
A mini pool house is a great way to enhance the look of your outdoor space. It can be used for anything from storage to a cozy seating area. With its small size, it can easily fit into smaller yards or even on decks and patios. You can add a small refrigerator and bar area for entertaining guests or use it as an extra changing room for swimmers. A mini pool house is a great way to add extra functionality and style to your outdoor living area.
Freestanding Poolside Pavilion
A freestanding poolside pavilion is a great way to enjoy outdoor living without having to worry about the permanence of a permanent structure.
This type of pavilion offers a perfect blend of comfort and convenience, with its spacious seating area and protection from the sun and wind. It can also be used for entertaining guests or just relaxing by the pool. With a freestanding pavilion, you can customize it to match your home's existing color scheme or add an eye-catching design element to your outdoor space.
---
FAQ
How do I beautify my pool area?
When it comes to beautifying your pool area, there are many options available. Adding lush landscaping around the edges of the pool will help create a tranquil atmosphere. If you have space, adding outdoor furniture or a pavilion with seating and umbrellas can provide coverage from the sun when needed. Installing decorative lighting and special features such as waterfalls or a fountain can add character to the area. For an added touch, consider creating a tiled flooring around the pool that will bring color and texture. These are just some of the ideas you can explore to make your pool area more enjoyable and visually appealing.
What do you put in a pool house?
When creating your own pool pavilion, it's important to consider what kind of amenities you would like to incorporate. The possibilities are endless; from seating areas and outdoor kitchens, to TVs and showers. Allowing for plenty of room to relax by the pool, popular items include chaise lounges and umbrellas, conversation seating, outdoor rugs, and patio furniture. If you want to entertain guests, consider adding an outdoor kitchen with a grill or pizza oven.You can also create a more luxurious atmosphere by adding TVs and sound systems, as well as showers for post-swim convenience. Whatever your needs might be, make sure to plan ahead so that you can ensure the perfect poolside retreat. To finish off your space, consider adding a few decorative elements such as outdoor lighting, potted plants, and colorful artwork.
What do you do at a pavilion?
There are lots of fun activities that you can do at a pool pavilion such as:
BBQing: A classic summer activity! Have everyone gather around the barbecue and grill some delicious food while chatting away.
Music: Put on some music and have a dance party by the pool or use your pavilion as an outdoor lounge with comfy seating for relaxing and listening to music.
Games: From classic board games to rousing rounds of charades, you can make use of your pool pavilion for hours of fun and games.
Swimming: Make the most out of your party by taking a dip in the pool. Let everyone cool off while having a good time.
Lounging: Set up loungers around the pool and allow everyone to relax and soak in some sun.
Eating: Have a picnic or snack bar set up in your pavilion so that guests can munch on delicious snacks while spending time together.
What should be in a pavilion?
When planning the design of a pool pavilion, there are several important factors to consider. A well-designed pavilion should provide shade from the sun, allow for ventilation, provide visibility and access to the pool area, offer protection from inclement weather, and be aesthetically pleasing. The layout should also accommodate furniture, planters, and other amenities.
What are the types of pavilion?
There are many different types of pavilion that can be used in a pool area, each with its own unique features and benefits. Some popular choices include gazebos, cabanas, pergolas and shade sails. Gazebos are open structures that provide shelter from the sun and rain while still allowing for some views of the surrounding area.
Cabanas, on the other hand, are more enclosed structures that provide complete protection from the elements but can still open up to allow for breezes and views. Pergolas are a type of lattice trellis structure typically used to create an outdoor seating area or pathway. Shade sails are a great option if you need a quick and easy solution to provide shade around a pool. They can be made from fabric, aluminum or even canvas and are available in many different shapes and sizes.
How can I make my pool look expensive?
It is possible to enhance a pool's appearance without spending a lot of money. Here are some ideas to get you started:
Add a Pavilion. To enhance the appearance of your pool area and create a more lavish atmosphere, consider installing a sophisticated pool pavilion.
Install a Water Feature. Adding a fountain or waterfall as a decorative water feature can enhance the luxurious ambiance of your pool area.
Opt for Accent Lighting. One of the most economical methods to enhance the appearance of your pool is by adding accent lighting.
Upgrade Your Furniture. Adding high-quality outdoor furniture to your pool area can create a more luxurious atmosphere.
Install a Fire Pit. Installing a fire pit next to the pool can add warmth and ambiance to your outdoor space.
How can I make my pool more interesting?
Adding a pool pavilion to your backyard can be an easy and fun way to make your pool more interesting. A pool pavilion is essentially a structure used to provide shade and seating around the pool area. It can also be used for entertaining guests, hosting outdoor parties, or simply relaxing in the sun. There are many different types of pool pavilions, ranging from simple designs to more elaborate structures that feature additional amenities such as a bar, outdoor kitchen, or even a hot tub.
How do I make my pool look like an oasis?
Creating a pool pavilion in your own backyard can be a great way to turn an ordinary swimming space into a paradise getaway. Incorporating a few simple elements can transform your outdoor area into something extraordinary. Start by finding inspiration from the latest interior design trends and styles. Whether you're looking for a modern, chic, or rustic feel, it can be helpful to create a vision board with photos and ideas of what you'd like your pool pavilion to look like. Once you have an idea of the overall aesthetic, think about features and amenities that will best complement your space. Consider adding an outdoor kitchen, built-in seating and fire pit, or even a spa-like relaxation area.
What not to put in a pool?
When planning a pool pavilion, there are a few key elements to keep in mind. Knowing what not to put in the pool can help you save money and energy in the long run. The most important thing to keep out of your pool is any kind of electrical equipment or wiring. This includes anything that plugs into an outlet, such as lights, speakers, heaters, or other electronic devices. Not only can these items cause damage to the pool, they can also be a hazard to anyone who swims in it. Another important thing to avoid is any kind of sharp objects, such as rocks or sticks. These can puncture the liner and create leaks in your pool. Finally, it is important to avoid plants and other organic material. These can cause bacteria and algae growth, which can contaminate the pool water.
What does every pool party need?
Every pool party needs a great place to hang out and stay cool. That's why many people choose to invest in a pool pavilion for their backyard oasis. Pool pavilions come in many different shapes and sizes, from full-scale outdoor living rooms to simple shade structures. There are several different features that can be added to a pool pavilion, such as lighting, furniture, and even entertainment systems.
Useful Video: How we created the perfect pool pavilion
Conclusion
When planning your pool pavilion, it's important to take the time to consider all aspects. From the shape and size of the structure to the materials and amenities you choose, each detail will make a difference. Make sure to select features that reflect your personal style and meet your needs. With some careful planning and creative ideas, you can create a beautiful pool pavilion that will provide hours of enjoyment for you and your family.
---
References:
https://lancastercountybackyard.net/blog/pool-pavilions-ideas-designs/
https://www.evergreenseeds.com/pool-pavilion-ideas/
https://www.thebackyardshowcase.com/blog/backyard-budget/pool-pavilion-designs
https://www.creativeoutdoors.com.au/pavilions/