When it comes to pressure washers, there are a lot of different opinions on what kind of nozzle or spray gun you should use. Many people think that you have to buy an expensive nozzle or spray gun to get the best results. However, this is not always the case. In this article, we will discuss whether you can use a garden hose on a pressure washer, and provide some useful tips on how to do it correctly!
The Difference Between a Garden Hose and a Pressure Washer
A garden hose is a flexible tube used to transport water. Most hoses are made of rubber or vinyl. The hose is attached to a water source, such as a faucet, and the other end is equipped with a spray nozzle, sprinkler, or other device for dispensing the water.
Garden hoses are typically used for watering plants or gardens. They can also be used for cleaning driveways and sidewalks, filling pools and kiddie pools, and washing cars. Garden hoses come in different lengths, diameters, and materials depending on their intended use.
They are often used with a spray nozzle attachment for watering plants or cleaning surfaces. Some garden hoses also have a built-in shut-off valve which allows the user to control the flow of water.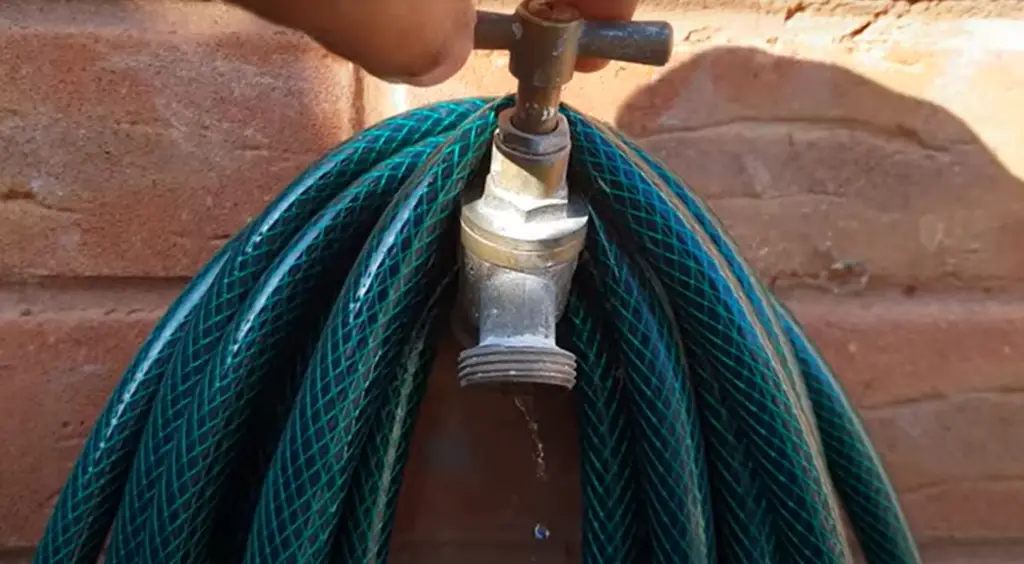 A pressure washer is a device that increases the water pressure from a regular hose to create a powerful stream of water. This stream of water can be used for various purposes such as cleaning dirt and grime from surfaces or blasting away stubborn stains. Pressure washers can be used on a variety of surfaces, including concrete, asphalt, wood, metal, and more.
Pressure washers are available in both electric and gas-powered models. Electric pressure washers are typically lighter and more Compact than their gas-powered counterparts, making them ideal for small jobs around the house. Gas-powered pressure washers are more powerful and thus better suited for larger projects, such as cleaning the exterior of a house or washing a car.
The difference lies in their construction.
A pressure washer hose has a thicker inner wall and an outer wall that's resistant to abrasion.
It's also equipped with fittings that can handle the high water pressure without leaking or bursting.
A garden hose, on the other hand, has a much thinner inner wall and is not built to withstand high water pressure.
[1]
,
[2]
,
[3]
Why Would You Want to Connect a Garden Hose on a Pressure Washer?
There are a few reasons you might want to connect a garden hose on your pressure washer. It's no secret most households are more likely to have a garden hose readily available than a pressure washer hose.Maybe you're trying to save money by not buying an expensive pressure washer hose. Or, maybe you're in a pinch and need to clean something quickly. Whatever the reason, it's important to know that not all hoses are created equal and not every hose is designed to handle the high water pressure of a power washer.
Can You Connect a Garden Hose to a Pressure Washer?
So, what happens if you try to use a garden hose with a pressure washer? The answer is: it depends. If you have a lower-powered machine or a high-pressure garden hose, you might be able to get away with it. But if you have a higher-powered machine, the water pressure will likely be too much for the garden hose to handle. The result could be a burst hose, sprayed water everywhere, and/or damage to your pressure washer.
Even if you make it work, the result won't be as powerful as using a pressure washer hose. That's because a garden hose can't handle the same amount of water flow as a pressure washer hose.
How to Connect a Garden Hose to a Pressure Washer
If you're determined to use a garden hose with your pressure washer, there are a few things you can do to minimize the risk of damage.
Test GPM from water source
First, test the gallons per minute (GPM) flow rate from your water source. Most pressure washers require a minimum of two GPM to operate properly. If your garden hose has a lower flow rate than this, it's not worth trying to use it with a pressure washer.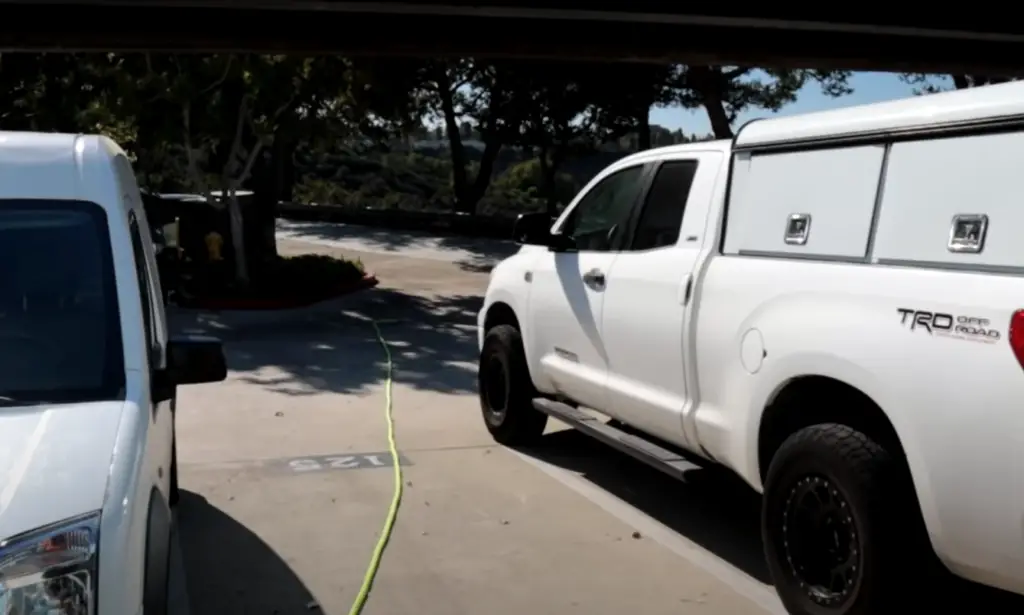 To test the GPM flow rate from your garden hose, simply attach it to a faucet and turn on the water. Use a stopwatch to time how long it takes to fill up a two or three-gallon bucket.
Compare the time it takes to fill the bucket with both power washer and your garden hose. If your garden hose is significantly slower, it can't handle the GPM requirements of a pressure washer and you should look for another option.
If you have a high-powered pressure washer, you might not be able to get away with using a garden hose, no matter how high the GPM flow rate is. That's because these machines require a lot of water to operate properly and a garden hose simply can't provide enough.
You're better off investing in a pressure washer hose that's specifically designed to work with your machine. Not only will this give you the best results, but it will also minimize the risk of damage to your pressure washer. [2]
Check the PSI rating of your garden hose
The next thing you need to do is check the PSI rating of your garden hose. PSI stands for "pounds per square inch" and is a unit of measurement for pressure. The higher the PSI, the more pressure is exerted. For example, a garden hose typically has a PSI of 100-500, while a pressure washer can have a PSI of up to 6000.
The higher the water pressure, the more likely it is that your garden hose will burst. That's why it's important to only use a high-pressure, high-quality garden hose. A good quality hose will have a rating of at least 600 psi. This is the minimum amount of pressure that's needed to avoid damage.
The high water pressure could cause the hose to burst and spray water everywhere.
Even if you take these precautions, there's no guarantee that your garden hose won't burst. If it does, you could damage your pressure washer, so be sure to have a backup plan in place.
You also need to make sure that the fittings on your garden hose are compatible with those on your pressure washer. Different types of hoses use different types of fittings (e.g., threaded, quick-connect, etc.), so it's important to check that the fittings are compatible before trying to use the hose with your pressure washer.
If the fittings are not compatible, you can try using an adapter to make them work. However, be aware that this might not be safe and could cause leaks or other problems. It's always best to use a hose that is designed for use with a pressure washer.
Once you've checked the PSI rating and made sure the fittings are compatible, you're ready to connect the garden hose to your pressure washer. [1],[2]
Attach hose splitter to water source
The first step is to attach the hose splitter to your water source. The hose splitter is a device that allows you to connect two hoses to one faucet. This is completely optional but will save you some time if you have more than one hose to connect.
Keep in mind that not all hoses are compatible with a hose splitter. If you're not sure, check the manufacturer's instructions or contact customer service.
Install quick connect couplings
Once you have the hose splitter installed, it's time to install the quick connect couplings on your hoses. Quick connect couplings are devices that allow you to easily connect and disconnect hoses without having to use tools.
Installing quick connect couplings is a pretty simple process. First, locate the end of the hose that will be connected to the pressure washer. This end should have a male quick connect coupling.
Next, take the other end of the hose and locate the female quick connect coupling. The female coupling will have a threaded portion that screws onto the hose. Simply screw it on until it's tight.
Connect garden hose with a pressure washer
Once you have the quick connect couplings installed, it's time to connect the leader hose to your pressure washer. The leader hose is the shorter of the two hoses and is typically about six feet long.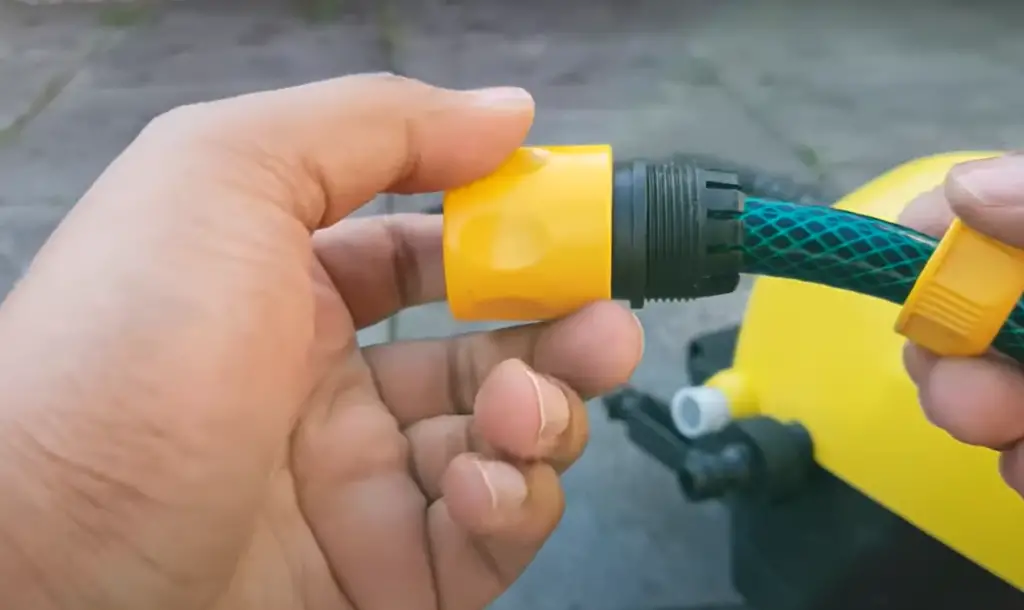 To connect the leader hose, simply line up the male and female quick connect couplings and push them together until they click. You'll know they're properly connected when you feel or hear a click.
If everything is working properly, you're ready to start using your pressure washer! Just remember to use caution and follow all safety instructions that come with your equipment. [2]
How to Choose a Correct Hose for a Pressure Washer
As you can see, it's important to choose the right hose when using a pressure washer. But how do you know which hose is right for your pressure washer?
Diameter
The diameter of the hose is important because it plays the role in how much resistance the water will have as it flows through the hose. A wider diameter will reduce the resistance, while a smaller diameter will increase the resistance.
The widely available diameters for pressure washers are 1/4", 3/4", and 1/2". Each one of these diameters has its own advantages and disadvantages.
Generally, the larger the diameter, the less the resistance to flow. But smaller diameter provides for more powerful cleaning since it can deliver more water pressure.
The most common garden hose diameter is 3/4″. It is the standard diameter because it offers a good balance between resistance and flow.
However, if you're looking for a hose with more pressure, then you'll want to go with a smaller diameter, like 1/4". This size hose will create less resistance in the water flow, which allows your pressure washer to work more efficiently. [1],[4],[5]
Length
A standard garden hose is about 50 feet long. You want a hose that's long enough to reach all areas of your car, but not so long that it's difficult to maneuver. A good rule of thumb is to choose a hose that's at least 25 feet long.
Because of this, a 50-foot hose may be a good option for high-pressure washers.
The length of your hose can also affect the pressure of your washer. A shorter hose will have more pressure than a longer hose because the water will have less time to lose pressure as it travels through the hose.
Material
Another thing to consider is the material of the hose. Garden hoses are typically made out of rubber or PVC, but pressure washer hoses are usually made from a more durable material, like polyurethane. This is because they need to be able withstand higher pressures without bursting. The temperature resistance of the hose is also important to think about. If you're going to be using your pressure washer in hot weather, you'll need a hose that can handle high temperatures without melting or becoming deformed. And if you plan on storing your hose outdoors, get one with a UV-resistant coating to protect it from the sun's rays and extend its lifespan.
Nozzle
The nozzle is the part of the hose that attaches to the gun and delivers the water to your car. Nozzles come in different sizes and shapes, and each one produces a different spray pattern.
There are three main types of nozzles: fan, pencil, and flat. Fan nozzles create a wide, soft spray that's perfect for delicate surfaces like cars. Pencil nozzles create a narrow, concentrated stream of water that's great for cutting through tough dirt and grime. And flat nozzles create a wide, flat sheet of water that's perfect for rinsing large areas quickly.
No matter which type of nozzle you choose, make sure it's compatible with your pressure washer. Most pressure washers come with a standard nozzle, but you can always buy an aftermarket nozzle that's better suited for your needs. [1],[5]
Presence of quick connectors
The quick connector is a small part that allows you to quickly and easily connect or disconnect the hose from the pressure washer. This is a convenient feature that can save you a lot of time, especially if you have to change the hose often.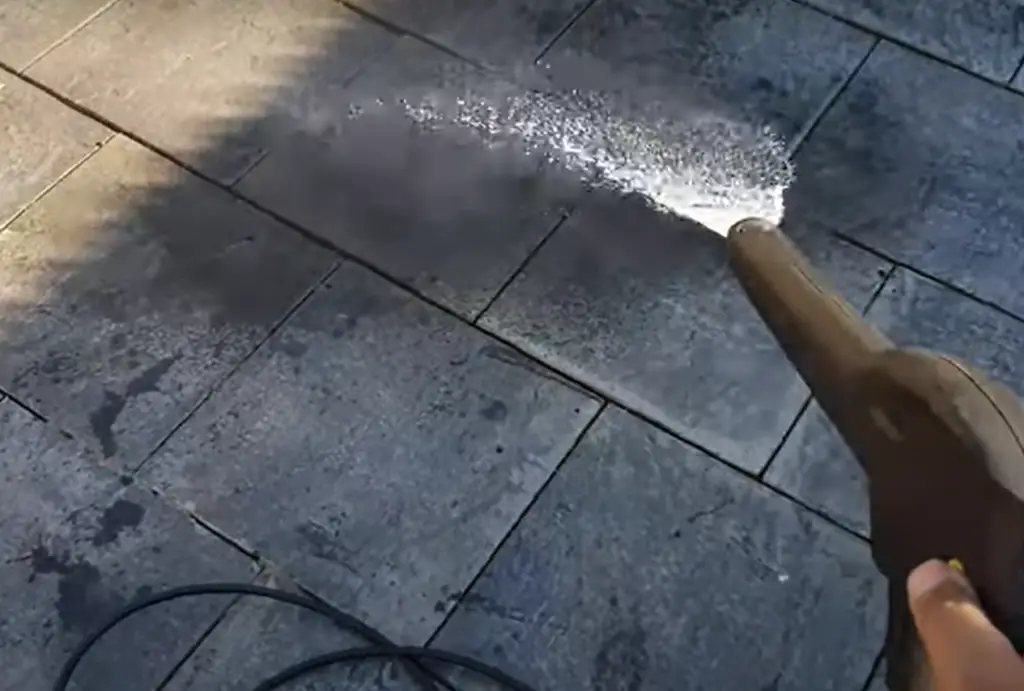 However, not all pressure washers have quick connectors. If your pressure washer doesn't have one, you can buy one separately and install it yourself. [1],[5]
---
FAQ
Does a bigger hose increase water pressure?
No, quite an opposite actually. A bigger hose will have less water pressure because there is more space for the water to travel through. That's why a garden hose is not ideal for a pressure washer because the water pressure will be significantly lower than it would be with a smaller diameter hose.
Do flexible hoses restrict flow?
Flexible hoses are not as common as they used to be. The new standard is a rigid PVC hose that can handle high pressures without kinking. That said, some people still prefer the older style flexible hoses for their pressure washers. Luckily, the difference isn't big once flow is stabilized. In other words, if your pressure washer came with a flexible hose, it's probably fine to continue using it.
Can you connect a pressure washer to a garden hose?
The quick answer is yes, you can. The pressure washer pump will generate enough power to draw water from a garden hose. However, there are several things to consider before using your pressure washer with a garden hose. For one, consider the diameter of your garden hose. If it's too small, the water pressure will be greatly reduced, and your pressure washer won't work as effectively. Additionally, make sure the length of your garden hose is long enough to reach the desired area you're trying to clean but not too long that it becomes difficult to handle.
What size garden hose is best for a pressure washer?
The best garden hose to use for a pressure washer is one that is at least 1 ¼ inches in diameter. This size hose will be able to handle the water pressure coming from the machine without bursting.
Another thing to consider when choosing a garden hose is its length. A longer hose will give you more flexibility in where you can place your pressure washer. But the longer the hose is, the less pressure it will have.
How long of a garden hose can you use with a pressure washer?
If you have a standard garden hose, the typical length is 25 feet. This will not be long enough to reach most areas that you would need to pressure wash. A 50-foot garden hose is a more common length for pressure washing and should be sufficient for most needs.
If you need an even longer hose, some companies make 100-foot hoses specifically for use with pressure washers. These are usually made of stronger material than a standard garden hose and can handle the higher water pressure without leaking or bursting.
Useful Video: Best Garden Hose! to connect your Pressure Washer to your water!
Final word
As you can see, connecting a garden hose to a pressure washer is definitely possible. However, there are a few things you need to take into account, such as the pressure, diameter, length and flow rate. But as long as you keep these in mind, you should be able to use your garden hose without any issues. Using an incompatible hose can damage your pressure washer, so always double check before you start using it. Do you have any tips on using a garden hose with a pressure washer? Let us know in the comments below! And if you found this article helpful, please share it with your friends and family. Thanks for reading!
---
References:
https://clean4happy.com/garden-hose-for-pressure-washer/
https://homeandgardentalk.com/connect-garden-hose-to-pressure-washer/
https://checkappliance.co.uk/pressure-washer-or-hose-to-wash-car/
https://thecleaningcompany.ca/what-size-garden-hose-size-is-best-for-a-pressure-washer-and-why/