Having a deck in your backyard is great for entertaining guests, relaxing outdoors, and just enjoying the fresh air. But one thing that can make it unpleasant is the sun's harsh rays. If you're looking for a way to enjoy your outdoor space without being exposed to too much sunlight, then it might be time to consider adding some shade options to your deck. There are many different types of sun shades available that can provide protection from UV rays while still allowing you to appreciate the beauty of nature.
Add A Shade Sail
Creating a shaded area on your deck is easy with a shade sail. Shade sails provide UV protection and come in an array of sizes, shapes, and colors. They're perfect for covering large outdoor spaces or smaller sections of the deck.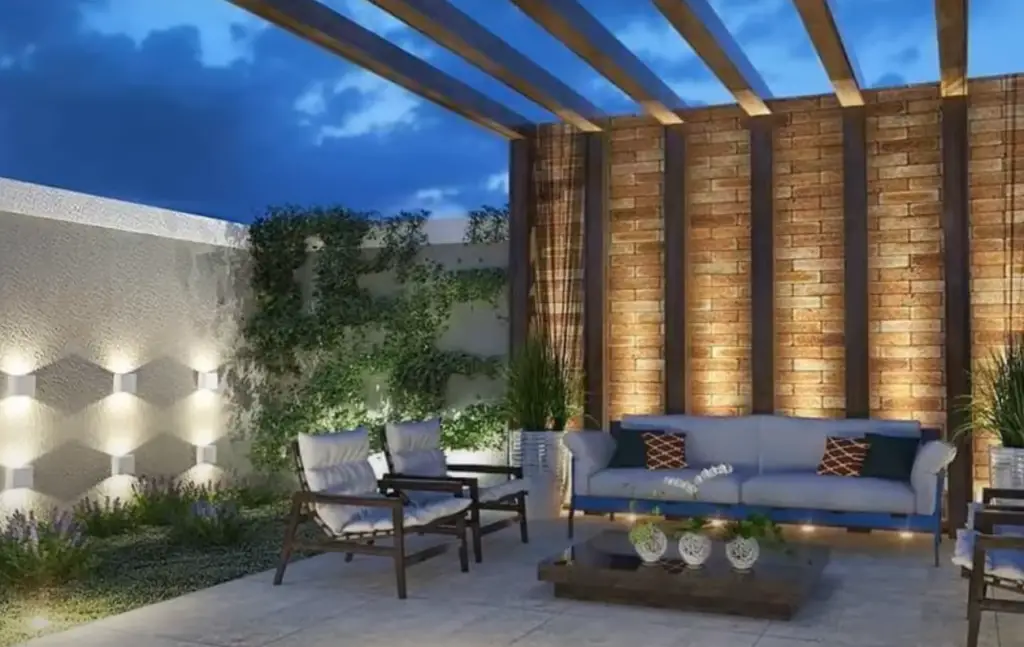 Simply choose one that best fits your space and install it according to manufacturer's instructions. Shade sails can be positioned over any part of the deck, and you can even add multiple shades to create a more custom look.
Pergolas Above Deck
Pergolas are a beautiful, cost-effective way to add some shade to your deck. Pergolas provide partial shade by creating an overhead structure that the sun can't penetrate and also provide a design element. Installing a pergola is relatively easy; you just need to use basic carpentry and hardware supplies. To ensure a strong, long-lasting structure, make sure your pergola is built with durable lumber and use weatherproof hardware. You can find premade pergolas or you can have one custom-built to fit the dimensions of your deck. For an added touch of style, add climbing vines or hanging plants around the frame for some extra shade and a pop of color.
Add A Bistro-Style Awning
If you need a little extra shade for your deck, adding a bistro-style awning can be a great option. This type of sun shade is designed to create an inviting outdoor space and also provide some protection from the harsh sun rays. Many bistro-style awnings come with curtains or blinds that can give you more privacy when needed.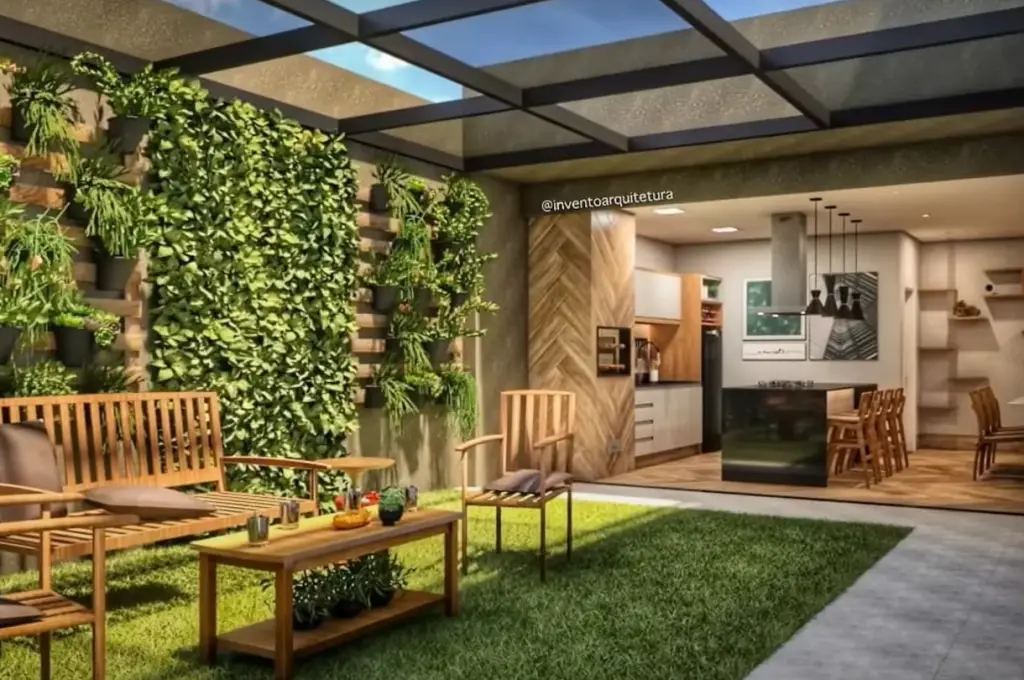 This type of sun shade also helps to create a visually appealing look and can be designed to match the rest of your deck's decor. In addition, bistro-style awnings are relatively easy to install and maintain, making them an ideal option for those who want a quick and simple solution for protecting their outdoor area. [1]
Big Moveable Umbrellas
Big moveable umbrellas are a great way to provide shade in your outdoor space. These large, freestanding umbrellas can be moved to any area of the deck and come in a variety of sizes and shapes. You can choose from round or square styles or even have custom designs created for a truly unique look. The canopy of the umbrella can be made from waterproof fabrics with UV protection to ensure the sun's rays are not too harsh. For added convenience, you can get umbrellas with built-in bases that fill up with water or sand for extra stability in windy conditions. These umbrellas can provide your whole family or group of friends some much needed shade when spending time outdoors.
Add Curtains
For the ultimate in style and convenience, curtains and draperies are an ideal way to provide superior sun protection. You can install them on your existing deck to create a stylish, private space or use them as a frame for larger structures such as pergolas or gazebos. Make sure that you choose materials that are designed to be weather-resistant and durable to ensure that they last a long time.
You can even add curtains with bright colors or patterns to create a unique look that will stand out in your outdoor space. Plus, you can install them on tracks or rods so that they are easy to close when the sun comes out. This way, you will still be able to enjoy the view of your outdoor space without worrying about being exposed to too much sunlight.
Green It Up Over Deck
Making your outdoor space green is a great way to enjoy the summer sun while also helping the environment. Adding plants, trees and shrubs can help keep things cool and give you an area that allows for shade in certain places. Plus, it will be beautiful all year round!
When you're looking for a way to keep the sun off your deck, try adding a green wall or trellis. This will provide shade and privacy without compromising on style. A living wall of plants can also filter out some of the harmful UV rays from the sun while still allowing in plenty of natural light. You can even add an outdoor seating area so you can enjoy the cool breeze of summer while you relax in the shade.[2]
Timber Slats
Wooden slats are a great choice for sun shade. They provide a classic and natural look that blends in well with the surroundings. Not only do they provide excellent protection from the elements, but they can also be easily stained or painted to match your existing outdoor decor. When used in combination with other materials like mesh fabric, wooden slats make for a great choice in outdoor sun shade. Additionally, most timber slats are easy to install and require minimal maintenance—making them a convenient and budget-friendly option. Make sure to use weather-treated wood so your sun shade investment will last for years to come!
Super-Size Brolly Over Deck
Having a large umbrella over your deck is an easy and effective way to keep the sun off your space.
Consider purchasing one with a crank handle so that you can open and close it quickly when needed. Additionally, look for a fabric that is designed to block out the sun and keep your deck cooler. This type of shade solution can be easily moved around as needed, so you don't have to worry about it being permanently stuck in one spot.
Full-Size Canvas Shade Over The Deck
One of the most attractive and classic ways to cover a deck or patio is with an overhead canvas shade. This type of sun shade works by stretching a large piece of fabric across your deck, secured at all four edges with sturdy poles and fasteners. Canvas can be purchased in many different styles and colors so you can choose one that matches your outdoor decor or opt for something more neutral to blend in with the surroundings.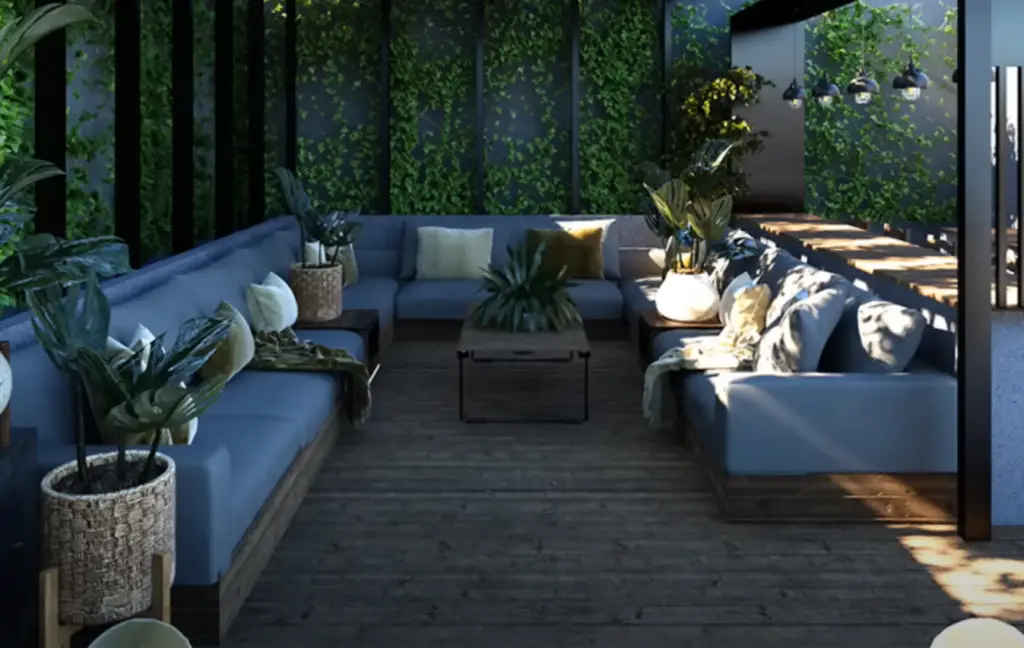 This type of sun shade is highly effective at keeping out a large portion of direct sunlight, as well as providing some privacy if you have neighbors that share the same patio space. It can be an easy and relatively inexpensive way to dramatically change the look and feel of your outdoor space. Additionally, canvas can be easily taken down and stored away if you find that it's not necessary year-round. [3]
A Gazebo
A gazebo with a built-in sunshade can create a comfortable outdoor living space for your decks. The canopy or shade structure can be made of canvas, fabric, metal, wood, or even PVC. It's easy to customize the design and style to fit the look of your deck and outdoor living area. You can find a variety of gazebo designs with built-in sunshade, such as a freestanding structure or one that attaches to your house's existing roof. The canopy also provides protection from the elements, including wind, rain, and snow. Furthermore, it can be easily adjusted to block out the sun's rays during the summer months.
Constructed Overhang
Constructed overhang sun shades are an ideal solution for homeowners who want to add a permanent shade structure to their outdoor living space. These sun shades can be built from a variety of materials, including wood, metal, and canvas. The construction requires some knowledge of carpentry and engineering principles but the rewards are well worth the effort! Constructed overhang sun shades can be designed in a variety of shapes and sizes to suit the specific needs of your outdoor area.
The main benefit of built-overhang sun shades is that they provide an additional layer of protection from direct sunlight. This is especially useful during summer months when the sun's rays are particularly strong. In addition, these sun shades can be customized to provide privacy from neighboring properties. Finally, constructed overhang sun shades offer an attractive aesthetic that can enhance any outdoor living space.
Tree For Shade
If you are looking for an economical and attractive solution to provide shade in your backyard, consider planting trees. Trees can easily be incorporated into a backyard design and can provide plenty of shade for outdoor activities. Choose species that are well suited to the climate and soil type of your area, as this will ensure they thrive. Consider fast-growing varieties such as red maple, honeylocust, or sycamore.
With some careful placement and regular maintenance, a few strategically placed trees can make your backyard more inviting and provide plenty of shade for outdoor activities.
[4]
Canopy Of Vines
A canopy of vines is a great way to provide shade for your deck. Choose hardy trailing plants like ivy, clematis or wisteria to create a shady area around the edges of your deck. With careful selection, you can find varieties of these plants that will be long-lasting and require minimal maintenance.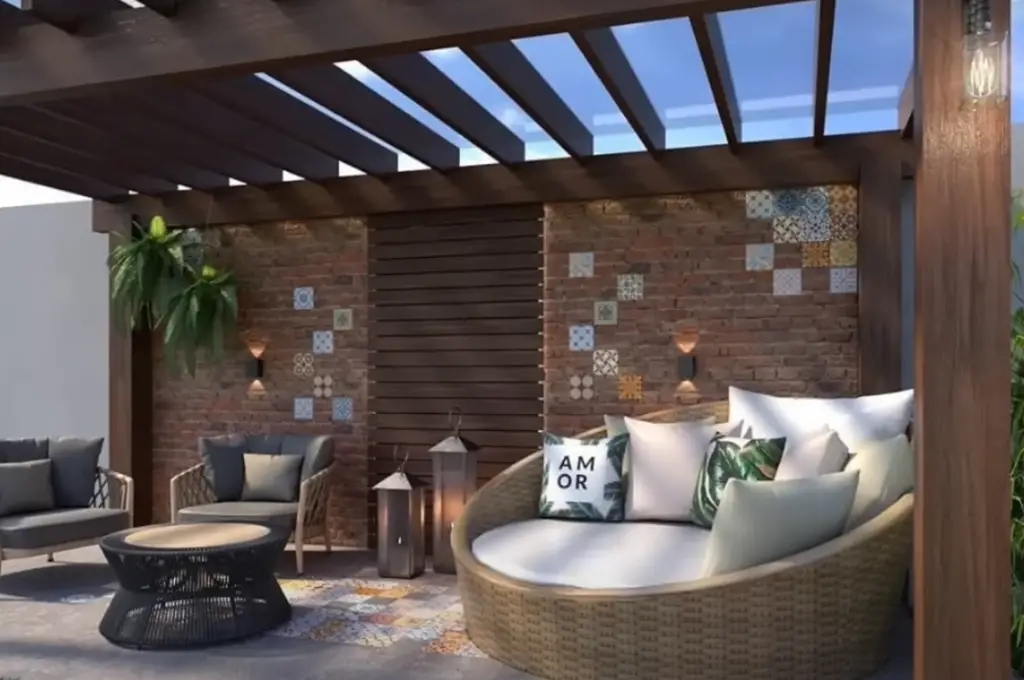 You can also add a few climbing roses, which can also provide additional privacy. Prune the vines regularly to keep them growing in an attractive shape and train them over gazebos or trellises for extra shade. This type of deck sun shade looks beautiful and is especially effective if your deck has some open sides.
Blinds
Blinds can be an excellent choice for sun shade ideas as they are adjustable and come in a wide variety of styles. Blinds can be used to block out the sun or allow just enough light in during the day to provide a comfortable atmosphere. They also help insulate against heat, making them energy efficient and helping keep your home cooler during the summer months. Blinds can be opened or closed from the inside, making them easy to control and use as needed. They are available in both manual and motorized varieties, so you can choose one based on your preferences and budget. When choosing blinds for sun shade ideas, consider materials such as wood, metal, vinyl or faux wood to best suit your needs. Be sure to measure the windows properly to ensure you get the right fit and can enjoy a comfortable, sun-free living space.
Drape Reed Mats Over Your Deck
If you're looking for an easy and affordable way to add some sun shade to your deck, consider draping reed mats over the space.
They come in a variety of sizes and colors, making them perfect for adding some sun protection without blocking out the light entirely. Not only are they an inexpensive option, but you can move them around easily when needed. To hang reed mats over your deck, you'll need some sturdy rope or twine to tie the corners of the mats together and to secure them in place on your deck. This is a great idea if you want to be able to adjust your sun protection levels according to the time of day and morning/evening light.
[5]
---
FAQ
What can I use to block the sun on my deck?
There are a range of options when it comes to blocking the sun on your deck. Shade sails, umbrellas, and retractable canopies provide good coverage and protection from UV rays. Awnings, pergolas or porch covers offer more permanent shade solutions that can be customized to fit any shape or size of deck. Planting trees around your deck can also help shade your space and add a lush aesthetic. For more tips, check out our article on Deck Sun Shade Ideas.
What is the best shade for a deck?
The best shade option for a deck depends on your individual needs and preferences. If you're looking to maximize sun protection while still maintaining an aesthetically pleasing outdoor space, then installing a retractable awning is the perfect solution. Retractable awnings are available in various sizes and materials such as canvas, vinyl or aluminum. A retractable awning not only offers excellent sun protection but it can also be retracted when not in use to allow for natural sunlight and air flow.
What is the best sun shade for a balcony?
When looking for the best sun shade for a balcony, there are several options to consider. Retractable patio shades and outdoor umbrellas are two of the most popular choices. Retractable patio shades offer the convenience and versatility of being able to control how much sunlight enters your space at any given time. They come in a variety of sizes and materials, like mesh, fabric, or canvas. Outdoor umbrellas come in many styles and colors as well, and are great for providing shade while still allowing some natural light to enter the space.
How do you make a simple sunshade?
First, take measurements of the area where your sunshade will be installed. Make sure to leave some extra fabric for hemming and overlapping.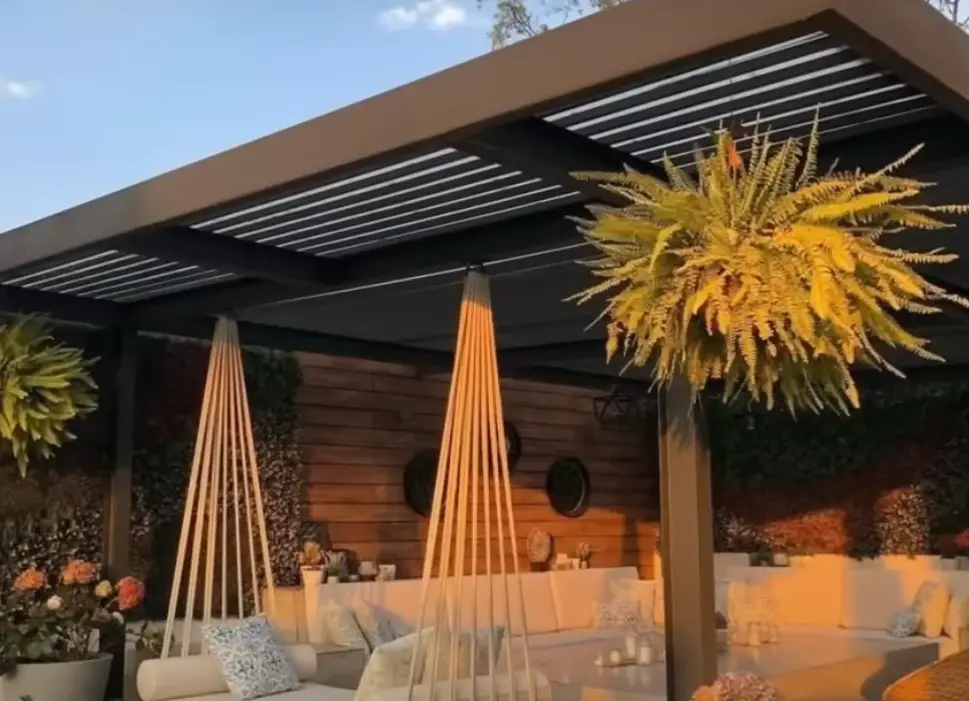 Cut the shades into panels according to these measurements. Next, install your aluminum tube frame according to the manufacturer's instructions. Depending on the size and shape of your shades, you may need to attach additional support posts. Once this is complete, connect each panel to its respective frame with screws or bolts. Attach wire ties or rope around the edges of each panel in order to secure them firmly in place. Finally, staple or nail the fabric onto the frames. And voila! Your new sunshade is ready to enjoy.
What material is best to block out the sun?
When choosing a material for your deck sun shade, there are several factors to consider. The most important factor is the amount of UV protection it provides, as that will determine how much of the sun's rays will be blocked out from entering your home. Materials such as canvas and acrylic offer good levels of UV protection, while fabrics like cotton and linen provide some protection, though not as much. Additionally, you should look for fabrics that are water-resistant, as these will help protect your patio furniture from damage due to moisture.
How do you shield a deck from the sun?
One of the best ways to shield a deck from the sun is to install a shade structure. There are several types of shade structures available, such as umbrellas, pergolas, and gazebos. All of these options provide protection from the sun's harsh rays while still allowing some air flow and light. Other options for creating shade on your deck include roof covers, patio awnings, and vertical shades. For an extra touch of style, you can install canvas fabric panels or roll-down screens around the perimeter of your deck.
What color on deck is best for hot sun?
When choosing a color for your deck in an area with hot sun, a light-colored paint is the best option. Light colors will reflect the sunlight more effectively and help to keep your deck cool. Neutral shades like white, beige, gray, or tan are great choices that will keep your deck looking stylish while providing protection from the sun's heat. If you are looking for a more vibrant or stylish look, try using brighter colors like yellow, orange, or red. Just keep in mind that these shades will absorb more of the sun's rays and could make your deck feel even hotter than neutral colors.
How to cheaply shade the patio?
When it comes to shading your patio, there are plenty of options. One of the most cost-effective ways to shade a patio is by using a deck sun shade. Deck sun shades come in various sizes and colors to suit any outdoor space, and are generally quite affordable. They can be easily installed and provide excellent protection from the sun's harsh UV rays. Additionally, they can be removed if needed to clean or store for colder months.
How do you build a sunroom on a deck?
Building a sunroom on a deck is an excellent way to enjoy the outdoors while staying cool and comfortable. Building a sunroom on your deck requires planning and preparation. Here are some tips to help you get started:
Choose an appropriate spot for your sunroom.
Secure the decking.
Measure the area for your sunroom.
Purchase the necessary materials and tools for building the sunroom.
Follow the instructions for constructing your sunroom.
Install doors and windows into the sunroom, if desired.
Add finishing touches to your sunroom such as furniture, decorations, and lighting.
How do I cover my balcony from direct sunlight?
Covering your balcony from direct sunlight is a great way to enjoy the outdoors without feeling too exposed or overwhelmed by bright, intense sunlight. Sun shade sails are a great option for balconies, as they provide shade and UV protection without blocking the view. Sun shades are available in a variety of styles, materials and colors, so you can choose the one that matches your needs and preferences. You can also install awnings or retractable roofs to provide additional coverage. Another cost-effective solution is to plant trees and shrubs around the balcony for natural shade. Finally, you can hang curtains or outdoor blinds to provide additional coverage and privacy.
Useful Video: Shade Solutions – I NEED RELIEF
Conclusion
When it comes to deck sun shade ideas, there is no one-size-fits-all solution. Every outdoor space is different and should be treated with care. Before choosing the best deck sun shade for your space, consider all of your options and needs. Whether you opt for a retractable awning, an umbrella, a gazebo, or any other type of shade structure, you'll be able to enjoy your outdoor space in comfort and style for years to come. Additionally, adding natural shade elements like trees and shrubs can help reduce the amount of direct sunlight on your deck and make it more comfortable.
---
References:
https://www.homedepot.com/c/ai/deck-shade-ideas/9ba683603be9fa5395fab901d7af4385
https://www.timbertech.com/ideas/patio-shade-ideas/
https://www.realhomes.com/design/deck-shade-ideas
https://trexprotect.com/au/blog/15-deck-shade-ideas-for-summer-sun-protection/
https://www.trees.com/gardening-and-landscaping/shade-ideas