Pergolas have become a popular addition to many outdoor spaces, from small patios to large gardens. Their versatility in style and design make them an attractive choice for homeowners looking for shade, privacy, or even just an aesthetically pleasing structure in their yard. With the right materials and construction methods, pergolas can provide beauty and function that will last for years. From traditional wooden designs to modern metal frames with fabric roofs, there are countless options when it comes to creating the perfect pergola. In this article we'll explore why these structures have become so popular and how you can choose one that fits your needs perfectly!
They Are Attractive
Pergolas are not just practical, they can also be visually stunning. A well-crafted pergola can enhance the look of any outdoor space, from a small patio to a sprawling garden. With the right materials and design, it can bring both beauty and function to your home. Whether you prefer classic wooden frames or modern metal designs, there are a variety of options to choose from. With the right pergola, you can give your outdoor space an elegant touch while also providing additional shade or privacy.
A Pergola Extends a Home's Living Space
Pergolas have become very popular in recent years as homeowners look for ways to extend the living space of their homes.
Its open roof and support posts provide dappled shade and create a pleasant, comfortable atmosphere that encourages relaxation and conversation. Pergolas also add an interesting architectural element to the home's exterior, creating a focal point or even a backdrop for outdoor entertaining.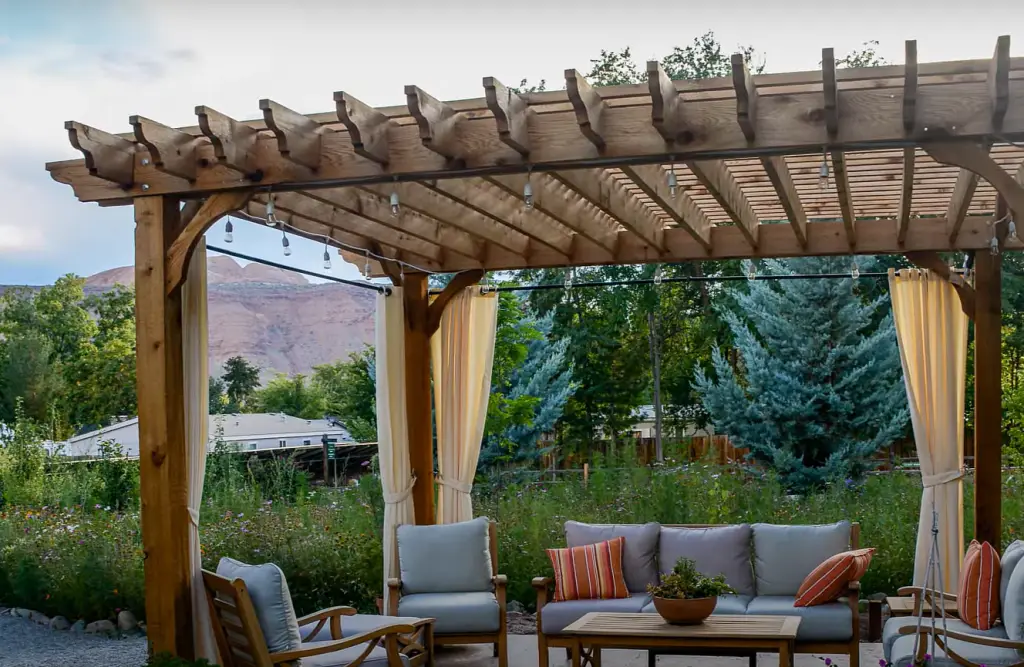 Pergolas are available in a variety of materials, sizes, and styles to suit any need or budget. From simple wooden pergolas to more sophisticated metal and steel options, there is something for everyone. Not only do pergolas look great when installed, but they are also incredibly easy to maintain and keep clean, making them a perfect addition to any outdoor space.
A Pergola Can Increase a Home's Market Value
Adding a pergola to your home can add significant value to the property. Pergolas create an outdoor living space that is ideal for entertaining and relaxation. They also provide much-needed shade from the sun, allowing homeowners to enjoy their backyard even on sweltering summer days. Furthermore, they offer visual appeal, creating a beautiful focal point in the outdoor space. All of these factors can help to increase a home's market value, making them an excellent investment in any property. Homebuyers are always looking for homes with outdoor living spaces that are comfortable and inviting, and a pergola offers just that. Whether you're considering selling your home or simply want to increase its value, adding a pergola is an excellent way to do so. [1]
They Provide Shade
One of the main reasons why pergolas are so popular is because they provide much-needed shade. During the summer months, it can be difficult to enjoy outdoor spaces due to intense heat and UV rays. Pergolas provide a shaded area that allows all members of the family to spend time outdoors together without worrying about sunburns and dehydration. Pergolas also make it possible to enjoy outdoor activities even during the hottest days of the year, since they provide protection from direct sunlight.
Pergolas Are Great Garden Structures
Pergolas are popular outdoor structures for a variety of reasons. They offer a great way to enhance the beauty of your garden while providing shade and shelter from harsh weather. Pergolas can be used to create an inviting outdoor space that is perfect for entertaining guests or simply enjoying some peace and quiet in your own backyard.
The structure of a pergola can provide a great way to add outdoor living space. Pergolas are often freestanding structures that can be used as an open-air lounge or dining area. They come in many different styles and sizes, making them perfect for all types of yards and gardens. The addition of plants and other decorations to the pergola can help make the area feel like an oasis in your backyard.
They Provide Privacy
Pergolas are a great way to create a private outdoor oasis. Whether you're looking for an area to relax in, dine in or entertain friends and family, a pergola can provide the perfect space to do so. The cross-beamed roof provides shade from the sun while still allowing some light and air movement. With a pergola, you won't have to worry about prying eyes. It's also easy to add privacy panels or curtains for an even more intimate setting. Plus, the trellis style of a pergola can offer additional planting options for further seclusion. [2]
Pergolas Come In a Wide Range of Designs
One of the most attractive features of pergolas is that they come in a variety of designs. From large, luxurious structures to small, more intimate spaces, there's a pergola style for any type of outdoor living space.
Plus, many of the pergola kits available come with a set of instructions and materials needed to create an amazing outdoor oasis.
They Come In Different Materials
Pergolas are popular because they come in different materials. Wooden pergolas offer a classic look and create a warm and inviting atmosphere, while aluminum or vinyl pergolas provide a modern look that's low maintenance.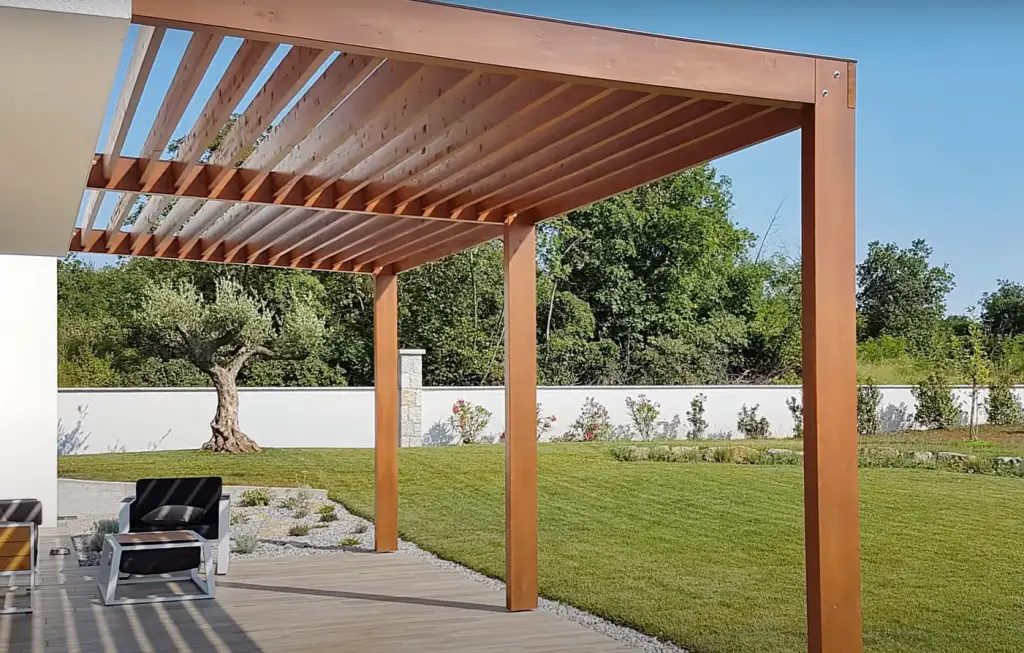 With the right material, you can customize your pergola to match the style of your outdoor space. No matter what material you choose, a pergola can be an attractive addition to your outdoor space.
Pergolas Are Not Limited by Size
Pergolas come in all shapes and sizes, so they can easily fit any existing backyard area. They can be constructed to fit the exact size and shape of your outdoor living space, or you can even create one that stands alone in a corner of your yard. Depending on the size you choose, pergolas can accommodate various seating arrangements, such as outdoor lounges and dining areas. As a result, pergolas can provide an indoor-outdoor flow that maximizes available space. Additionally, they're easy to install and easy to maintain once built. This makes them a great option if you don't have the time or money to invest in complicated landscaping projects. [3]
Pergolas Are Versatile and Flexible
Pergolas are very versatile and can be used in a wide variety of ways. The structure can be used to create an intimate seating area, protect from the sun, or even serve as a privacy screen. Pergolas come in many different styles and sizes so they can match any landscape design. They are also customizable with add-on features like privacy walls, lighting, or other decorative elements. Pergolas can be built from a variety of materials including wood, metal, and vinyl which makes them even more flexible and able to fit any location or design style. A pergola is also highly durably and easy to maintain which makes them an excellent long-term investment for any outdoor space. With so many advantages, it's no wonder that pergolas are one of the most popular and sought-after outdoor structures.
They Come With a Ton of Extra Features
Pergolas are a very versatile outdoor feature. They come with features like adjustable louvered panels and retractable canopies which let you control the amount of sun that comes in and how much shade is created.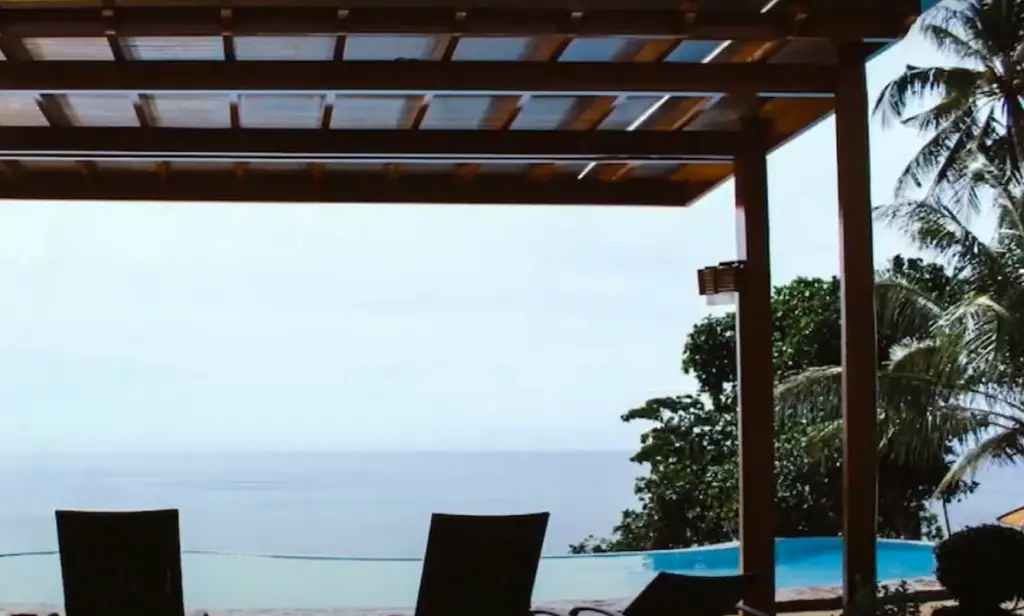 You can also make your pergola into an outdoor kitchen or living space by adding tables, chairs, sofas, and other furniture. You can also add fans, lighting, and wall-mounted TVs to create a beautiful outdoor living area that you can enjoy all year round. With these extra features, it's no wonder why pergolas are so popular! [4]
---
FAQ
What is the point of having a pergola?
A pergola is a popular outdoor feature for adding shade, privacy, and potential curb appeal to your property. Pergolas are perfect for creating a pleasant outdoor living space while protecting you from the elements. They can be used for entertaining guests or simply relaxing in your backyard. Additionally, with careful selection and placement of climbing vines on the structure, you can also create a garden feature to further enhance your outdoor experience.
Why use a pergola instead of a roof?
Pergolas are an extremely popular choice for outdoor structures because they provide shade without closing in the space. Pergolas are open-roofed structures usually made of wood or metal that provide partial shelter from the sun and rain. While they don't offer full protection like a roof, pergolas can still be incredibly functional and attractive additions to any outdoor space. Pergolas offer many advantages over traditional roofs. While a roof can create a dark and enclosed atmosphere, pergolas let in plenty of natural light while still providing shade. This makes them perfect for people who want to enjoy the outdoors without having to worry about getting sunburned or having direct exposure to the elements. In addition, while roofs can be expensive and time-consuming to install, pergolas are much easier and less costly to construct. Finally, pergolas are simply visually appealing. They add an aesthetically pleasing touch to any outdoor area and can help turn a plain backyard into something special.
Are pergolas still popular?
Yes, pergolas remain a popular choice among homeowners looking for an outdoor living space. The traditional design of a pergola offers both open air and shade, perfect for entertaining friends or providing privacy in your backyard. Pergolas are also incredibly versatile in their usage. They can be used to cover walkways, as outdoor dining areas, or even as an extension of the home itself. With their relative affordability and versatility, it's easy to see why pergolas are still so popular today. Beyond just providing a functional living space, pergolas also add aesthetic value to any outdoor landscape. They come in a variety of materials, styles, shapes, and sizes, so you can easily find one that will suit your home's style. Pergolas are also great for creating an outdoor oasis, which is a place where family and friends can come together to relax and enjoy the outdoors. Whether you want to have a romantic evening under the stars or invite friends over for dinner, pergolas provide the perfect atmosphere to do it in.
Why use a pergola instead of a gazebo?
Pergolas are becoming increasingly popular for outdoor living spaces due to their unique design and ability to blend in with a variety of landscapes. They offer more flexibility than gazebos because they can be customized to fit the needs of any space, from providing shade and privacy to enhancing visual appeal. Furthermore, pergolas are typically less expensive than gazebos and can be built in a fraction of the time. Pergolas also provide a great way to create an outdoor living space without sacrificing natural beauty, as they can be designed using various materials that blend seamlessly into any environment.
Are pergolas a good idea?
Pergolas can be a great addition to any outdoor living space. Not only do they provide shade and privacy, but they also offer an aesthetically pleasing focal point for your backyard. Plus, with so many design options available, pergolas are extremely customizable to fit the exact look and feel you're going for. From modern designs featuring sleek lines and contemporary materials to traditional pergolas with rustic wood beams, there's something for everyone.
Plus, they require minimal maintenance once installed, making them an ideal choice for those looking to liven up their outdoor space without a lot of upkeep. With all these benefits in mind, it's no wonder why pergolas have become so popular.
Do pergolas add value to home?
As attractive and functional fixtures, pergolas are a great investment that can add value to home. Pergolas are an excellent way to extend the use of your outdoor space, providing shade and protection from the elements for entertaining, relaxing or simply enjoying the outdoors. Additionally, they offer visual appeal and architectural interest which can increase the curb appeal of your home. This can lead to an increase in property value if you choose to sell, making pergolas a great investment for homeowners.
What is better than a pergola?
Pergolas have become increasingly popular in recent years, and there are a variety of reasons why. Pergolas offer some unique advantages over other outdoor structures such as gazebos and patio covers. For example, pergolas can provide much needed shade on hot summer days without completely blocking out the sun or taking up a lot of space. They also provide an inviting and stylish atmosphere for entertaining guests or simply relaxing outdoors. Pergolas are also relatively low maintenance compared to other outdoor structures, making them ideal for busy homeowners who don't have the time or energy to devote to upkeep. Additionally, pergolas can be customized with various materials like wood, metal, or vinyl to fit your unique style and landscaping needs. In short, pergolas offer just the right combination of beauty, functionality, and affordability that make them an ideal choice for any outdoor space. With all these benefits, it's no wonder why pergolas are so popular.
What is a pergola with a roof called?
A pergola with a roof is known as a pavilion. The roof of a pavilion helps to provide shade and protection from the elements, while still allowing for air circulation and light to come through. Pavilions are often used in outdoor spaces such as gardens or patios, but they can also be used indoors. Pavilion roofs can be made of a variety of materials, such as wood, metal, canvas or plastic. Adding a roof to your pergola gives it greater protection from the elements and makes it more comfortable to use in all types of weather.
Why are pergolas not covered?
Pergolas are popular because they offer an open structure that still provides shade and a sense of shelter. This makes them a great choice for outdoor living spaces like patios, decks, and backyards. But what makes pergolas so appealing is the fact that they leave the sky visible – unlike traditional covered structures like gazebos and pavilions. This allows for more natural light to come in as well as a view of the sky, trees, and other surroundings. Additionally, pergolas do not require walls or ceilings, which makes them easier to customize with vine plantings and outdoor lighting. With this kind of flexibility, it's easy to create an outdoor living space that reflects your personal style. Plus, because pergolas don't require a roof or walls, they are much less expensive than covered structures like gazebos and pavilions. Ultimately, pergolas offer the perfect balance of open shade and shelter, allowing you to enjoy the outdoors without having to sacrifice privacy or comfort.
What is the lifespan of a pergola?
The lifespan of a pergola depends on the type and quality of materials used. On average, a high-quality wood or vinyl pergola can last up to 20 years with proper upkeep and maintenance. Aluminum pergolas may last even longer since they are more resistant to weathering and other elements. Regular cleaning and inspection is important to ensure the longevity of any pergola, regardless of material.
Check your local laws and codes before installation to avoid potential issues in the future.
Useful Video: What is the point of having a pergola?
Conclusion
Pergolas have been used for centuries to create outdoor living and entertaining spaces. Their versatility, durability, and aesthetic value make them one of the most popular garden structures. Whether you're looking for a small area to relax in or a large space to host parties, pergolas can provide shade, privacy, and beauty to any outdoor space. For those who want to bring a classic, timeless look to their yard or garden, a pergola is an excellent choice. With proper installation and maintenance, a pergola can be enjoyed for years to come. So if you're looking for a beautiful addition to your backyard, consider adding a pergola—it just might become your favorite spot in the yard!
---
References:
https://projectperfecthome.com/why-pergolas-popular/
https://plasticlumberyard.com/why-are-pergolas-so-popular/
https://www.thebackyardshowcase.com/blog/outdoor-design/why-are-pergolas-so-popular
https://outdoorelementsusa.com/backyard-oasis/5-reasons-why-pergolas-are-so-popular/#:~:text=Pergolas%20are%20a%20spectacular%20focal,and%20an%20element%20of%20luxury.