When it comes to outdoor storage solutions, sheds are an incredibly versatile and useful option. They can provide extra space for storing tools and equipment or even serve as a workshop or hobby room. But with so many different types of shed available, it can be difficult to decide which one is best for your needs. In this article, we'll take a look at the various types of sheds available on the market today, from basic garden sheds to more complex structures like studios and workshops. By understanding the differences between each type of shed, you'll be able to make an informed decision about which one is right for you.
Gable (A-Frame)
Gable (also called A-frame) sheds are the most common and widely available type of shed. They have a distinctive triangular shape, with two sloping sides that meet at the peak to form one end of the roof.
They are an ideal choice for small to medium-sized gardens, as they can easily be tucked away in a corner or against a fence.
Gambrel (Barn)
Gambrel sheds, also known as barn sheds, are popular for their traditional look and large storage space. These sheds feature two sloping roof sides that meet in the middle, providing extra headroom. The two-slope design makes gambrel sheds ideal for storing items of different shapes and sizes.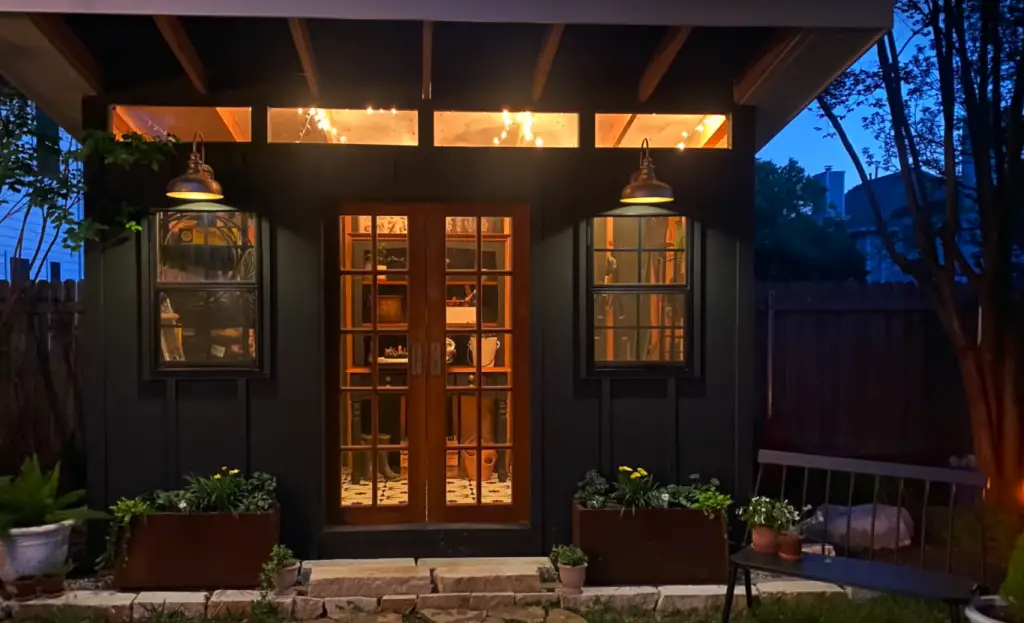 They are particularly useful for storing hay and other large items. Additionally, their aesthetic appeal adds to the charm of outdoor spaces. These sheds are popular among farmers, ranchers, and those looking for a classic style shed in their backyard.
Flat Roof
Flat roof sheds are a great option for homeowners looking for a traditional shed style. These structures feature strong, durable flat roofs designed to stand up against harsh weather conditions like heavy snow or rainfall. Flat roof sheds are perfect for storing garden tools and supplies because their low profile makes them easy to access and keep organized. They also come in a variety of sizes and styles, so they can fit into any landscape design. Flat roofs also generally require less maintenance than other types of shed roofs since there is no need to worry about drainage issues or water build-up. Additionally, flat roof sheds are usually quite affordable compared to other types of sheds. [1]
Victorian
The Victorian shed is one of the most popular types of sheds. It's a classic style that has been around for generations and can be easily customized to suit any taste. The traditional look comes from its steeply pitched roofline, rounded windows, ornamental decorations, and wide overhangs on the eaves. The doors are usually double or single with glass panels, making it an ideal choice if you want to be able to see inside your shed. Inside the Victorian Shed, you have plenty of room for storage, and many come equipped with shelving, drawers and cupboards. It is also possible to add custom features like counters and shelves along the walls. The exterior design can be further customized with cladding, roofing materials, and colors. Victorian sheds make a great addition to any yard or garden that has a classic look.
New England
The New England-style shed is a classic look that can be seen in many American backyard landscapes. This style of shed features a gabled roof, clapboard siding, and double doors. The peak of the roof can either be shingled or metal, depending on your preference.
Inside the shed there are usually multiple storage shelves and hooks to hang tools. This style of shed is perfect for anyone who needs a little extra room to store items like lawn mowers, garden tools, and other outdoor equipment. It also adds a beautiful touch to your backyard that can be admired by passersby.
Modern
Modern sheds have evolved substantially over the years, offering a variety of features and designs to match any need. They can be used as home offices, workshops, man caves, gyms, hobby rooms, or even guest houses. Some modern sheds are equipped with electricity and climate control systems for added convenience. No matter the purpose you may have in mind, there is likely a modern shed that can suit your needs. [2]
Craftsman
Craftsman sheds are a perfect combination of convenience and style. They often feature strong, sturdy construction with attractive features that make them a great addition to any backyard or outdoor space. These sheds come in various sizes and materials, making them suitable for all kinds of uses. They usually have wide double doors which can be opened outwards to allow a lot of space for storage. Craftsman sheds have many features, such as built-in shelves, workbenches, windows with shutters and even an attached patio area. They are also designed to be resistant to weather elements such as rain and sun. These sheds are beautiful, stylish and very practical!
Saltbox
Saltbox sheds are one of the most common shed designs available. They get their name from their resemblance to colonial salt containers, which were also known as 'salt boxes'. Saltbox sheds have a distinctive sloping roof that slopes down towards the back of the shed. This type of shed is typically used for storage or as a garden shed. The sloping roof helps the shed blend in with its surroundings, and it also provides additional headroom at the back of the shed for walking and storage purposes.
They are easy to install and can add character to any garden.
Greenhouse Shed
Greenhouse sheds are the perfect choice for those who want to grow a wide variety of plants, flowers and vegetables. They provide all the natural light needed while still keeping your plants safe from the elements.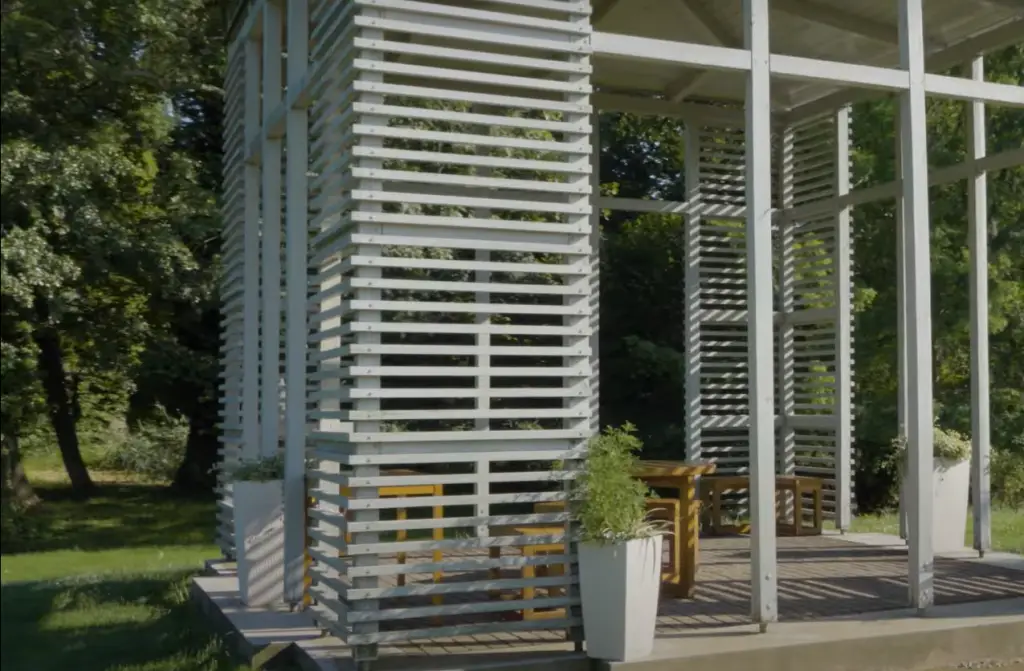 These sheds also give you plenty of room to store gardening tools and supplies. Many come with shelves or racks to keep everything organized. The large glass panels on the sides allow for plenty of natural light to flood into the shed, making it a great environment for plants. These sheds are usually quite expensive compared to other types, but they can be worth it if you want to have a thriving garden all year round. [3]
Garage-Shed Hybrid
A garage-shed hybrid is an ideal solution for those who need a space to store their vehicles as well as larger items that won't fit in the house or garage. This type of shed offers the best of both worlds, with plenty of room for storage and parking. It usually features a spacious interior and two large doors on either side. The doors can be opened to park a vehicle or close to create a secure space for storage. Garage-shed hybrids often come with extra features such as windows, shelves, and workbenches. They are the perfect way to maximize storage space while still having room for your car or other vehicles.
Studio
Studio sheds are a great option for anyone looking to add an outdoor workspace or studio to their home. These types of sheds typically have large windows that allow for ample natural light and offer plenty of space for creativity. They come in many sizes, so they can fit even narrow backyards and small plots of land. Studio sheds can also be used for a variety of other purposes, such as a guest room, home office, or hobby space. Studio sheds are often finished with the same materials as that of the main house, and can be equipped with electricity and plumbing if desired. They typically come in kits that make installation relatively straightforward.
Garden Shed
Garden sheds are a popular choice among homeowners who want extra storage or an outdoor workspace. These sheds can be made from a variety of materials, such as metal, wood, vinyl and plastic. Garden sheds are typically smaller in size compared to other types of sheds, making them easy to fit into compact areas. They come in many different sizes, shapes and designs, so you can find one that suits your specific needs. Garden sheds are also relatively easy to assemble and come with pre-made panels that have all the necessary components included. This makes them an ideal choice for DIYers who want to save time and money when it comes to construction. With proper maintenance, garden sheds can last for years and will provide you with the extra storage or workspace that you need.
How to Choose a Shed Type?
Choosing a shed type largely depends on what purpose the shed will be used for and the size of the area where it will be located.
For homeowners that need additional storage space, a garden shed is an ideal option. These multi-purpose sheds come in various materials and sizes, making them perfect for storing lawn equipment or garden supplies. Some of the most common types of garden sheds include wooden, plastic, and metal designs.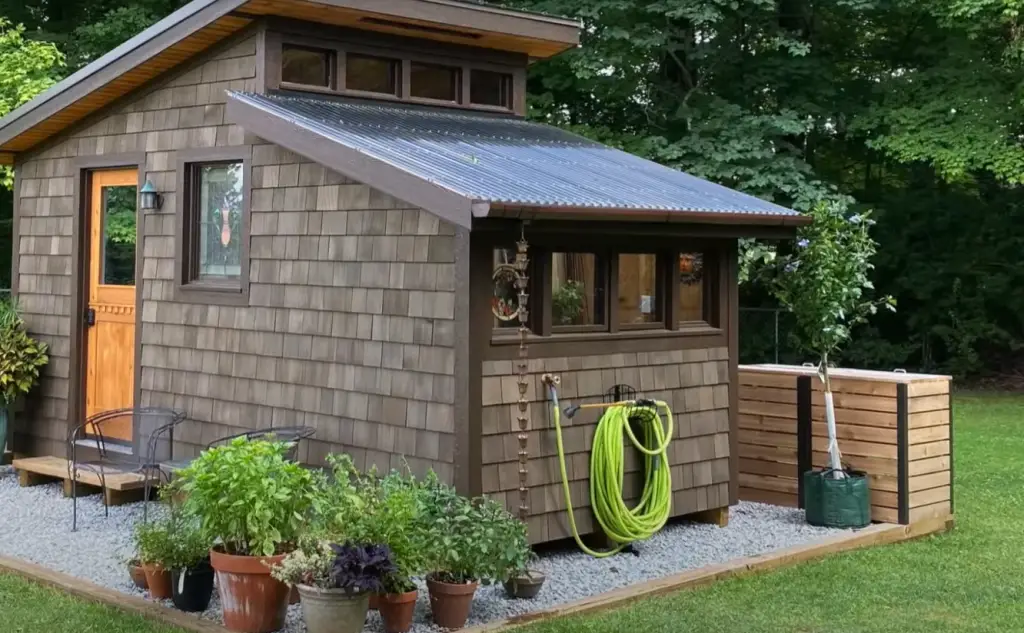 For those looking to add a living space, especially if they have limited land available, a cabin shed is an excellent choice. Cabin sheds are typically constructed from wood and feature large windows, allowing natural light to enter the interior. They provide an ideal spot to relax, entertain guests, or work on hobbies.
For larger properties, a garage shed is an excellent choice for providing additional storage space. This type of shed can be used as a home workshop or to store vehicles safely. The advantage of a garage shed is that they come in larger sizes and can be customized to your specific needs.
For those who prefer something more unique, there are many other shed types available. These include A-frame and Quonset huts, which offer a rustic aesthetic with plenty of storage space. Additionally, log cabins make a stylish and spacious alternative to traditional sheds. [4]
---
FAQ
What are the different types of shed construction?
There are several types of shed construction available, depending on your needs and preferences. The most common types include prefabricated sheds, metal sheds, plastic or resin sheds, wooden sheds, and pole barns. Prefabricated sheds come in a variety of sizes and styles and can be assembled by the homeowner with minimal tools.
What are the two types of shed?
Sheds come in two basic types: permanent structures and portable sheds. Permanent shed structures are typically constructed with wood, metal or vinyl siding and a shingle roof, while portable sheds are made from materials such as canvas or heavy-duty plastic that can be quickly disassembled and moved when needed. Permanent shed structures are more durable and secure, while portable sheds can provide a lightweight solution for those with limited storage space or who need to move their belongings frequently.
What is the best style of shed?
The best style of shed depends on your intended use. If you just need a small storage space, a lean-to or garden shed may be the right option for you. These sheds are relatively inexpensive and easy to install, making them ideal for storing gardening tools, seasonal decorations, and outdoor furniture.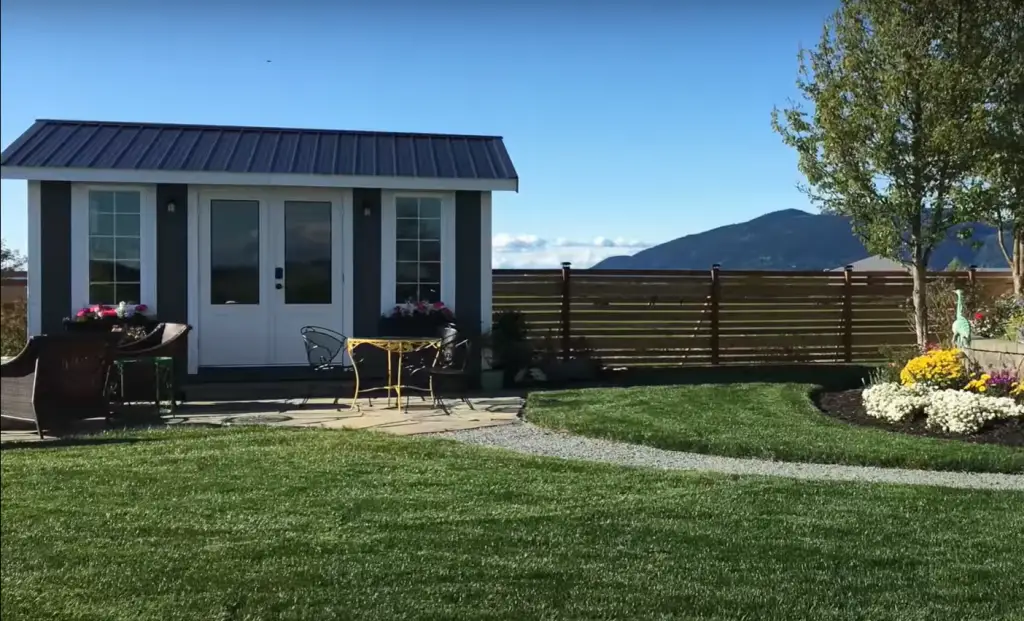 If you want something more permanent and secure, then a gable shed is a great choice. It is larger than other types of sheds, and can provide you with a great space for hobbies or workshop areas. For those who need an even bigger and more secure storage option, an A-frame shed may be the best option. This type of shed offers plenty of storage and protection from the elements, making it a great choice for those who need an all-purpose shed.
What are the three forms of shed?
Sheds come in a variety of shapes, sizes, and styles. The three main types of sheds are:
Gable Sheds: Gable sheds are the most common type and feature two sloped sides that meet at the top to create an A-shaped roofline. This type is best for storing larger items and is often used as a backyard workshop.
Gambrel Sheds: These sheds feature two shorter sloped sides and two longer, steeper slopes that create an inverted U-shaped roofline. This type of shed provides more headroom and storage space than a gable shed.
Lean-To Sheds: Lean-to sheds feature a single sloped roof and are smaller structures, making them perfect for tight spaces. They provide easy access to stored items and can be used as a garden shed or outdoor workshop.
What type of shed lasts longest?
Wood is generally the longest lasting type of shed. Its durability depends on the kind of wood used and how well it's been treated, but with proper care and maintenance, a wooden shed can last for decades. Higher-grade woods like cedar or redwood are preferred due to their natural resistance to rot and insects. Pressure-treated wood is another option that can last even longer and protect against rot, decay, and insects. Vinyl sheds are also long lasting, as they don't require any maintenance throughout their lifetime. Metal sheds are the least durable option, but if treated well can last for years with proper preventive maintenance. It's important to keep in mind that the longevity of any shed type also depends on its location, climate, and how much it's used.
What is the best surface under a shed?
The best surface under a shed depends on the type of shed you have. For an outdoor wooden storage shed, a concrete pad or gravel is best for providing a sturdy and level base. If you have a plastic or metal shed, you should put down pressure-treated plywood to provide a flat and even foundation for your structure. Regardless of the type of shed, make sure to use a moisture barrier, such as visqueen plastic, on top of your surface to keep water from seeping in and damaging the floor. You should also consider the weight of the shed when choosing a surface.
What are the most secure sheds?
Security is an important factor to consider when choosing the right shed. The most secure sheds are those made with strong, durable materials like steel and concrete that can withstand weather and other elements. Steel sheds are usually the most expensive option, but they offer the highest level of security due to their sturdiness and strength. Concrete sheds are another great option for security, as they are also strong and durable and can resist a variety of environmental factors.
How do I choose a shed?
When it comes to choosing a shed there are a few things that you should consider. First, decide on the size and type of shed that will best suit your storage needs. There are many different sizes and types of sheds available on the market today, from small garden sheds to large workshop-style sheds. You should also consider whether or not you need a shed that is weather-resistant or made of durable materials. You should also consider the amount of maintenance and upkeep necessary for the type of shed that you choose. Lastly, take into account your budget and any accessories you may want to add on to customize your shed.
What type of shed is easiest to build?
If you're looking for a shed that is easy to build, then the most popular choice is a pre-made plastic or metal shed kit. These kits come with all of the necessary parts and instructions for assembling your shed quickly and easily. They are also usually relatively inexpensive compared to building it from scratch.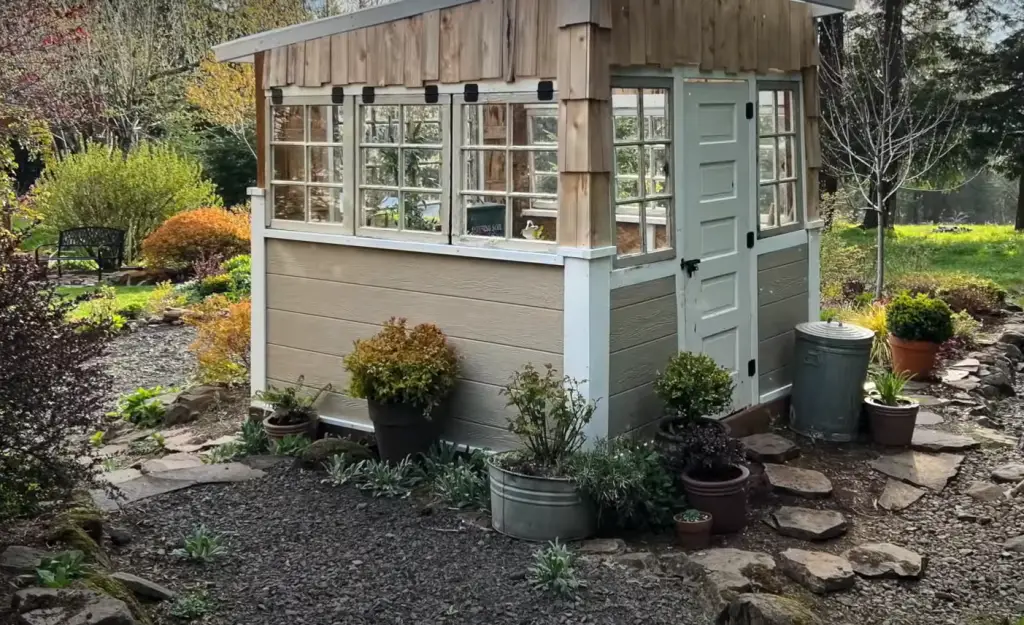 If you have some basic DIY skills, you should be able to put together your shed in a day or two. Another great option is a wooden shed, which can also be built relatively quickly and easily if you have some basic knowledge of carpentry. However, it will usually cost more than the plastic/metal kit sheds as well as take longer to build.
What is basic shed?
A basic shed is a simple structure that can be used for storage and other purposes. It typically consists of four walls, a roof, and a door or window. Basic sheds are usually fairly small in size, but they can be larger depending on the needs of the user. They are most commonly made with wood, metal, or plastic materials, and they are usually fairly inexpensive compared to more complex structures. Basic sheds are an excellent choice for those looking for a simple, low-cost solution to their storage needs.
Useful Video:Types of Garden Sheds
Conclusion
When it comes to choosing the right shed for your needs, there are many types of sheds available on the market. From basic garden sheds and storage units to more elaborate structures like workshops or home offices, each type of shed offers different features and benefits. Consider your needs carefully before selecting a shed so you can make an informed decision that best suits your needs. Make sure to research each type of shed, plan accordingly for installation and maintenance, and be diligent about safety measures so you can get the most out of your shed.
---
References:
https://alansfactoryoutlet.com/blog/types-of-sheds/
https://heartlandsheds.com/top-10-shed-styles/
https://www.homestratosphere.com/types-of-sheds/
https://www.acesheds.co.uk/blog/guide-to-shed-types