Gazebos are a popular way to enhance your garden and add an extra touch of beauty. They are perfect for relaxing, entertaining, or simply enjoying the beautiful outdoors. Whether you're looking to build a gazebo from scratch or buy one pre-made, there are plenty of options available to fit any budget and style. Here are some ideas to get you started with your garden gazebo project.
Is a Gazebo Right For Your Garden Design?
Before you start planning and building your gazebo, you should consider whether a gazebo is the right fit for your garden. If you're looking for a way to add more shade or shelter from the rain, then a gazebo may be exactly what you need. But if your garden already has plenty of areas for shade, you may want to consider other options such as a pergola or an arbor. [1]
Gazebo Purchasing And Placement Tips
Gazebos are a great way to add a focal point and beauty to your garden. Whether you're looking for a classic, traditional design or something more modern and contemporary, there are plenty of options available. However, before purchasing a gazebo it is important to consider the specific needs of your garden and ensure that you buy the right one for your needs.
When purchasing a gazebo, the first thing to consider is size and shape. Most gazebos come in circular or octagonal shapes. The size of the structure will depend on how much space you have available, so make sure that you measure before making any decisions. Additionally, if you plan to entertain guests under the gazebo, you will want enough space to accommodate everyone comfortably. [3]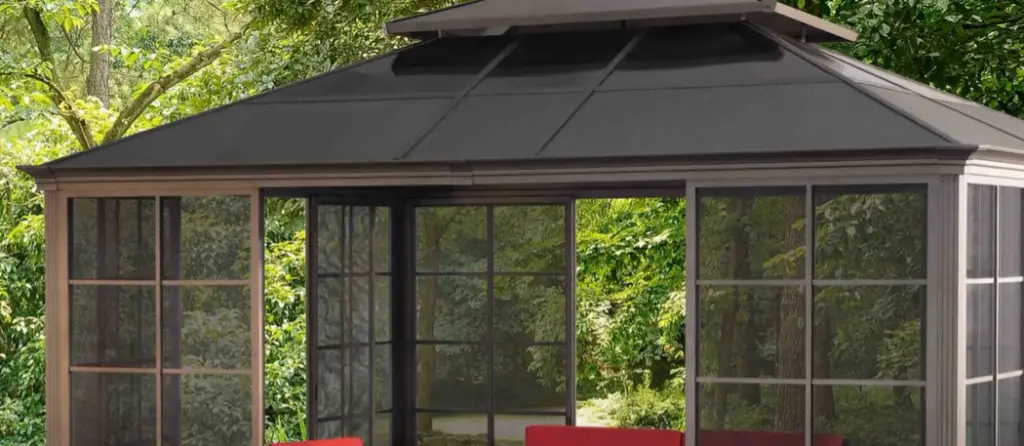 What Type Of Gazebo Should You Choose?
Choosing the right gazebo for your garden can be tricky. There are many different types of gazebos available, so it is important to consider all your options before buying.
The material you choose for your gazebo is also important. There are many different types of materials available, including wood, metal and plastic. Wood is a traditional choice for gazebos and can be treated to withstand outdoor weather conditions. Metal gazebos are also popular due to their resistance to rust and fading over time. Plastic materials are also available, although they are generally less durable than wood or metal options. [1]
Where To Buy Gazebos Online?
If you're looking for a great deal on gazebo ideas, the best place to start is online. There are dozens of websites dedicated to helping you find the perfect garden gazebo for your home. Whether you're looking for a modestly sized traditional-style gazebo or a grand open-air structure, you'll find it online. [1]
What's The Difference Between a Gazebo, a Summer House, And a Pavilion?
When it comes to garden buildings, the words 'gazebo', 'summer house' and 'pavilion' are often used interchangeably. However, the truth is that there are some subtle differences between them.
A summer house usually has a pitched roof and four walls of varying sizes, making it a great place to relax and store things. In contrast, a gazebo is an open-air structure with a roof that's supported by four or more columns. Typically, the roof will be raised at least two meters from the floor level. Lastly, a pavilion is an outdoor structure that may have columns for support, or it may be a free-standing structure with walls. [1]
Is A Gazebo Worth The Expense?
The answer to this question is highly dependent on your personal situation. If you have the extra funds to invest in a gazebo and you think it will improve the overall look of your garden, then it might be worth it. It's also important to consider how much time you plan to spend in the gazebo and what type of use you want to get out of it. If you are looking for a comfortable place to relax in the evenings or host outdoor parties, then investing in a gazebo can definitely be worthwhile. [1]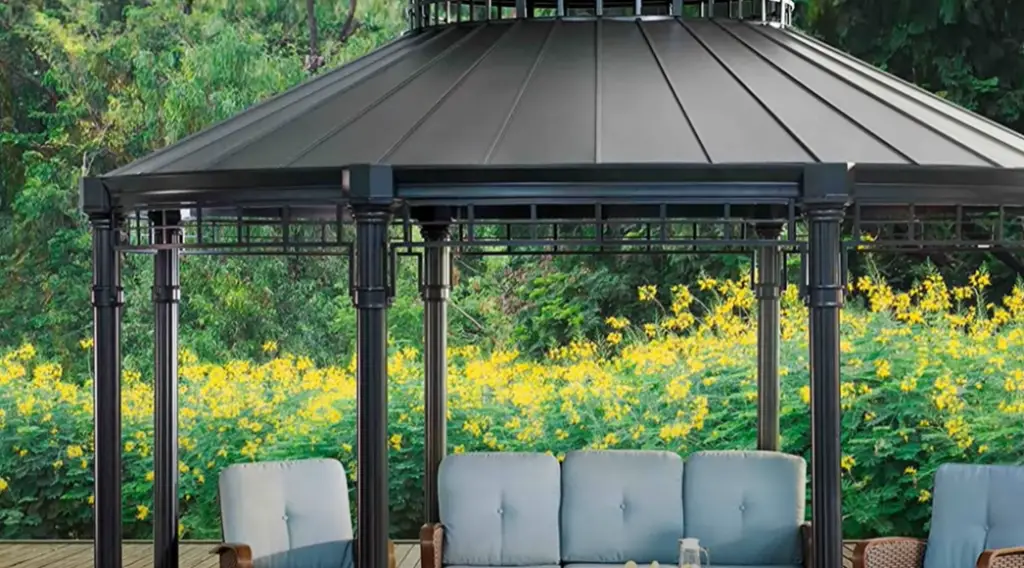 Include A Gazebo In Your Outdoor Kitchen Set-Up
If you've ever dreamed of having an outdoor kitchen set-up, then why not include a gazebo to add the perfect finishing touch? A gazebo adds the ideal area for informal gatherings and makes sure that your outdoor kitchen has the perfect spot for socializing. With plenty of options available from luxury designs with modern lines to more rustic, traditional styles, you're sure to find the perfect gazebo for your outdoor kitchen.
Plus, having a gazebo as part of your outdoor kitchen set-up provides lots of useful benefits too. Whether you want to keep the sun out of your eyes while cooking or provide shade for your guests while they enjoy a leisurely meal, a gazebo is the perfect addition. Not to mention, it's also ideal if you want to protect yourself from those sudden showers that can pop up during the summer months! [2]
Choose The Right Gazebo For Your Space
When it comes to garden gazebos, there are a few key factors that you need to consider before making your purchase. The size and shape of the gazebo should depend on the size and shape of your outdoor space. For smaller gardens, you might opt for an octagonal or rectangular gazebo while larger spaces can accommodate round or hexagonal styles. Additionally, you should consider the material of the gazebo and how it will fit into your existing garden design. [2]
Go For Light And Floaty If You're Hosting
When you think of garden gazebo ideas, you might naturally gravitate towards a more formal approach. But for parties, why not go for something more light and airy instead? This way your guests will be able to mingle in comfort and it will give the space an open and inviting atmosphere. For example, you could opt for a white, lightweight canopy with a few strings of fairy lights hung from the rafters. You could also add some hanging plants to create an even more relaxed and romantic vibe. Alternatively, if you have access to helium balloons, why not tie them around the edge of the gazebo for a fun, floating look? Just make sure that you attach them securely to avoid any unwanted mishaps! [2]
Add A Few Grand Touches To Your Gazebo Styling
If you're looking to add a few grand touches to your garden gazebo, there are plenty of ways to do so. Some great options include adding flower boxes or planters around the perimeter of your gazebo, painting it with a bold color, or even opting for architectural detailing like columns or arches. You can also hang lighting around the perimeter of your gazebo, making it a beautiful place to relax and admire your garden. If you want something a bit more permanent, consider adding a waterfall or fountain inside your gazebo for a tranquil atmosphere. [2]
Turn Your Gazebo Into A Destination
Your garden gazebo is the perfect spot for a family gathering, an outdoor party, or simply to get away from it all. To make it even more inviting and comfortable, there are plenty of ideas you can explore.
Next, choose furniture that fits the space. Most gazebos have open sides, so you can get creative with seating ideas for a cozy setup. Think about cushioned benches or chairs, an outdoor sofa, or a hanging hammock. Adding comfortable pillows and throws will give it a homey feel. [2]
Style Up Your Gazebo For Night Time Celebrations
If you're looking for a fun and vibrant way to spice up your garden gazebo, why not add some lighting? Whether it's twinkling fairy lights or decorative lanterns, they can make all the difference when it comes to night time celebrations. You could even install an outdoor sound system so that you can listen to your favorite tunes while you entertain.
The best part about adding lights to your gazebo is that it's relatively easy to do and doesn't require a lot of tools or know-how. You can buy lighting kits at most home improvement stores, or you could even make your own with LED light strips and some sturdy wire. [2]
Consider Black Paint To Add Some Drama
Adding a little drama to your garden gazebo can be easily achieved with black paint. Whether you opt for a solid black shade or combine it with other colors, the darkness of this color will add an element of sophistication and elegance to the area. A fully-painted black gazebo will also make any bright flowers in the garden stand out that much more. When considering a black paint color for your gazebo, make sure to choose one that is both durable and weather-resistant for the best results. [2]
Make A Small Space Seem Bigger With A Gazebo
If you have limited outdoor space, a gazebo can be the perfect way to make it look bigger. Even if you only have a small patio or balcony, by adding a gazebo in the center of it all, it instantly adds extra square footage and transforms the area into a type of grand room. You can also use a gazebo to create an outdoor room by positioning it at one end of the garden and adding furniture, such as benches or chairs, around it. This creates a cozy spot for entertaining friends or just relaxing in nature. [2]
Use A Gazebo To Enhance A Snug Space
A gazebo can provide a cozy spot to relax and enjoy the outdoors. You can use it as an outdoor living room or dining area, or just curl up with a book in peace and quiet. Gazebos come in all shapes and sizes, so you're sure to find one that fits your style. For added visual interest, hang string lights or lanterns over your gazebo to create a dreamy atmosphere in the evening. You can also add plants and decorations such as wind chimes and bird feeders for an inviting touch. Gazebos are a great way to extend your living space outdoors! [2]
Create A Dedicated Dining Space With A Gazebo
Gazebos are a great way to extend your living space outdoors and create an inviting dining spot. If you're lucky enough to have some outdoor space, why not use it to its full potential? A gazebo is perfect for providing shade and protection from the elements while still creating a feeling of openness. You can use furniture to define the space, add some potted plants and even hang string lights or lanterns from the rafters for a cozy atmosphere.
Alternatively, you can opt for a fully enclosed garden gazebo that can be used all year round. You could even install heating to make it a multi-purpose room for entertaining in the colder months. With hardwood flooring, wall hangings and décor, you can turn your garden gazebo into an extra living space. [2]
Spanish Style Pergola
If you want to create a space for outdoor entertaining that feels authentic and rich in Spanish culture, opt for a pergola. A Spanish-style pergola is an eye-catching addition to any garden or patio. Not just aesthetically pleasing, the latticework of delicate wooden beams provides dappled shade while allowing plenty of light to filter through. The perfect backdrop for a tranquil afternoon spent lounging in the sun, or relaxing with friends and family!
When it comes to choosing the right pergola design, there are plenty of options available. To create an authentic Spanish look, opt for curved eaves and intricate latticework made from lightweight materials such as cedar, pine or redwood. If you want to create a more contemporary look, consider using steel beams and sleek lines. [3]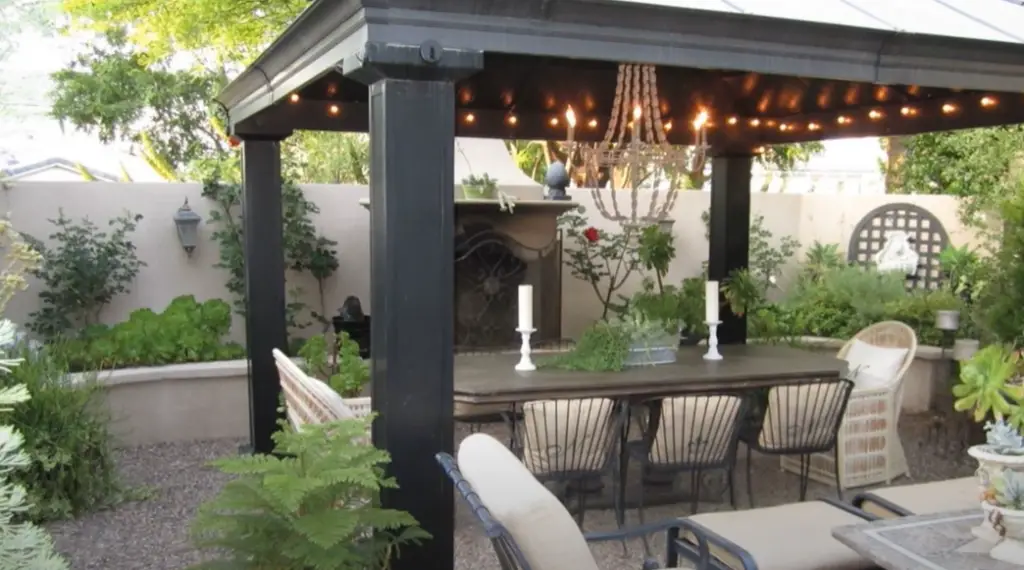 Japanese-Inspired Pavilions
If you want to add a touch of the Far East to your garden, why not consider building a Japanese-inspired gazebo? A classic pagoda-style roof and clean lines create an attractive feature in any outdoor space. Plus, with just a few basic materials like wood, some lattice panels and a little imagination, you can create a charming Japanese-style gazebo in your garden.
The key to creating the perfect Japanese pavilion is to keep it simple. Use traditional materials such as bamboo, wicker and dark woods to give it an authentic appearance. To provide more shade, consider installing lattice panels along the sides of the gazebo. And, to add a touch of authenticity, why not hang traditional lanterns from the ceiling or place potted plants and shrubs around the outside?
Japanese-inspired gazebos are a great way to create an enchanting outdoor space – perfect for a romantic evening in the garden with your loved one. Alternatively, it can make a great spot to relax in the shade and enjoy the peace of your outdoor oasis. [3]
American-Style Veranda
An American-style veranda is a great way to bring the outdoors into your garden. It provides an outdoor dining area that can be used year-round, and it also provides protection from the elements so you don't have to worry about inclement weather ruining your outdoor plans. This type of gazebo typically has a wood frame and is covered with a fabric canopy. Depending on the size of your garden, you can find models large enough to accommodate a full dining set or even small ones that are perfect for providing just enough shelter to enjoy a cup of tea in the afternoon. [3]
Traditional English Style Pergola
One of the most alluring garden gazebo ideas is the traditional English style pergola. This romantic structure is usually made from wood and often covered with vines or other climbing plants. They are also sometimes decorated with a variety of trellises, lattices, and railings for added interest. A traditional English style pergola can add a stunning focal point to any garden and is perfect for hosting intimate dinner parties or afternoon tea. [3]
Outdoor Kitchen Cover
A great garden gazebo can be the perfect finishing touch to your outdoor kitchen. Not only will it protect you from sun and rain, but it will also give you a stylish, private area where you can entertain friends and family or just enjoy some peace and quiet.
When shopping for a garden gazebo for your outdoor kitchen, you'll want to look for a style that complements the overall design of the space. You might choose a traditional gazebo with a pitched roof or perhaps something more modern and contemporary. [3]
Ultra-Modern Porch
If you're looking for a contemporary take on garden gazebos, consider porch designs. These structures offer a modern, chic look that can be dressed up with outdoor furniture and accessories to suit your taste. Porch-style gazebos are designed to fit into smaller spaces, so they work well in urban settings or for those with limited outdoor space. They're a great way to make the most of your garden and can be an excellent place to entertain guests or just relax and enjoy the outdoors. [3]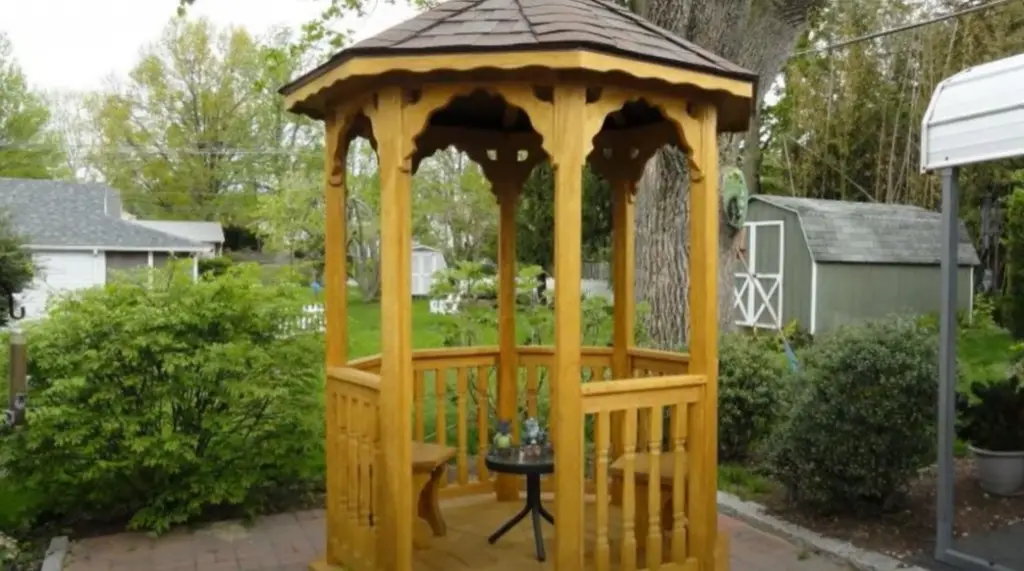 Sculptural Concrete Gazebo
For those who want to make a bold statement with their gazebo, a sculptural concrete gazebo is the perfect way to do it. A sculptural concrete gazebo can be built in any shape you like, from an oval to a circle or even something more creative! This type of gazebo provides a great conversation piece and can be made to fit perfectly into the landscape. While this structure requires a bit more work than other types of gazebos, it is well worth the effort in terms of functionality and visual appeal.
If you want to create an airy and whimsical feeling with your garden gazebo, opt for a sculptural concrete gazebo. The unique shape and design of this type of gazebo will be sure to turn heads and draw attention! For the best results, it is recommended that you have professional help when designing and constructing your concrete gazebo. [3]
Greenery Galore
If you're looking for garden gazebo ideas, one of the best places to start is with greenery. A lush selection of plants, including shrubs and flowers, can instantly transform your outdoor space into a relaxing oasis. Whether you opt for real or artificial greenery, adding a few green touches will make your gazebo a showstopper.
For an extra-special look, consider hanging planters or baskets of flowering plants from the roof of your gazebo. This will add a touch of whimsy and nature-inspired charm to your outdoor space. You can also spruce up the area around your gazebo with a few potted plants or window boxes. Choose bright colors to make your gazebo stand out even more. [3]
FAQ
What is cheaper: a pergola or a gazebo?
The cost of a pergola or gazebo depends on the size, materials and features you choose. Generally speaking, pergolas are usually cheaper than gazebos since they typically require fewer materials and less labor to build. However, a larger gazebo may still be more affordable than a large pergola due to the cost of additional materials and labor required for construction.
What do you put in a garden gazebo?
There are many possibilities when it comes to what you can put in your garden gazebo. Consider adding comfortable outdoor furniture, such as chairs and tables, so that you and your family can enjoy meals and relaxation in the shade. You can also add potted plants or outdoor art to bring a bit of color into the space. Of course, you can also add lighting and fans to create a cozy atmosphere for evening get-togethers.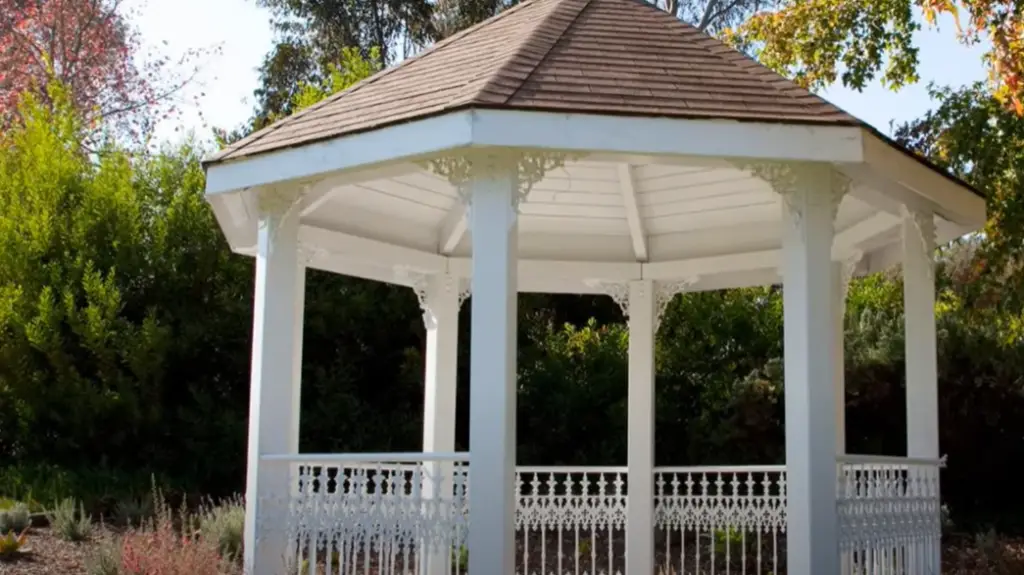 What gazebo can be left up all year?
If you'd like to leave your gazebo up all year, consider a hardtop gazebo with galvanized steel frames and heavy-duty canvas. These types of gazebos tend to be more durable and weather resistant than fabric or wood gazebos, so they can hold up against harsh climates or storms. Be sure to consider how much sunlight and wind your gazebo will be exposed to when choosing a material for your gazebo!
What is better than a gazebo?
If you're looking for something more permanent than a gazebo, consider building a screened-in porch or patio. This can provide protection from the elements and insects while still allowing you to enjoy your outdoor space. You can also choose to install an attached pergola or trellis that will add height and interest to your landscape. Both of these options will be more expensive than a gazebo, but they can create a beautiful space that is yours to enjoy for years to come.
Can you leave a gazebo up in the rain?
It is generally not recommended to leave your gazebo up during the rain. The fabric or wood of most gazebos will become damaged if exposed to moisture for too long, so it's best to take down your gazebo when you know there's a chance of rain. If you have a hardtop gazebo, you can generally leave it up during light rain or snow as long as the temperature is not too low. Check with the manufacturer for specific recommendations for your gazebo.
Useful Video: TOP! 100+ AMAZING OUTDOOR BACKYARD GAZEBOS DESIGNS
Conclusion
Garden gazebos are an ideal way to add a touch of elegance and charm to any outdoor space. Whether you're looking for something simple or a luxurious retreat, the right garden gazebo can become an oasis in your backyard. With so many shapes, sizes, colors and materials to choose from, these structures can not only improve the look of your garden, but also create a unique and inviting space to relax, entertain or simply enjoy the outdoors.
No matter what type of design you choose, a garden gazebo will add value to your home and bring more enjoyment to your outdoor space. With the right planning and care, this eye-catching structure can provide years of relaxation and beauty in your own backyard.
Thank you for reading our article on Garden Gazebo Ideas! We hope this guide has given you some great ideas and inspiration for adding a beautiful gazebo to your garden. Happy decorating!
References:
https://www.successfulgardendesign.com/garden-gazebos/
https://www.livingetc.com/ideas/gazebo-ideas
https://www.gardenpatch.co.uk/garden-gazebo-ideas-pergola-summerhouse/