Adding a touch of Christmas cheer to your garden can be a great way to get into the holiday spirit. Whether you want to create an outdoor winter wonderland or just add a few festive touches, there are plenty of ideas for how to decorate your garden for Christmas. From stringing lights on trees and shrubs, to displaying seasonal decorations like wreaths and garlands, these creative Christmas garden ideas will help you transform your outdoor space into a magical holiday retreat!
Light Up The Trees
One of the easiest and most effective ways to add some festive cheer to your garden is to hang up string lights. These can be used to light up trees, bushes, or any other outdoor feature for a stunning, twinkling effect.
Choose from all sorts of colors like warm whites and blues, or go for something more traditional with multi-coloured lights. You can also create a more calm and soothing atmosphere with subtle twinkling fairy lights in white or warm yellow tones.
Log Cabin Holiday Retreat
Creating a log cabin holiday retreat in the garden is a great way to add some rustic charm and seasonal magic this Christmas. This type of outdoor structure can be used year-round, but it's especially suited for bringing extra comfort and cheer during the winter months. You can use it as a cozy spot for gathering around the fire or as an outdoor dining area for holiday meals with friends and family.
Container Garden Wonderland
If space is an issue, don't worry! Container gardens are the perfect way to add festive cheer to your outdoor living spaces. Whether it's a terracotta pot with a single poinsettia or window boxes overflowing with winter foliage and blooms, you can create a beautiful container garden that will last throughout the holiday season.
Consider adding evergreen shrubs, like holly or juniper, to your containers. Decorate the branches with festive lights and ornaments for a cheery look. Incorporate Christmas colors into your container garden by pairing red poinsettias and cyclamen with white pansies, or opt for winter-flowering hellebores in shades of pink and cream.
Make Your Own Christmas Pedestal
A Christmas pedestal is a fun and creative way to add festive cheer to your garden. You can create one with some basic supplies, like an old wooden crate, paint, and a few ornaments. First, choose a color scheme for the pedestal—reds and whites are classic holiday colors. Then start painting the crate in that color, ensuring that all sides are covered. Once the paint is dry, you can add a few festive ornaments to the top of the pedestal. Use your imagination to create something unique and special—you could use miniature Christmas trees, lights and garland, or anything else that fits your garden's style! Place the pedestal near your front porch, or any spot that could use a bit of holiday cheer. Your own DIY Christmas pedestal will bring joy to everyone who visits your garden! [1]
Combine Ice Structures With Lights
Trees and garlands are not the only way to decorate for Christmas. Combining illuminated ice structures with light displays can create a magical display that is sure to be a hit during the holiday season.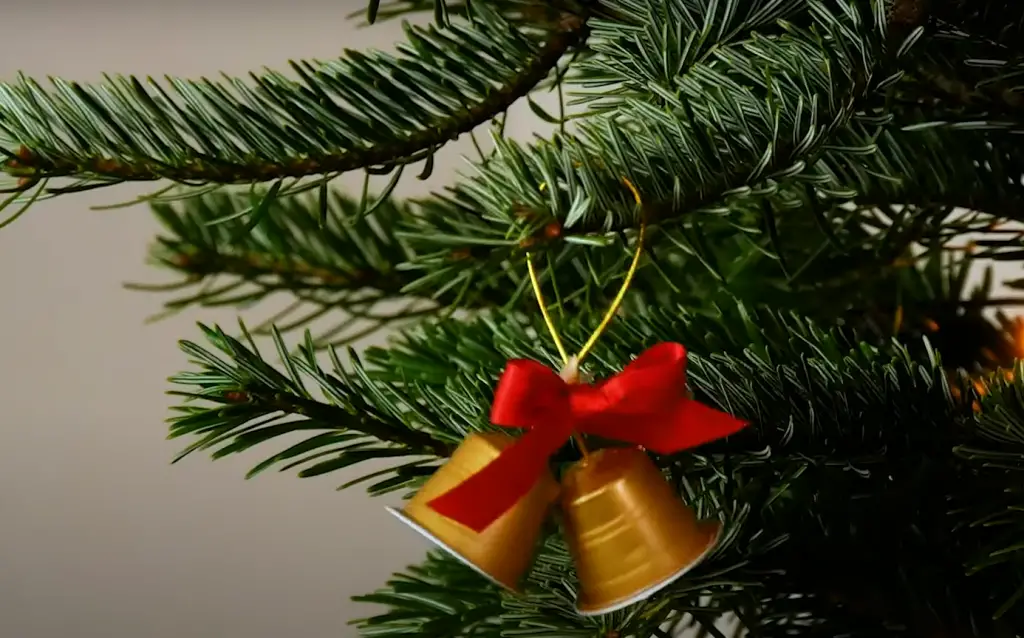 Ice sculptures are typically placed near walkways or in other prominent locations throughout the garden. LED lights can be used to outline the edges of the sculpture, while larger strings of lights can be used to create an enchanting scene around it. This type of display will certainly make your Christmas garden stand out!
Winter Wonderland Fire Pit Experience
Create your own winter wonderland with a cozy fire pit experience. Nothing says Christmas like gathering around the fire with your family and friends. Start by selecting a spot in your garden to set up the fire pit.
Then, surround the area with festive decorations such as garlands, poinsettias, or Christmas lights. Finally, gather around the fire pit and enjoy the warmth and holiday cheer with your loved ones. You can even make it extra special by roasting marshmallows or making smores over the fire! With this Christmas garden idea, you'll be sure to create cherished memories that last a lifetime.
Wreaths On The Lamp Posts
A great way to add a festive touch to your garden is by hanging wreaths on the lamp posts. This works especially well if you have trees or bushes that line your driveway or walkway and already provide natural decoration. You can make homemade holiday wreaths with pine cones, holly berries, ribbon, and other decorations of your choice. You can also buy premade wreaths to hang on the lamp posts for a quick and easy solution. The wreaths will add a pop of color and cheer to any outdoor space!
To make sure the wreaths stay secure throughout the season, use heavy-duty Zip Ties or twine to attach them to the lamp posts. If you're worried about them being taken down or stolen, simply use a heavier gauge wire and secure it tightly around the post.
Grace Your Patio
A patio is a great place to add some holiday cheer to your outdoor living area.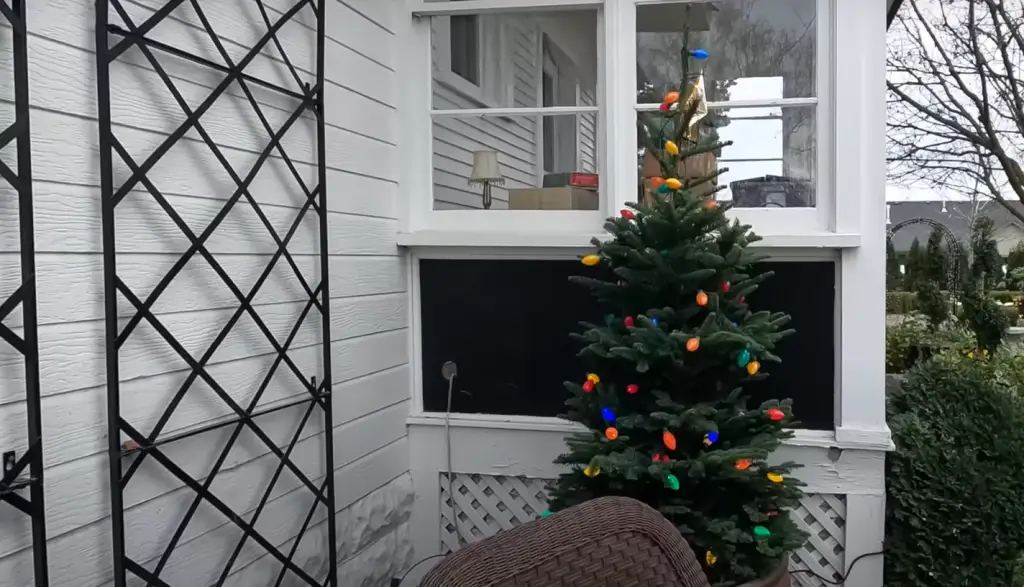 You can create an elegant display of Christmas plants and decorations by utilizing the space around you. Here are some creative ways to incorporate a Christmas garden into your patio:
Use large planters or containers to hold festive evergreens, poinsettias, and seasonal plants. Place the containers in different areas around your patio for maximum effect.
Hang wreaths along the perimeter of your patio or from beams or columns to give it an inviting, holiday inspired look. Choose traditional greenery with red ribbons or opt for something more creative like a wintry snowflake wreath.
Add twinkle lights to your garden space by stringing them along the patio railing, around low-hanging trees or bushes, or over arbors and pergolas.
Place solar lights on the ground around your patio for an extra touch of sparkle in the evening.
Create a centerpiece for your patio using seasonal ornaments, holiday-themed figurines and sculptures, or snowmen surrounded by evergreen branches. [2]
DIY Wood Pallet Trees
DIY Wood Pallet Trees are a great way to decorate your garden for the holidays. Not only do they create a beautiful rustic ambiance in any outdoor space, but they're also easy and budget-friendly! All you need is an old wooden pallet, some paint, and basic tools like saws and drills. You can customize the size, shape, and colors of your tree to match your garden's decor.
To begin, you'll want to cut two pieces of pallet wood into rectangles that are the same size and stack them together. Then, take a drill bit and use it to create holes in both sides of the wood for the branches.
Hang Some Birdseed Ornament
Birdseed ornaments are an easy and budget-friendly way to bring some festive cheer to your garden this Christmas. These lovely ornaments can be made from a variety of materials, including cereal boxes, plastic bottles, paper mache, and even fabric scraps. Hang them up on trees and shrubs around your outdoor space for a beautiful, rustic look. Not only will these ornaments add a touch of holiday spirit to your garden, but they'll also attract birds who will come and feed off the birdseed.
Display The Garlands On The Fences
When it comes to decorating your garden for Christmas, one of the quickest and most effective ways is to hang garlands on your fences. Garlands come in a variety of colors and styles, and each one will bring a unique touch to the overall festive atmosphere you're looking for.
If you have an iron fence, simply attach the garlands by tying them around the bars. If your fence is made of wood, use nails or staples to secure the garlands. You can also create a unique display by hanging colorful ribbons from each point on the garland and allowing them to cascade down. Finish off your look with twinkling lights strung throughout the garland for an extra festive touch.
Garden Pathway With Starlight Stakes
Adding a festive touch to your garden this Christmas season can be made easier with some starlight stakes. This simple and budget-friendly decoration is perfect for creating a magical pathway in your garden. Simply place each stake in the ground, making sure to space them evenly apart, and when it gets dark outside, you'll be able to enjoy a beautiful star-studded path like never before. Line both sides of the pathway with seasonal plants, such as poinsettias or holly bushes, to make it even more inviting and cozy. And don't forget to add some light accents around the pathway too – you can use snowflakes or other Christmas decorations for this purpose. For an extra special touch, you can hang string lights over the pathway. [3]
Christmas Lights On The Arbor
You can easily transform your garden into a magical winter wonderland with the addition of Christmas lights. An arbor is an ideal structure to hang strings of Christmas lights along, as they add a festive touch while also providing architectural interest and structure to the garden. Battery-powered or solar-powered string lights are best for outdoor use, since they don't require cords and can be easily hung from the arbor. You may choose to hang icicle lights for a sparkling wintery effect, or stick with classic Christmas tree bulbs for a classic look. Add in some greenery such as wreaths and garlands for an even more festive holiday display. It's easy to create your own custom light displays to bring the Christmas spirit into your garden.
The Natural Beauty Of Ice Wreaths
When it comes to Christmas decorations, nothing captures the holiday spirit quite like an ice wreath.
Not only do they look stunning, but they also last for weeks with the right care. If you're looking for a festive addition to your outdoor décor this Christmas, an ice wreath is the perfect choice.
Outdoor Hay Bale Christmas Tree
For a unique and creative outdoor Christmas display, make an outdoor hay bale Christmas tree! To create this eye-catching holiday display, by building three large hay bales in the shape of a triangle. Use twine to wrap them together, then cover the entire structure with white lights.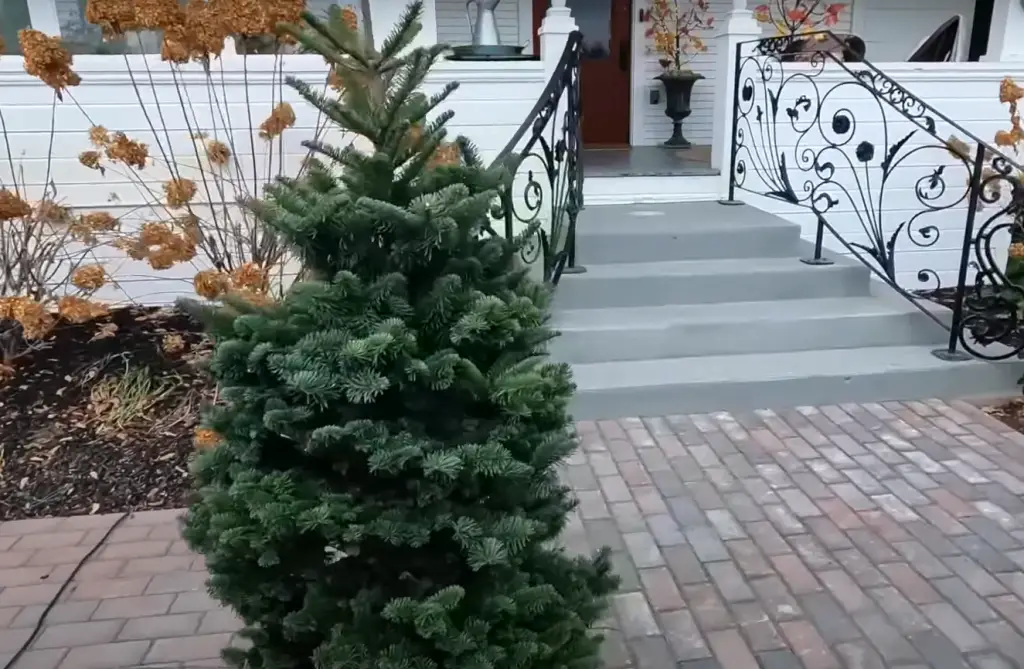 Finally, add a star ornament to the top for a festive finishing touch. This is sure to be the envy of your neighborhood, and it's easy to maintain and store! You can even add decorations like garland or ribbons to make it extra special. Adding this outdoor tree to your Christmas garden will definitely increase the holiday cheer! [4]
---
FAQ
How can I decorate my garden for Christmas?
There are a lot of different ways you can decorate your garden for Christmas. Consider adding some festive lights, hanging decorations from trees, and even creating a Christmas-themed pathway with greenery, lights, and decorations. You could also use holly plants, poinsettias, or colorful rubles to add a festive touch. If you have a pond, incorporate some floating Christmas decorations for an extra special touch. Of course, don't forget to add a Christmas tree or two! With a little creativity and imagination, you can create the perfect festive garden for the holidays.
How do you make a Christmas garden?
To create a Christmas garden, start by choosing plants that will thrive during the winter season. Select evergreens, such as holly and conifers, to provide vibrant green foliage throughout the colder months. Add festive pops of color with poinsettias and seasonal flowers like pansies and cyclamen. Consider adding twinkling lights and ornaments for a magical touch. Be sure to add plenty of mulch around the plants to protect the roots from the cold weather. Finally, don't forget to check the soil moisture often throughout winter and water as needed. With some simple planning, you can create an outdoor Christmas garden that will bring joy all season long.
How to decorate your yard for Christmas on a budget?
Let's face it, Christmas decorating can be expensive. But there are ways to make your Christmas decorations look amazing without breaking the bank. Here are some ideas for how to decorate your yard for Christmas on a budget:
Use natural decorations like pinecones, holly, and evergreen branches to create a festive look in your yard.
Make use of Christmas lights and solar-powered decorations for an inexpensive way to light up your space.
Create a winter wonderland by using white sheets, lights and snowflakes for a festive look.
Craft homemade decorations like snowmen, angels or stars using items you can find around the house.
Make use of old Christmas decorations and give them a new twist.
Utilize plants and flowers to bring a bit of life into your decorations.
Use outdoor furniture as part of your decoration and make it look festive with garlands, lights or ribbons.
Use Christmas decorations to create a festive fence around your property.
Add festive touches to your porch with Christmas pillows and holiday doormats.
Create a path of lights that leads up to the front door for a special touch.
How to decorate a small area for Christmas?
If you are looking for ways to decorate a small area for Christmas, there are several fun and creative ideas that won't take up a lot of space. Start by adding festive decorations and string lights to the area, such as multi-coloredicle or mini light strings for a beautiful lighting effect. Hang Christmas ornaments, tinsel, and ornaments from the ceiling to add sparkle and color. You can even hang small wreaths from nails in the walls to add a festive touch.
How do I arrange my Christmas greenery?
Christmas greenery and decorations can be arranged in any number of ways to create a unique and festive display. Some popular ideas include hanging garlands of evergreen boughs, stringing up lights and other decorations, and creating a centerpiece with a live or artificial Christmas tree.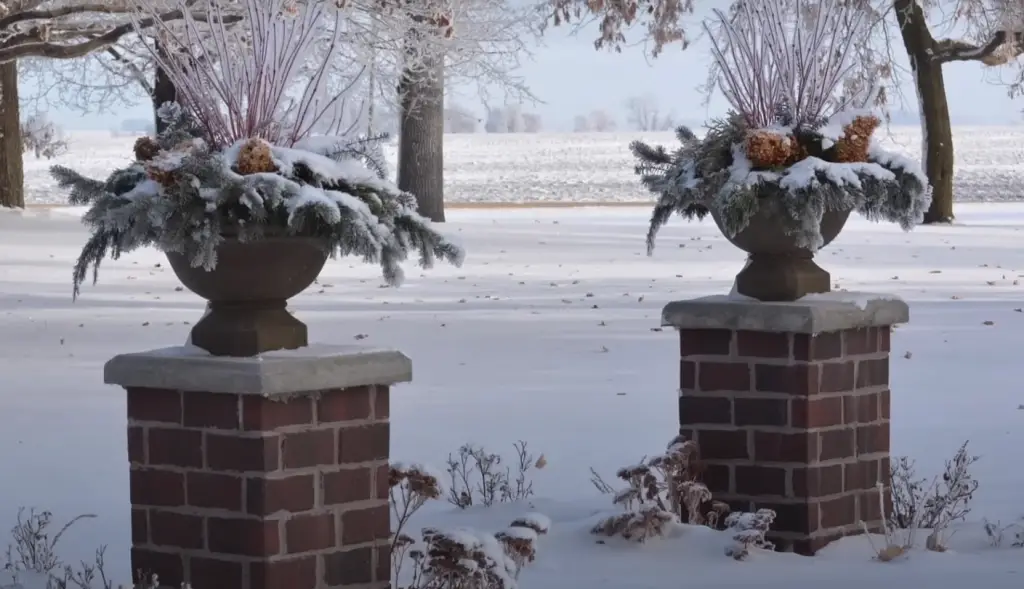 Additionally, wreaths, swags, and other greenery can be hung up around the home to bring a touch of holiday cheer. Be sure to use appropriate hardware for attaching the decorations to your walls, doorways, and other surfaces. Finally, don't forget about outdoor decorations—stringing up Christmas lights on trees and bushes, using bows for wreaths to highlight garden features, or simply adding a few festive touches to your outdoor furniture can make all the difference in creating a beautiful holiday display.
How do I light my garden for Christmas?
When looking to add lights to your garden for the holidays, there are a few key considerations. Firstly, you'll need to decide on what sort of lights you'd like to use – fairy lights, LEDs, solar-powered or traditional string lighting. Once you've decided on the style of light you want, you'll need to consider where in the garden you would like to place them. Consider using larger lights near trees or bushes for a dramatic effect, and smaller lights further away. You'll also want to think about how you will plug in the lights and secure them safely, if you are using traditional string lighting.
How to make a Christmas village at home?
Building a Christmas village may seem daunting at first, but it's actually not as hard as you think! With some creativity and a few simple supplies, you can easily create a festive holiday scene in the comfort of your own home. Before getting started, decide what type of village you'd like to create – a traditional village with houses, shops and churches or something more unique. Once you have your vision in mind,  gather up the supplies you'll need to bring it to life.
How do you make a decorative garden?
Creating a decorative garden for the holiday season is a fun and creative project to undertake. With the right materials, tools, and instructions, you can make a festive garden that will add beauty and holiday cheer to any home. Before you start your decorative garden project, decide on the size and type of garden you want to create.
If you have a larger outdoor space, consider planting traditional Christmas trees or adding walkways and flower beds.
How do you make easy Christmas planters?
Planters are a great way to add festive cheer and bring the outdoors inside! Here's how to make your own easy Christmas planter in just a few simple steps:
Begin by choosing your pot. A terracotta or clay pot is best for this project, as it will be a durable material to hold your plants.
Select your plants! Choose a combination of evergreens, such as pine or spruce, as well as festive flowers like poinsettias or amaryllis. If you're feeling adventurous, try adding some seasonal vegetables like kale or Brussels sprouts!
Add a layer of gravel to the bottom of the pot for drainage.
Fill the pot with soil and carefully place your plants into the soil.
Finally, add some festive decorations like ribbons, pinecones, or even a small figurine to complete your Christmas planter!
How to do Christmas on an extreme budget?
Christmas can be a very expensive time of year. But there are ways to create beautiful Christmas gardens without breaking the bank. Here are some ideas to help you create the perfect holiday atmosphere without breaking the bank.
Start small: Instead of buying large items like statues or outdoor decorations, look for smaller decorations like LED lights, garlands and ornaments. These can be used to create a festive atmosphere without breaking the bank.
Shop second-hand: Visit your local thrift stores for decorations and accessories. You'll find plenty of festive items at great prices.
Useful Video: GET YOUR GARDEN READY FOR CHRISTMASTIME 🎄 The Best DIY Outdoor Christmas Decorations 🎅
Conclusion
Christmas is a festive time of year that brings joy and merriment. Adding a special touch to your garden can make the holiday season even more magical. Taking the time to plan and create a beautiful Christmas garden will give you many cheerful memories that will last long after the season passes. With the help of these Christmas garden ideas, you can make your outdoor space as festive and inviting as possible. From incorporating holiday-inspired decorations to adding unique plants and shrubs, transforming your outdoor area into a winter wonderland is easy.
---
References:
https://www.housebeautiful.com/uk/garden/a37776728/outdoor-christmas-decorations/
https://www.homesandgardens.com/ideas/outdoor-christmas-decoration-ideas
https://growinginthegarden.com/meaningful-christmas-decorating-ideas/
https://billyoh.com/extra/home-and-garden/gardening/christmas-garden-ideas/