Gardening is an activity that can bring a lot of joy and relaxation to people of all ages. But sometimes it can be difficult to come up with ideas for how to create the perfect rustic garden. Rustic gardens often have a distinct charm and offer endless possibilities for creativity and uniqueness. That's why we rounded up some great rustic garden ideas for you to explore. In this article, we'll answer some common questions about rustic gardening, provide useful tips and tricks, and showcase some inspiring photos of rustic gardens. So if you're ready to get started on your own rustic garden project, keep reading!
What Is A Rustic Garden?
A rustic garden is a type of garden that focuses on natural elements and materials. It's designed to look wild, rugged, and unrefined. Rustic gardens often feature natural stone pathways, wooden accents, native plants and trees, and other earthy elements like stones or logs. The goal of these gardens is to create an outdoor area that looks organic and natural. [1]
Color
Rustic-style gardens often feature a lot of color, from the vibrant blues and purples of lavender to the pale pinks of roses. You can also add splashes of reds and oranges with plants like sunflowers and coreopsis. Another great way to incorporate a variety of colors into your rustic garden is by using heirloom varieties of annuals and perennials. Choose plants that have been around for generations, such as Old-Fashioned Marigolds or Grandma's Favorite Petunias. These will bring a sense of timelessness to your garden and create a vibrant palette for you to enjoy. [2]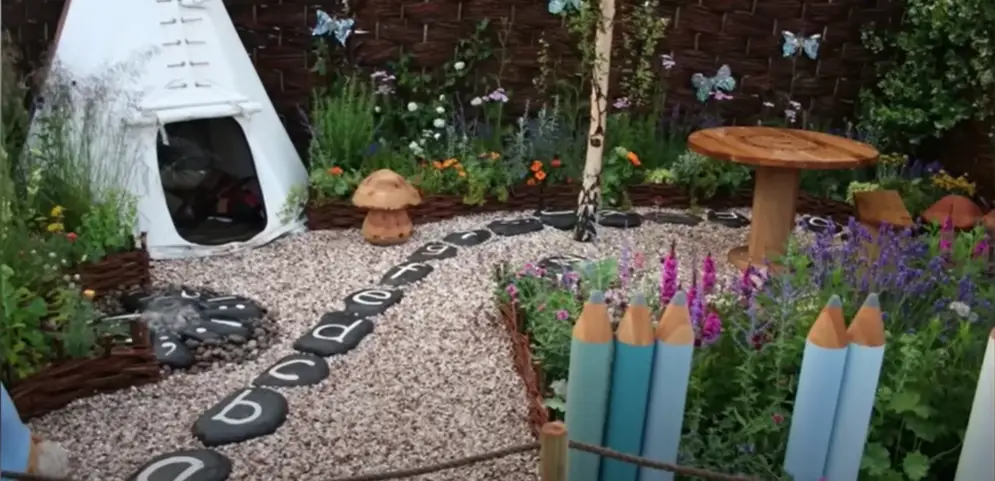 Handcrafted
One of the most popular and attractive elements to add to a rustic garden is handmade, custom-made items. Many people enjoy creating something special for their outdoor space that can become an integral part of the décor. For example, a hand-crafted bench made from logs or repurposed wood adds not only extra seating but also a unique touch to any garden. Or, if you prefer something a bit more elaborate, why not craft an outdoor chandelier made from driftwood and antique glass for extra sparkle? There are endless possibilities when it comes to adding handmade pieces to your rustic garden. [2]
Create Your Own Garden Hideaway
One of the best rustic garden ideas is to create a secret hideaway in your own backyard. Whether you want it to be an area where you can take some me-time or a place for friends and family, there are plenty of ways to make this special spot.
Start with simple furniture such as benches, chairs and tables. You can make these yourself, or purchase them from a store. To enhance the rustic look, cover them in light fabric such as cotton or linen with floral patterns and colors that match your garden's overall aesthetic. For an extra cozy feel, add throw pillows and blankets for a comfortable get-away spot. [1]
Make Room For A Floral Display
A rustic garden lends itself nicely to a display of colorful, vibrant flowers. Whether you're looking for a show-stopping centerpiece or just want to add a touch of beauty to your backyard sanctuary, flowers are an easy way to bring life and color to your rustic space.
When constructing your display, think about texture and depth. To create a lush and vibrant look, add some trailing plants or vines that will spill over the sides of your flower beds. You can also use taller plants as a backdrop to draw attention to the flowers in front. If you're looking for something more easy-going, opt for shorter varieties with a more wild look. [1]
Choose Garden Features With A Weathered Finish
For a truly rustic look, choose garden features that have a weathered finish. This could include antique-style birdhouses, rustic trellises, and vintage watering cans. You can also pick up some old tools at the local flea market or thrift shop to add an authentically worn touch to your garden. For plants, look for hardy varieties that are known to thrive in your climate. Rose bushes with an old-fashioned charm can add a romantic feel, while woody herbs like sage and thyme will bring a sense of the wild into your garden. Consider investing in some heirloom seeds so you can start growing plants with genuinely rustic roots! [1]
Reimagine Architectural Features
If you have an old barn, gazebo, or other architectural feature in your garden, don't be afraid to use it as a centerpiece for your rustic garden. With the right amount of TLC, these features can become eye-catching focal points that bring the entire space together.
You can also repurpose old materials like brick, stone or wood to create a rustic garden look. An old gate could become a trellis for vines and flowers. A broken fence post could be made into an interesting rustic wall piece. A pile of bricks can form the base for a planter. The possibilities are endless!
When repurposing materials, think about how it can be used to form the garden you're envisioning. If there are old pieces of furniture lying around in the garden, look for ways to incorporate them too. Paint them with bright colors or add vintage details like metal handles and brackets for a unique touch. [1]
 Include Salvage-Style Planters In Your Rustic Garden Ideas
Adding a bit of salvage-style charm to your rustic garden ideas is easy with the right planters. Whether you're repurposing an old ladder into a tiered planter or using rusted metal buckets as decorative accents, salvaged items can add just the right touch to your rustic garden design. Salvage-style planters are unique and often very affordable — the perfect addition to any rustic garden.
Also consider repurposing vintage furniture, like a bench or table, as decorative accents in your rustic garden. Paint them with weather-resistant paint for a pop of color or leave them natural for a more natural look. For example, an old wood chair can easily become a planter and an end table with a few holes drilled in it makes for a great container garden. [1]
Design A Rustic Seating Area
A rustic seating area is a great way to create a cozy atmosphere in your garden.  A few pieces of wooden furniture, some colorful pillows, and maybe even a fire pit will give you a great place to relax. If you're looking for something more decorative, why not add some wildflowers or shrubs to really give it that rustic feel. You can even add a few hanging planters to make your seating area look even more inviting. [1]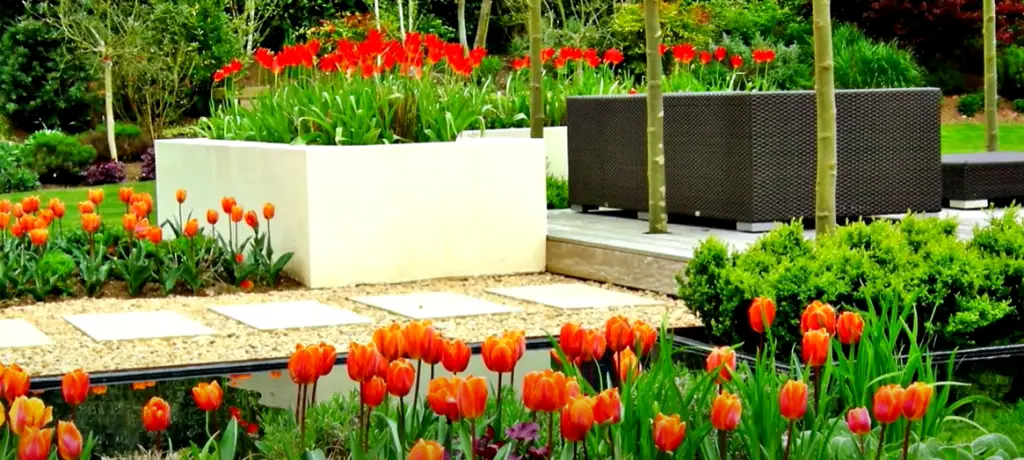 Make The Most Of Your Outdoor Structures
Your rustic garden is the perfect opportunity to get creative and make the most of your outdoor structures. From arbors and trellises to pergolas and raised beds, there's no limit to what you can do with a bit of imagination!
Another great use for rustic-style structures is creating benches or seating areas. You can find some great DIY tutorials online that will show you how to make your own bench out of wood or even logs. [1]
Go For A Nature-Inspired Color Palette
When it comes to rustic gardening, you want to choose a color palette that works in harmony with nature. To achieve rustic garden style, look for colors found in natural elements such as shades of brown and green. This will create a cohesive feel throughout your garden. You can also add pops of brighter colors like orange and yellow, which will add a touch of vibrancy to your outdoor space. [1]
Create A Rustic Tiered Display
A tiered display is a great way to have height variations in your garden and create interest. There are many ways to do this, but one easy concept is to build a rustic tiered flower bed using pallet wood or wooden logs.
Start by imagining where you would like the tiers to go and how they will look. Once you have settled on a design, you will need to measure the space and cut your materials down to size. Secure each layer with screws or nails, ensuring each piece is firmly fastened before stacking another one on top.
Once the tiers are in place, fill them with soil or mulch and add plants that suit your style. For example, you could fill the tiers with potted plants such as lavender and rosemary or even wildflowers. To complete the look, add a few rustic decorations such as metal stars, wooden signs or birdcages to your display. [1]
Showcase Natural Materials
One of the great things about a rustic garden is that you can use natural materials to create a beautiful and inviting space. Consider using wood, stone, or clay for furniture and accents, such as planters, birdhouses, and other decorations. You can also incorporate natural elements such as twigs, branches, leaves, bark, shells, and stones into your design. Using these materials will help create a cozy rustic atmosphere that is sure to be enjoyed by all.
In addition to furniture and accents, consider also incorporating natural foliage into your garden. Plant trees, shrubs, flowers, and other plants in order to create lush sections of the garden that can be enjoyed all year round. Not only will this add to the natural feel of your garden, but it can also provide food, cover, and nesting areas for wildlife. [1]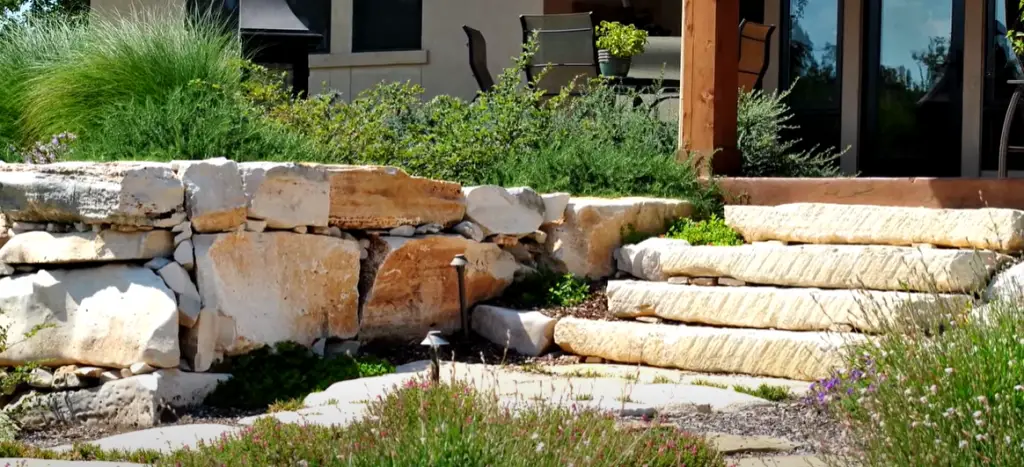 Put Up A Rustic Log Arch
Adding a rustic log arch to your garden is a great way to give it an old-fashioned, rustic feel. Not only that, but it can be used to mark the entrance of your garden or as a decorative piece.
You'll need some logs for this project and you can choose from cedar, larch, or redwood. Make sure to buy logs that are of the same height and thickness. Next, mark the spot where you'll be setting up the arch and dig two holes for the posts. You can use concrete to hold them in place or secure them with rebar if needed.
After putting in your posts, it's time to create the arch. You can use rope or twine to bind the logs together and secure it at both ends with nails. To make it look more authentic, you can carve out wood designs in the logs or paint them a rustic hue. [1]
Paint Up Wooden Crates
Wooden crates can add a fun rustic element to your garden, and the best part is that they are easy to find. You can usually spot them in flea markets or in vintage shops, but you can also buy them online (just be sure to do some research on the size of the crate so it fits into your space).
Once you have your wooden crates, painting them is an easy way to give a garden some extra character. Choose bright colors or patterns that will really stand out against the greenery. You can also distress wood with sandpaper to give it a weathered look before adding paint. Fill each crate with soil and fill it with potted flowers or succulents. It's a fun way to create small raised beds and can be used in any area of your garden. [1]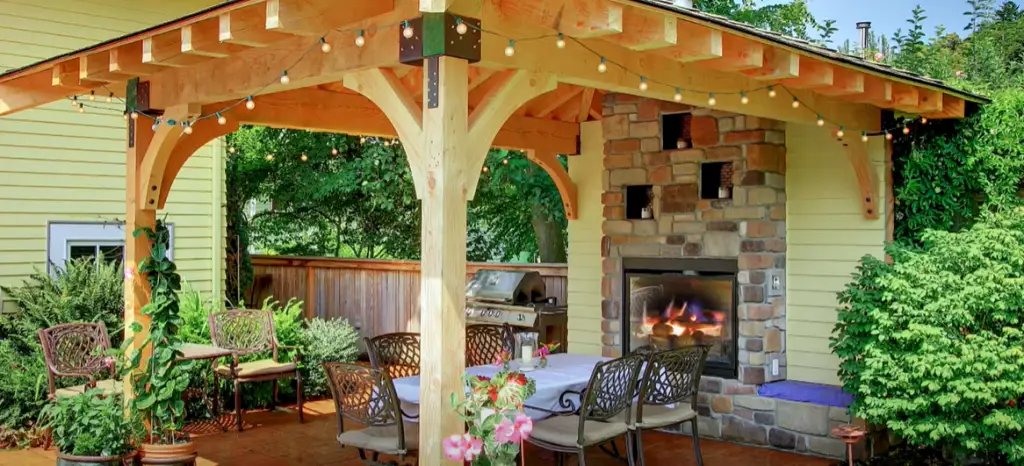 Customize Your Furniture For A More Rustic Vibe
When thinking of ways to bring a rustic touch to your garden, customizing your furniture is one of the easiest and most effective. If you have existing pieces, like an iron bench or swing chair, consider painting them in muted tones such as white, beige or gray. This will instantly create an aged look that works perfectly with a rustic garden. If you don't have any existing furniture, try visiting local flea markets or second hand stores and pick up pieces that have been well-worn by time. You can distress them further at home with sandpaper for a truly rustic look.
You could also opt for wooden tables and chairs, which are perfect for a rustic garden. Many of these can be bought ready-made, but if you're feeling adventurous and creative, why not try making them yourself? You'll find lots of tutorials online that will help you build your own furniture with minimal effort.
Finally, don't forget to accessorize! [1]
Add A Quirky Sign Or Two
No rustic garden design is complete without a few quirky signs here and there. These don't have to be shop-bought; you can make your own out of found materials, such as reclaimed wood or old metal tools. They can be anything from a sign pointing the way to your vegetable patch, to funny quotes about gardening or even puns. Whatever you choose, make sure it is a fun addition that will add character to your garden.
Finally, don't forget to add some lighting. String lights or paper lanterns create a cozy atmosphere and illuminate any outdoor gathering space. For extra rustic charm, hang them from old farm tools or branches of trees in your garden. [1]
Pimp Up A Birdhouse
A birdhouse is an essential addition to any rustic garden. Not only does it provide a safe and comfortable home for our feathered friends, but it also adds to the aesthetic of your outdoor space. To further enhance the rustic feel of your garden, pimp up a plain birdhouse with some DIY decoration ideas.
To create a truly rustic birdhouse, try using natural materials to give it a homely and cozy touch. Twigs, bark, stones, feathers, and pinecones all make great additions for decorating your birdhouse outside. For example, you can wrap twigs around the base of the house to look like tree roots or paint them with earthy colors, like browns and greens. You can even embellish the house with adornments such as pinecones or feathers.
Adding a touch of vintage charm to your birdhouse is also easy to do. Paint it in faded pastel shades or use dried flowers and herbs for decoration. If you're feeling crafty, you can add a touch of whimsy with some creative design features like a tiny chimney or windows. [1]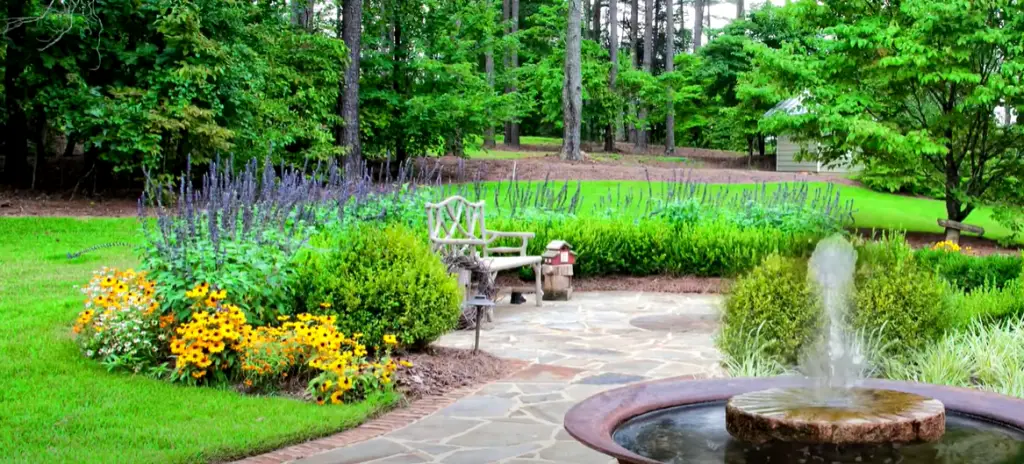 Repurpose Old Furniture
If you have any old furniture around your house, don't throw it away – repurpose it instead! Old tables and chairs can be used as planters, while an old door or window frame can be hung up and used to support climbing flowers. If you really want to make a statement, find an old metal tub or wheelbarrow and plant flowers in that. It'll look cool and add a touch of charm to your garden too! [2]
Wooden Wishing Well
One of the most popular rustic garden ideas is a wooden wishing well. This can be as elaborate or as simple as you like. It can be used to create a focal point in your garden and is sure to draw attention from visitors. Plus, it's always fun to toss coins into for good luck! You can make your own using wood, metal, and other materials. It's a great weekend DIY project for the whole family to get involved in.
When it comes to construction, there are a few things to consider. First, you need to decide on a design that fits your garden style and theme. You can use old wooden boards or pallets for a shabby chic look, or create something more intricate from metal and other materials.
Next, you'll need to make sure that your wishing well is sturdy enough to withstand the elements. It should be made of weather-resistant materials, such as treated wood or galvanized steel. And finally, make sure that it is securely anchored in the ground. If you're not sure how to do this properly, it's best to consult a professional. [2]
Wooden Country Planter Wagon
Country planter wagons made from wood can be a great addition to any rustic garden. Not only are they highly decorative, but you can use them to store excess soil or leaves that accumulate in your garden over time. Plus, with the right care and attention, these wooden planters will last for years. But before you commit to building one for your garden, it's important to consider the type of wood you'll use.
When building your wooden planter wagon, make sure that you leave enough space between each plank of wood so that air can circulate properly and keep the soil or plants dry. You should also consider adding wheels to make your wagon more mobile. [2]
Build a Wood Pergola
Building a wooden pergola is an excellent way to add rustic charm to your garden. A pergola looks great when it is placed over a patio, deck or outdoor seating area. It provides shade and adds character to the space while providing a focal point in your garden. You can build a wooden pergola yourself using pressure-treated wood or cedar, depending on your budget and preference.
To get started, measure the area where you want to place the pergola and then purchase the wood that is needed for your project. You can find pre-cut lumber at most home improvement stores, but make sure to buy extra pieces in case you need to do any custom cuts. Once you've gathered all the materials, start building your pergola according to the instructions that come with it. [2]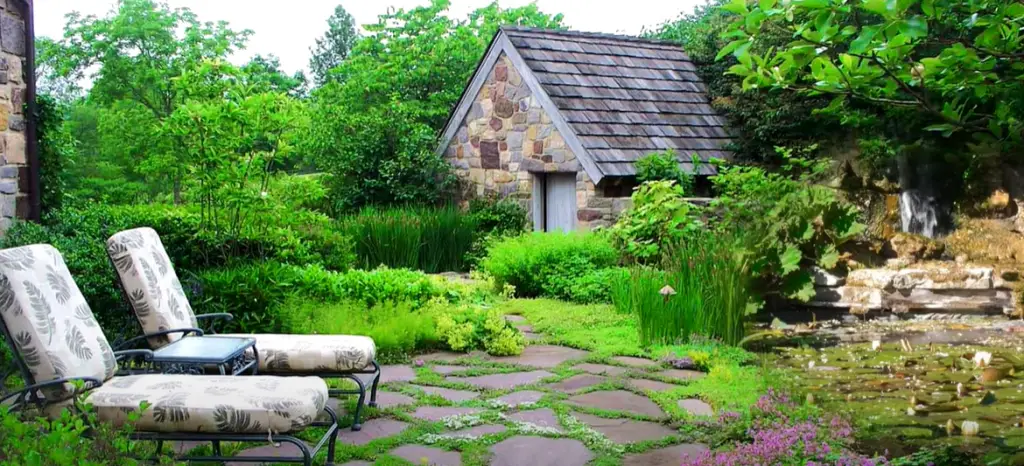 Get Creative with Burlap Fabric
Burlap fabric or jute is an ideal material for creating rustic garden decorations. It can be used to make plant pots, wall hangings and even furniture. You can also use it as a decorative accent in your garden by wrapping burlap around existing planters, vases and other containers. This simple addition will instantly add a touch of rustic charm.
Burlap is also great for making wreaths and swags from dried or artificial flowers and other materials. You can even use burlap to make outdoor pillows, tablecloths and chair covers that will blend in with the rest of your garden's décor.
You don't have to limit yourself to traditional colors either – get creative with different shades and patterns of burlap fabric. Experimenting with different materials will give you the opportunity to create truly unique rustic garden decorations. [2]
FAQ
How do you make a vintage garden?
A vintage garden is one that exudes a feeling of charm and nostalgia. To create a vintage garden, consider using antique items such as old planters, tools and furniture. Planting heirloom flowers, herbs and vegetables can also help to bring the look together. Adding trellises, arbors, rustic fences and gates will further enhance the vintage look. Other ideas include using stone pathways and old-fashioned windmills or other antique decorations.
How do you make a tranquil garden?
Creating a tranquil garden is all about creating an atmosphere of peace and relaxation. Use elements such as soft curves with contrasting hard lines, plants that attract birds and butterflies, and water features such as fountains or ponds. Include plants with interesting foliage, flowers in shades of blue and purple, fragrant plants like lavender to add aromatherapy, and a variety of textures like gravel paths or stone walls. Other ideas include incorporating a feature such as an arbor or pergola, using lighting to highlight certain features, and adding comfortable seating areas where you can sit and relax.
How do you make a decorative garden?
When creating a decorative garden, it's important to focus on the details. Add vertical interest with climbing vines, trellises and arbors. Hang art pieces that are made of outdoor-safe materials such as metal or wood. Include whimsical elements like statues and birdhouses, wind chimes and gazing balls. Incorporate textural elements with ground cover, mulch, pebbles and pavers. Add pops of color with flowers in vibrant hues or painted fences and trellises. And be sure to include plenty of seating areas where garden visitors can relax and take in the beauty of your decorative oasis.
How do you make a minimalist garden?
A minimalist garden is all about creating a space that is simple and uncluttered. Consider planting a variety of low-maintenance, drought-tolerant plants such as succulents and cacti. Place rocks or gravel accents in between the plants to add texture and interest. Use lighting sparingly, with just enough to provide a subtle glow. And incorporate seating areas with modern, minimalistic furniture that won't be too bulky or block the view of your garden. With these tips, you can create a minimalist garden that is still full of beauty and relaxation.
How do you design a nice garden?
Designing a nice garden takes some thought and planning. Start by sketching out a plan of the area and determine what features you would like to include, such as paths, seating areas, water features, etc. Think about how much sun or shade each area will get throughout the day and choose plants accordingly. Incorporate design elements such as fences, trellises and arbors for additional interest. And be sure to leave plenty of room for movement and relaxation–a nice garden should be a place of peace and tranquility. With these tips in mind, you can create a beautiful oasis that everyone will enjoy!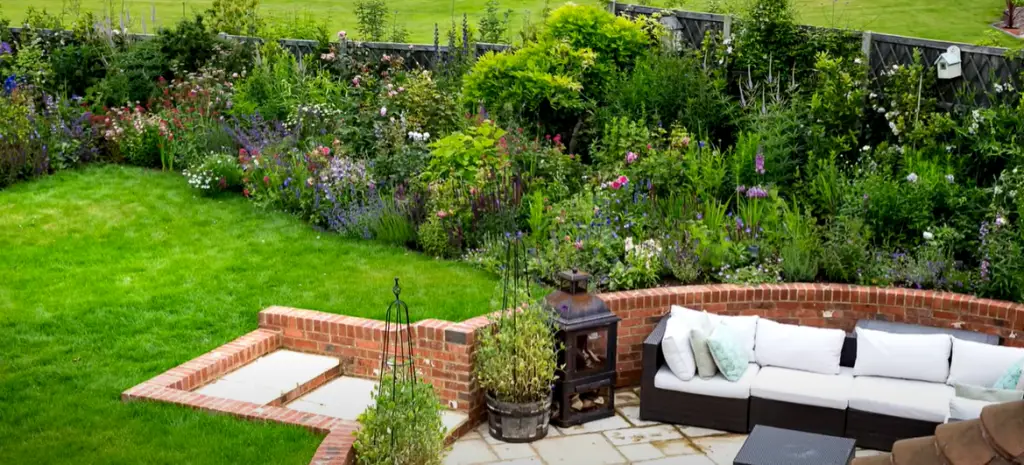 What makes a garden beautiful?
A beautiful garden is one that combines form and function. Think about the elements you would like to include—plants, furniture, water features, etc.—and incorporate them in a way that will enhance their individual beauty while also creating a harmonious whole. Choose plants with interesting foliage or flowers in vibrant colors. Add texture with gravel pathways and stone walls. Incorporate creative elements such as an arbor or trellis, and hang art pieces that are made of outdoor-safe materials. And be sure to include comfortable seating areas where people can enjoy the beauty of your garden.
What is the most famous garden in the world?
The most famous garden in the world is The Garden of Versailles in France. Designed by André Le Nôtre, this iconic French Baroque-style garden has been an admired masterpiece since its completion in 1683. It features over 200 acres of gardens with immaculately manicured lawns, grand terraces, and towering trees. Other notable features include the Grand Canal, an expansive network of fountains, a half-mile-long grand canal, and the iconic Hall of Mirrors. The Garden of Versailles is truly a sight to behold and one that should not be missed!
What is a linear garden?
A linear garden is a type of design that utilizes a long and narrow space. This style can be used to create pathways, walls and hedges, as well as beds of flowers or vegetables. When designing a linear garden, it's important to plan out your layout beforehand so that you can make the most of the limited space. Think about how you want the space to look and feel—you can incorporate different textures, shapes, and colors to create an inviting atmosphere. With careful planning, you can transform a linear garden into a beautiful outdoor oasis!
Useful Video: Rustic garden design ideas
Conclusion
After reading our article, we hope that you found some inspiring rustic garden ideas. Whether it's growing your own flowers and vegetables in a raised bed, or adding an outdoor bench to create a cozy seating area, there are plenty of ways to bring the rustic look into your outdoor living space. With the right materials, colors and textures, you can have a garden that looks and feels like it has been around for decades.
When planning your rustic garden, remember to make sure the design is practical for your space and landscape. If you don't feel comfortable tackling certain projects yourself, reach out to a professional who can give you advice or even do the work for you.
Most importantly, take the time to enjoy your garden and all its rustic charm. Relax with a book on an outdoor chair or gather around with friends to share stories in the cool of the evening. With these ideas for your rustic garden design, it's sure to be a favorite spot for years to come!
References:
https://www.gardeningetc.com/design/rustic-garden-ideas
https://ultraoutdoors.com/rustic-garden-decor/