Do you want to bring a touch of luxury and comfort to your backyard? One great way to do this is by building a pavilion. Pavilions are great for providing shade in the summer, shelter from light rain showers, or just creating an inviting area for entertaining guests. With some basic carpentry skills and materials, you can easily construct a simple pavilion in your backyard. Here we'll explore some simple backyard pavilion ideas that will turn your outdoor space into the perfect place for relaxation and entertainment!
What Is A Backyard Pavilion?
A backyard pavilion is a large structure that is typically open on all sides. It can be covered or uncovered and offers protection from the elements while creating a beautiful outdoor living space.
Pavilions are usually constructed from wood, metal, or stone and can range in size from small gazebo-like structures to elaborate multi-room buildings. Pavilions are perfect for outdoor entertaining, providing a sheltered and comfortable area to host parties or just relax in the shade on hot summer days.
Backyard Pavilion Ideas
Backyard pavilions are a great way to create an outdoor oasis right in your backyard. They provide a comfortable and shaded area for entertaining guests, relaxing with family, or just taking a break from the sun. There are many different types of pavilions you can choose from, ranging from traditional wood designs to modern metal structures. Here are some simple backyard pavilion ideas to get you started:
A Simple Wood Pavilion – This is a great option for anyone looking for a classic, rustic look for their backyard retreat. Choose from cedar, pine, or even treated wood to create a cozy atmosphere with plenty of space for dining, lounging, or just relaxing.
A Relaxing Canopy – If you're looking for a more contemporary style, consider using a canopy to provide shade and privacy. Choose from white canvas or lightweight polyester fabric in various colors and textures to create an inviting atmosphere with plenty of natural light streaming through.
A Covered Patio – A covered patio is a great way to create an outdoor space that's both functional and stylish. Choose from teak, cedar, or aluminum for material and add curtains to provide shade and privacy as needed.
An Outdoor Kitchen Pavilion – Add a touch of luxury to your backyard by installing an outdoor kitchen pavilion. This type of structure provides plenty of space for cooking, eating, and entertaining – all while protecting you from the elements. [1]
Epic Garden Pavilion – Instant Yard Upgrade
Adding a garden pavilion to your backyard will instantly make your outdoor space more inviting and luxurious.
This type of structure can provide shade from the sun and can also be used for entertaining guests or as a relaxing spot for some peaceful alone time. Garden pavilions come in many different sizes and styles, so there's something to fit any backyard!
Add A Kitchen – Alpine Wood Pavilion
Transform your outdoor space into a luxurious, functional area with the addition of an Alpine Wood Pavilion.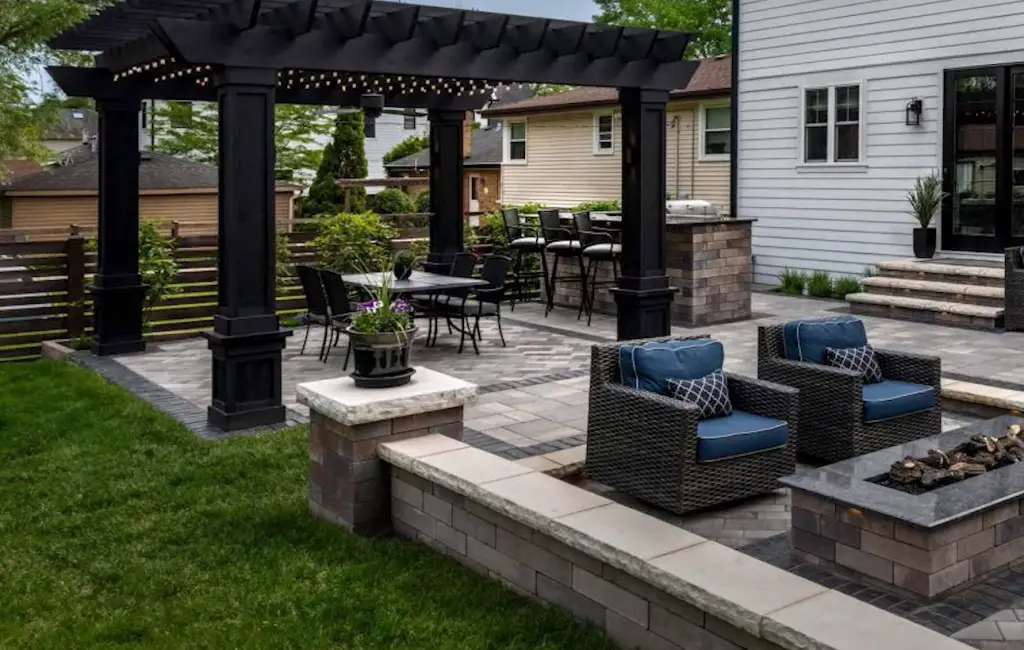 This type of pavilion provides enough space to fit most kitchen appliances and is a great choice for those looking to create a modern, inviting outdoor living area.
Add a sink and countertop to the mix, and you'll have a fully-functional outdoor kitchen in no time!
Add Some Shade – Shaded Pavilion
A shaded pavilion is a great way to enjoy your backyard without being exposed to the sun. With a shaded pavilion, you have the option of either having your own private retreat in your backyard or creating an outdoor lounge area where you and your guests can relax. You could choose to use metal frames or wooden posts with a pergola roof to create a shaded pavilion. String up some patio lights or even add in an outdoor fan to keep you cool during hot summer days. You can also use the space for outdoor entertaining, with plenty of seating and food prep areas available. If you want to take your backyard oasis one step further, you could opt for a thatched roof or even a sun-blocking fabric to provide even more shade. With a shaded pavilion, you can create the perfect outdoor living space for your family and friends. [2]
Stay Cool – Poolside Pavilion
Nothing can be more satisfying than spending a hot summer day poolside. To make the experience even more enjoyable, consider adding a pavilion to your outdoor space. A poolside pavilion will provide you with shade and protection from the sun while still allowing you to enjoy the beautiful outdoors. You can create a simple yet elegant pavioli by erecting four poles, attaching a canvas canopy to the top with rope and adding some outdoor furniture. You can even make the pavilion unique by decorating it with string lights or hanging plants. This type of pavilion is perfect for poolside lounging and entertaining guests in the summertime.
Create A Resort In Your Backyard – Add Hammocks
A backyard pavilion is the perfect way to create an outdoor oasis in your yard. If you are looking for some simple backyard pavilion ideas, consider adding a hammock and fire pit. You can easily turn your yard into a relaxing resort retreat! Hammocks provide great seating options for those who want to relax and unwind in the shade.
Place several hammocks around your backyard pavilion to create a cozy atmosphere, perfect for lounging with friends or reading a book alone. Fire pits are also great additions to any backyard pavilion. Not only do fire pits provide warmth and light on chilly nights, but they also act as a focal point for gathering around. Gather your friends and family around the fire pit to enjoy a night of conversation, s'mores, and laughter. Adding hammocks and fire pits to your backyard pavilion will create an oasis that you won't want to leave!
Create A Private Outdoor Space – Add Blinds
Blinds are an overlooked feature that can help transform your backyard pavilion into a private and cozy retreat. Whether you opt for wood slats, bamboo blinds, or canvas pull-downs, they'll create an inviting atmosphere while blocking out the sun's harsh rays. You could also hang up curtains to give your space a touch of class and elegance. Additionally, if you have any windows in your pavilion, blinds are a great way to control the amount of natural light that enters the space. Just make sure to choose materials that will be able to withstand all types of weather for long-lasting use. [3]
DIY Pavilion Plans
For those who are handy with tools and love a good DIY project, building a backyard pavilion can be an exciting way to create an outdoor living space. While it might seem intimidating at first, there are many simple plans available online that walk you through the entire process.
Build A Timber Framed Pavilion Gazebo
Adding a timber framed gazebo to your backyard is an ideal way to create an outdoor living space that can be enjoyed for years. A pavilion gazebo typically has open sides and roof, which allows the breeze to flow through while providing shade from the sun during hot summer months. Building one of these structures can be achieved with some basic carpentry skills and the right materials. To build a pavilion gazebo, you will need to choose an appropriate location in your backyard, design the structure, and acquire the necessary lumber and hardware. Once you have chosen a suitable area for your gazebo, it's time to begin designing.
Basic 10 X 12 Backyard Pavilion
A basic 10 X 12 backyard pavilion is an excellent option for those who don't have a lot of extra space in their gardens or yards. This size pavilion is easy to install and provides plenty of shade on hot summer days. It's also great as a place to hang out with family and friends, host barbecues, or just relax and enjoy the outdoors. This type of pavilion is also affordable, making it a great option for those on a budget. With some basic tools and materials, you can easily construct your own 10 X 12 backyard pavilion in no time at all. [4]
DIY Pavilion Build Using Heavy Logs
Building a pavilion can be an ambitious task and requires some skill, but it is possible to create one from heavy logs. You will need to construct a frame using logs or trees, then secure the frame together with strong galvanized bolts. To ensure stability of your structure, insert posts into the ground for additional support.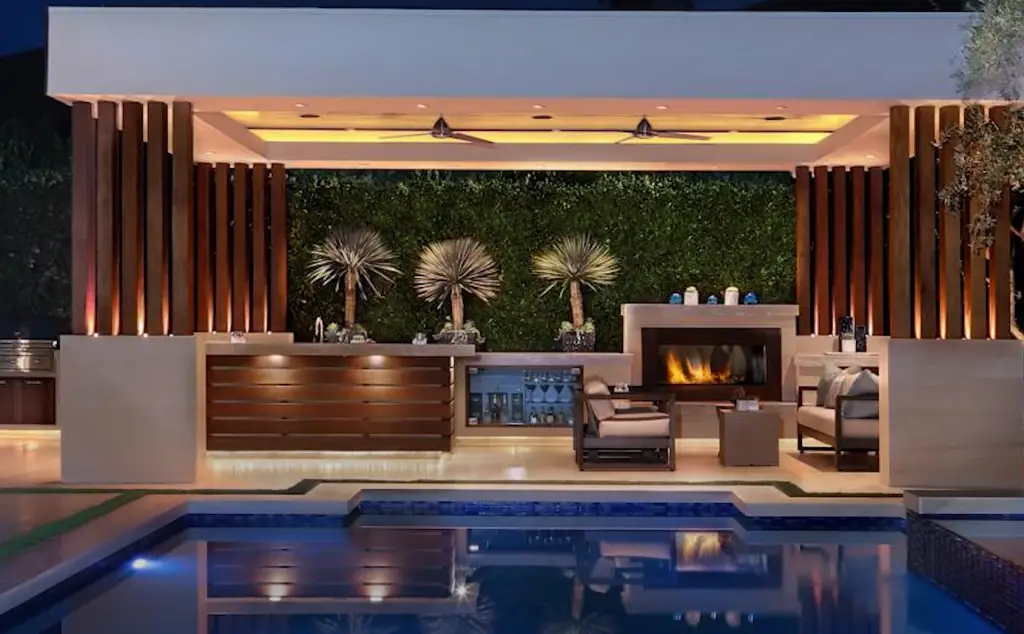 Next, measure the dimensions of the frame and purchase heavy-duty fabric to cover your pavilion. Once the fabric is secured, you can finish off with some decorative touches such as rugs and outdoor furniture. With a little extra effort, you can create a beautiful, rustic backyard pavilion that will provide shade on sunny days and be a great place for gathering with friends and family.
Three Gable Timber Pavilion
Adding a gable pavilion to your backyard can be a great way to create an outdoor living space. With its classic look and stately design, it will add charm to your property while providing a spot for entertaining or relaxing with friends and family. Here are three ideas for timber pavilions that you can use as inspiration when planning your own. The first idea is a simple, gabled pavilion with an open roof design. This type of pavilion can be great for providing shade on hot days while still allowing plenty of light to come in. You can also add a fireplace or fire pit to the center of the structure so that you can enjoy those cooler evenings outdoors. For an added touch of style, consider adding a gazebo-like roof over the pavilion for extra coverage and protection from the elements. The second idea is to go with a more elaborate timber pavilion design. Instead of just having one large gable roof, you can add multiple smaller roofs or even pyramid-style roofs to the structure. This will give it a more unique appearance, and you can add a variety of different features that make the pavilion even more inviting. [5]
---
FAQ
What are the benefits of a pavilion?
One of the main benefits of a pavilion is that it can be used for both entertaining and relaxing. A pavilion provides an outdoor space that can be used to host small gatherings, such as dinner parties or barbecues, while still allowing you to enjoy fresh air and the beauty of your backyard. Additionally, a pavilion can also provide a private space to relax and enjoy the outdoors, away from the hustle and bustle of everyday life. Also, pavilions can be a great way to add visual appeal to your backyard, as they come in a wide variety of styles and sizes.
What does a pavilion look like?
A pavilion is a structure with an open roof and sides, typically found in gardens or outdoor environments. It can be used as an outdoor living space, such as a conversation area or dining area. Pavilions often provide shade and protection from the elements, making them ideal for outdoor gatherings.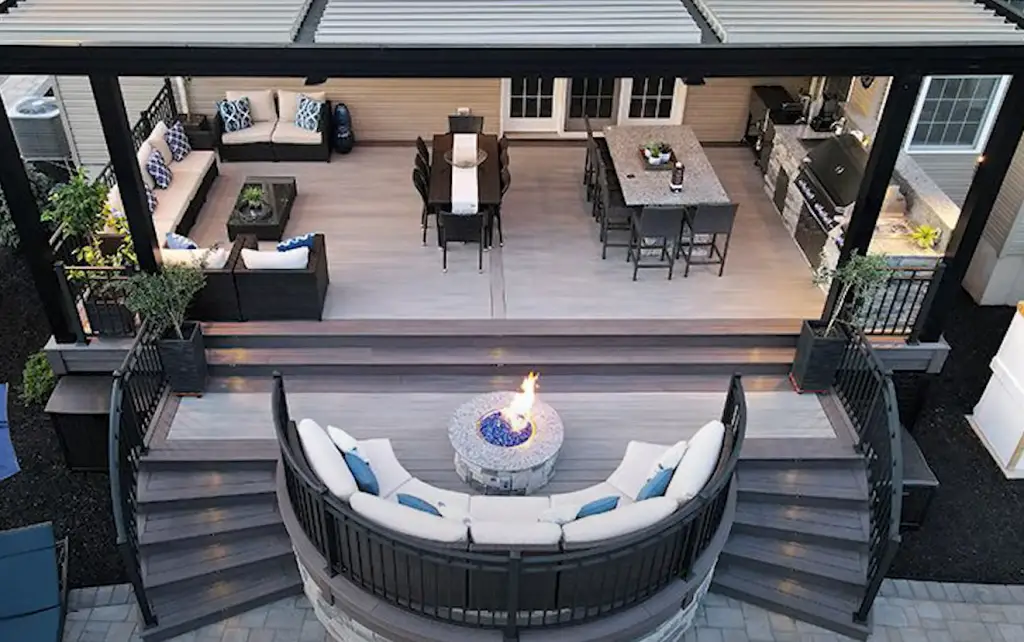 There are many different kinds of pavilions, ranging from basic wooden frames to luxurious masonry and metal structures. When designing a pavilion for your backyard, there are several factors to consider, including size, materials, and style. Worth noting is that some pavilions require a permit, so be sure to check local regulations before beginning your project.
How long does it take to build a pavilion?
The amount of time it takes to build a pavilion will vary greatly depending on the size and complexity of the project. For example, a simple backyard pavilion may take only a few hours or days, while a larger structure may take weeks or months. Generally, smaller projects can be completed in one to two days with basic carpentry skills. Larger structures may require more planning and expertise, and could take up to a month or longer. In any case, be sure to plan ahead for ample time to build your pavilion to ensure you have all of the necessary materials before getting started. With careful planning and preparation, it is possible to have a beautiful pavilion in your backyard in no time.
With good planning, you can make sure your project fits within your budget and timeline.  Whether you're building a basic structure or an elaborate one, it is possible to have a beautiful pavilion in your backyard with a little bit of time and effort.
How do you build a pavilion?
Building your own pavilion can be a rewarding and cost-effective way to add an outdoor living space. Here are the basic steps for building a pavilion:
Choose a location – Make sure you select a level site that is free of obstructions and near existing utilities, if needed. Measure the area so you know how large of a structure you can build.
Gather materials – You will need lumber, screws, nails, sealants and other items depending on your plans. Make sure to use treated wood when building in an outdoor environment where it may be exposed to the elements.
Construct the floor and posts – Start by constructing the floor frame and posts. Make sure to use galvanized screws, nails and bolts to connect the floor beams. Also make sure to add concrete footings for extra support if needed.
Add walls – Construct the walls using pre-cut pieces of lumber or by constructing your own frame out of 2x4s or other materials. Use sealants, weather stripping, and other materials to ensure a tight fit.
Install the roof – You can use pre-cut trusses or construct your own pitched roof frame. Make sure to use solid bracing and appropriate fasteners to add extra stability in windy conditions.
Add finishing touches – Now that the basic structure is complete, add finishing touches such as siding, doors, windows and decorative trim to finish off the look. You can also install outdoor lighting and other amenities to create a comfortable and inviting space.
How big should a pavilion be?
The size of a pavilion will depend on the amount of space available in your backyard and how many people you want to be able to fit underneath it. Generally, larger pavilions are better for entertaining, but if you don't have enough room, a smaller model can still provide protection from the sun and rain.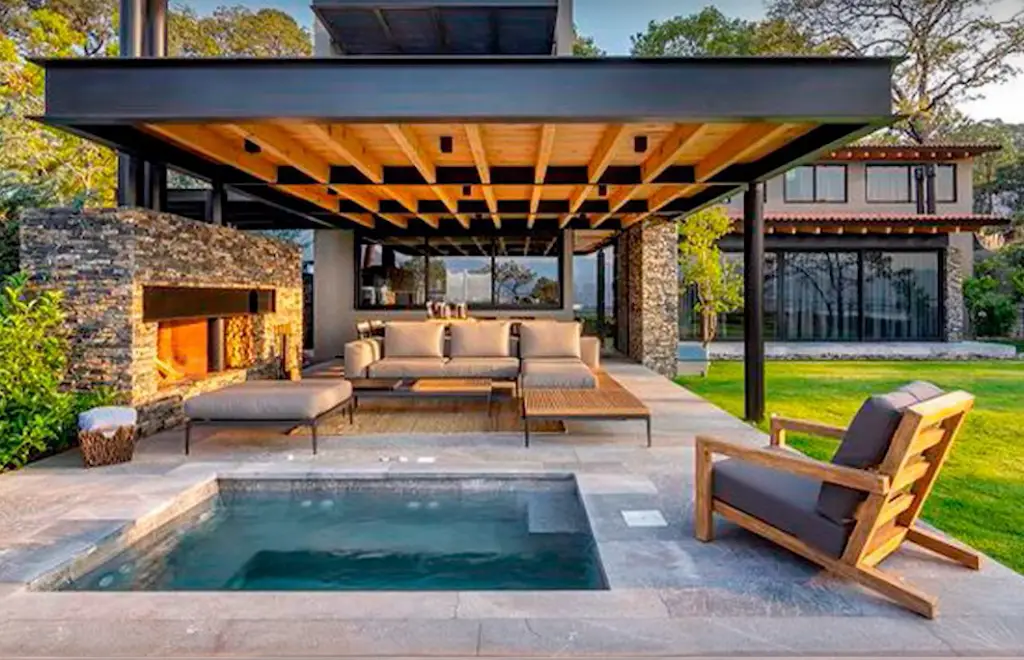 Think about how often you plan on using it and how many people will likely be joining you before deciding on the size of your pavilion. If you have plenty of space available, consider investing in an extra-large pavilion—sizes range from 8×10 feet all the way up to 20×30 feet! These large models make great outdoor living areas with plenty of room to accommodate seating, tables, grills and more.
What should a pavilion have?
When it comes to designing a backyard pavilion, there are several important considerations you should keep in mind. A pavilion should have an open roof design to allow for ample ventilation and airflow, as well as plenty of windows and doors to provide natural light during the day. You'll also want to make sure that your pavilion is big enough to comfortably accommodate your guests when entertaining. Additionally, you'll want your pavilion to match the existing style of your home and backyard so it looks like a natural extension of the two. Finally, consider adding some unique features such as outdoor fireplaces or seating areas for added ambiance. With all of these components in place, you can create a beautiful backyard pavilion that both looks and functions great.
What is a better pavilion or gazebo?
When it comes to building an outdoor pavilion or gazebo in your backyard, there are a few key points to consider. You need to determine the size and shape of the structure that will fit best in your yard, along with any safety considerations such as how you will secure it to the ground so that it won't blow away in strong winds. Additionally, you may want to think about what type of materials you would like to use for construction, whether you plan on incorporating a roof or not, and if you need any special features such as electrical outlets or built-in seating. Once those details have been finalized and decided upon, then comes the fun part – deciding which style and design of pavilion or gazebo to choose.
What is a pavilion pergola?
A pavilion pergola is a type of outdoor structure that provides both shade and shelter from the elements. It typically consists of an open-air frame made of wood, metal, or vinyl with lattice panels providing semi-privacy around the perimeter. The roof of a pavilion pergola can be either solid or open and often incorporates features such as fabric curtains, vines, or other decorative accents to further enhance its aesthetic appeal.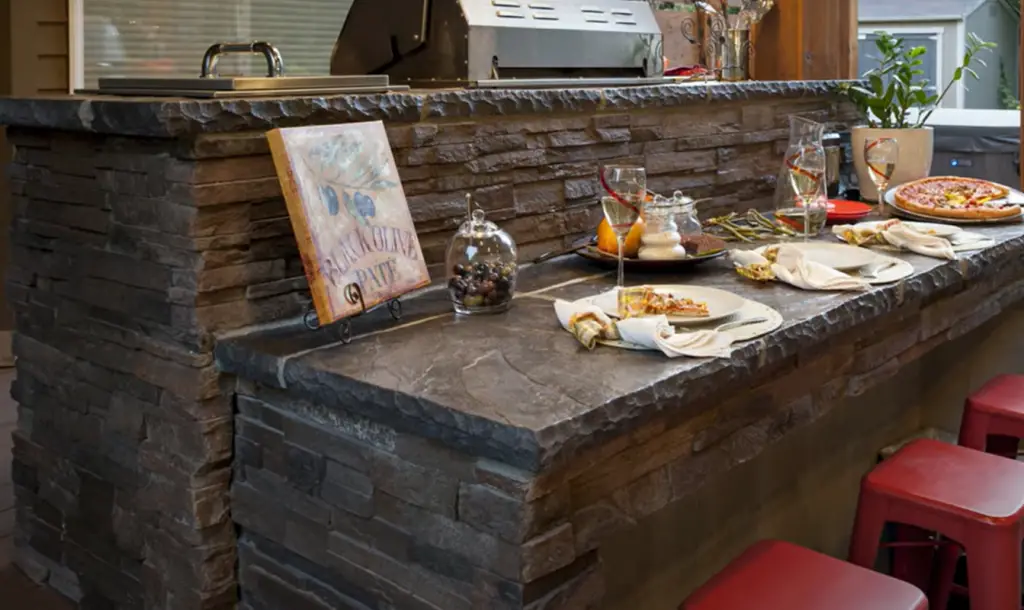 Pavilion pergolas provide a great way to extend your outdoor living space while still offering some protection from sun and rain. Whether you're looking for a cozy place to relax with friends or just want to create an inviting atmosphere in your backyard, adding a pavilion pergola could be just the solution you're looking for.
What are the features of a pavilion?
A pavilion provides an outdoor seating area that is shaded and sheltered. It can be placed in the backyard, on a patio, or even near a pool. A pavilion typically features open sides with posts to support a roof overhead which provides shade from the sun and shelter from the rain. Pavilions are often made of wood, but they can also be constructed from metal or plastic materials. They may come with built-in benches or chairs to provide comfortable seating for guests or family members. Additionally, some pavilions feature curtains to provide additional privacy when desired. By adding lights, fans and other accessories, homeowners can customize their pavilion to suit their needs and preferences.
What is a concept for a pavilion?
A pavilion is an outdoor structure often used for entertaining, hosting events, or providing shade and shelter. They come in all shapes and sizes, can be permanent or temporary, and are a great way to add visual interest to your backyard. When designing the perfect pavilion for your space, it's important to consider its purpose. Will it be used as a gathering spot? A place of respite from the sun? Or simply a decorative feature? Once you have established its primary function, you can start considering design concepts that complement the architecture of your home and landscape.
Useful Video: Backyard Pavilion Ideas
Conclusion
No matter what kind of backyard pavilion you decide to install, you can create an outdoor area that is both stylish and functional. Backyard pavilions are perfect for any type of gathering, from small family get-togethers to large summer events. With the right design and materials, you can create a beautiful outdoor space that will be enjoyed for years to come. So why not explore your options and see how one of these pavilion ideas could transform your backyard!
With so many different styles and designs available, no matter how much or little space you have there's bound to be a pavilion idea that fits into your home perfectly. Not only do they look great but they provide an excellent way to extend living space into your backyard. So why not create a stunning outdoor area to entertain family and friends in the coming years?
---
References:
https://www.outdoorhappens.com/backyard-pavilions-ideas-diy-plans/
https://www.gazebo.com/backyard-patio-ideas/pavilion-design-ideas/
https://myoutdoorplans.com/pergola/backyard-pavilion-plans/
https://lancastercountybackyard.net/blog/pavilion-design/
https://www.homeawakening.com/backyard-pavilion-ideas/