Creating a sense of privacy and intimacy in an outdoor space can be difficult, but it doesn't have to be. With the right design ideas, you can easily transform your backyard into a private oasis that still looks beautiful. One option is to install a pergola privacy wall. Pergola walls provide both shade and privacy while also adding visual interest and texture to your space. From lattice panels to artful installations, there are plenty of creative ways to use pergolas as privacy walls. Here are some inspiring ideas for incorporating pergolas into your outdoor living area for added seclusion and style.
How Do I Add Privacy To My Pergola?
One of the best ways to add privacy to your pergola is by adding solid panels or lattice panels. Solid panels are great for creating a sense of enclosure, while lattice panels still provide some degree of privacy and can be used as trellises for climbing plants. Both types of paneling can be made from a variety of materials, such as wood, metal, plastic or vinyl.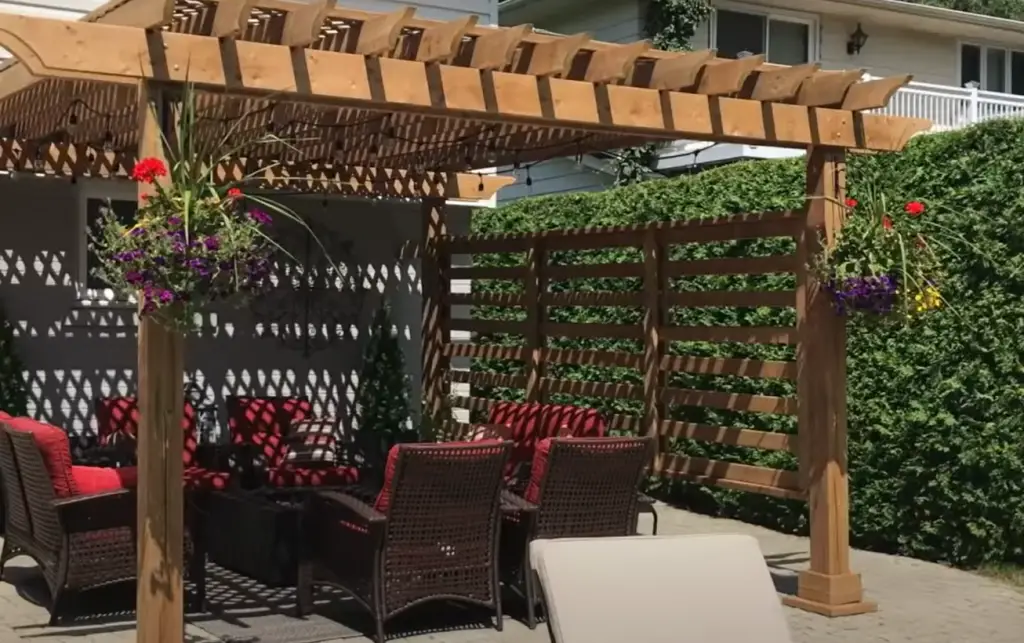 You can also use screens to add privacy to your pergola. Screens are available in a variety of styles, from woven fabric panels to decorative metal sheets. They're easy to install and can be moved around if needed. The type of screen you choose will depend on your personal tastes and the amount of privacy you're looking for.
Finally, if you have a large backyard, consider installing multiple pergolas to create a sense of separation between different areas. This can add an element of privacy while still allowing each area to be open and connected.
Pergola With Privacy Wall Ideas
A pergola with a privacy wall can be a great option for those seeking additional coverage and protection from the elements. Whether you're looking to block out light or create a more soundproof space, adding a privacy wall to your existing pergola is an easy way to do so. Here are some ideas to help get you started.
Bamboo Privacy Wall: A classic privacy wall choice, bamboo is easy to install and maintain. It's also a great way to add a bit of natural beauty to your outdoor space.
Trellis Privacy Wall: If you want something that will provide plenty of coverage but still allow light in, a trellis wall is an excellent choice. Mounted to your existing pergola's frame, you can easily attach climbing vines or other plants to create a beautiful and functional privacy wall.
Slatted Privacy Wall: With slats arranged in an alternating pattern, this style of privacy wall is perfect for those who want a more modern edge.
Lattice Privacy Wall: A lattice wall is similar to a trellis wall, but it offers more coverage since it has interlocking pieces that create a solid barrier against the elements.
Picket Fence Privacy Wall: To get the look and feel of a classic picket fence, consider adding a picket fence privacy wall to your pergola. This type of wall will provide a cozy, homey feel and plenty of protection from the elements. [1]
Pergola Privacy Panel
When it comes to adding privacy to a pergola, there are several options available. Here are some ideas for creating a private space with your pergola:
Install lattice panels around the outside of the pergola. This will provide you with full coverage and block out unwanted views from neighbors or passersby. You can also choose to add a decorative top panel for an extra touch of uniqueness.
Place large planters either around the perimeter or beneath your pergola. This will provide you with a natural barrier, as well as an attractive way to incorporate greenery into your pergola area.
String outdoor curtains from the beams of your pergola for a boho-chic vibe. This is a great option if you'd like to be able to have some shading during the day, but also keep prying eyes away.
Hang a large tapestry from the pergola beams. Not only will this provide much needed privacy, it can also be a great way to add some unique personality to your outdoor space.
Place bamboo screens or slatted wood panels around the perimeter of the pergola for a modern and chic look. This will provide you with full coverage, and also gives you the added bonus of being able to customize the design by adding paint or other decorative touches.
Pergola With Privacy Screen
A pergola with a privacy screen can provide a great way to create an attractive, private area in your backyard. The structure of the pergola provides a perfect framework for adding a layer of material that will give you the privacy you need.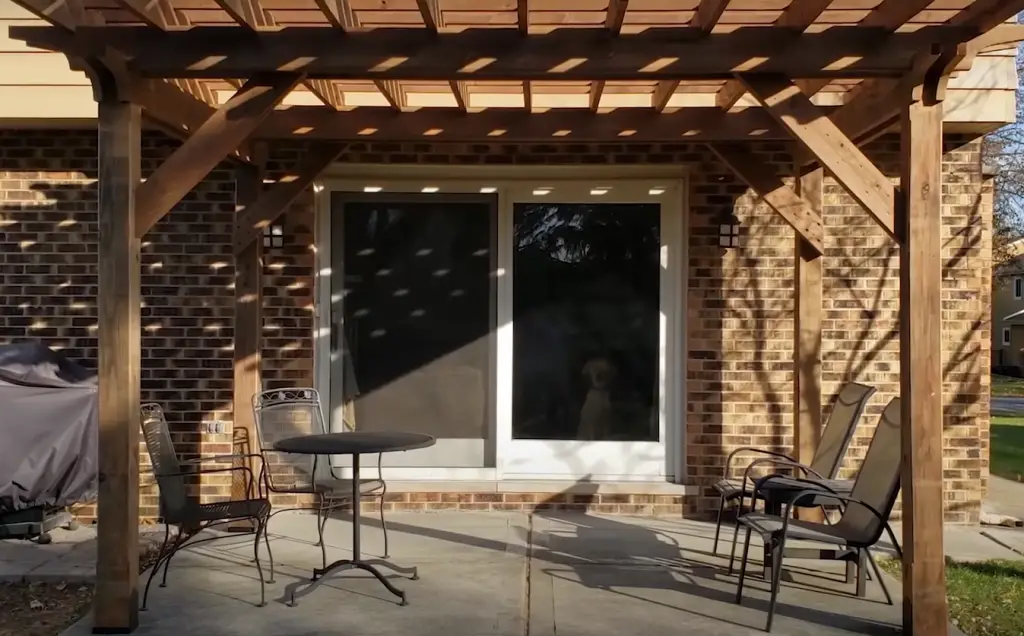 This could be as simple as using lattice panels or something more solid such as vinyl fencing or bamboo shades. You can customize your privacy screen by choosing different types of materials, colors, and styles to suit your taste. From paneled wood to canvas drapes, the possibilities are virtually endless! Not only will this give you greater control over how much sunlight reaches your outdoor space, but it can also act as a decorative element that helps to enhance your outdoor entertaining area.
Pergola Privacy Slats
Pergola privacy slats are an excellent way to add a bit of style and seclusion to your outdoor space. Slats come in a variety of materials, colors, sizes, and styles to perfectly match the look of your pergola. They can be used alone or in combination with outdoor curtains for further privacy. They also provide a great way to enjoy your outdoor space without feeling exposed, while still allowing you to take in the view and get some sun. When choosing slats for your pergola, consider how much shade and privacy you want, as well as any other design elements you'd like to add to the structure. [2]
Deck With Pergola And Privacy Wall
A great way to add a bit of privacy to your deck is to build a pergola with a privacy wall. This type of structure can provide shade and shelter from wind, while hiding you and your guests from view. When building the pergola, make sure that it is centered on the deck and use tall pillars or posts to support it. To create the privacy wall, add lattice or other screening materials between each post to block visibility from one side of the deck to the other. You can also install a trellis on one side of the pergola and attach climbing vines for an added level of seclusion. To complete your outdoor oasis, add comfortable seating and outdoor lighting to accentuate the look. With this combination of a pergola, privacy wall, and other features, you'll have a perfect spot to relax in your backyard!
Shutters Or Slatted Screens
Shutters or slatted screens are a great way to create privacy in your outdoor area. Shutters come in a variety of materials and styles, from wood shutters to metal louvered shutters, so you're sure to find something that suits your aesthetic. Slatted screens made from bamboo or other natural materials can also give the same effect. Both shutters and slatted screens can be used in combination with a pergola to create an enclosed, private area that still allows a breeze to pass through. This is especially important for areas where temperatures get high during the summer months. It's also a great option if you want to provide more privacy than just what a basic pergola provides.
Metal Panel Screens
Metal panel screens are a great way to add some privacy to your outdoor space without totally blocking the view. This type of pergola wall is made from metal panels that are connected together with hinges or other hardware and can be opened and closed as needed for complete coverage.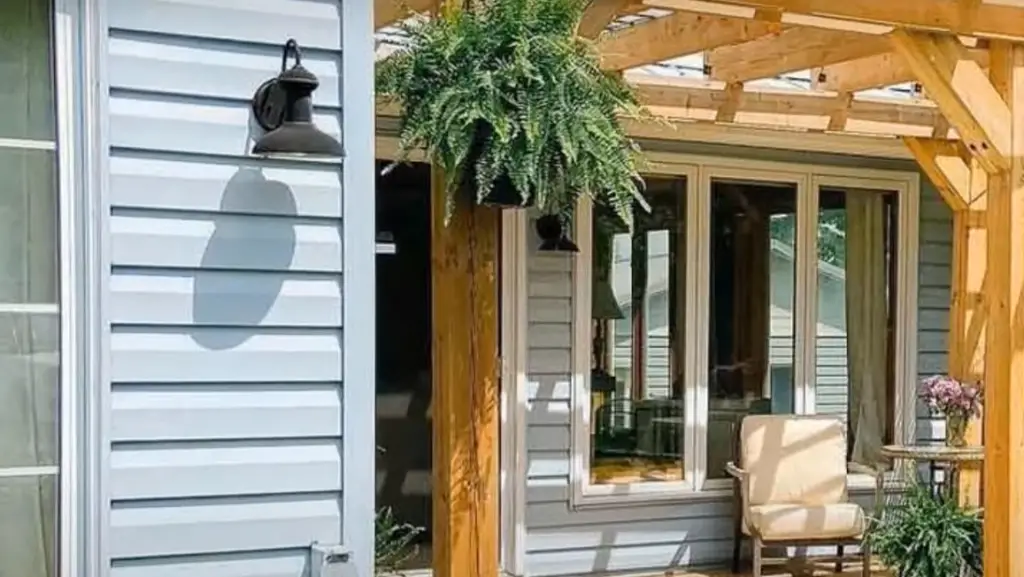 When open, they allow in light and air while still providing an extra layer of security. Metal panel screens come in a wide variety of designs and colors to match any aesthetic, making them a great option for any outdoor space. They are also relatively low-maintenance compared to other types of walls and can be easily wiped down if they get dirty. The only downside is that they can be quite expensive and require additional hardware and installation. [3]
Stand-Alone Partitions
Partitions are a great way to define and section off outdoor areas without completely sacrificing your view. Stand-alone partitions are popular pergola privacy walls because they provide an element of privacy while still allowing some light to pass through. They can be made out of various materials, including wood, metal, plastic, or bamboo. Furthermore, they can be decorated to create a unique and stylish look. For example, you may opt for a trellis design with climbing plants or add lattice panels for more intricate patterns.
Best Screening For Pergolas
If you want to add some privacy and screening to your pergola, there are a few options for the best type of. Depending on what kind of you're going for, one option may be better than another.
One popular option is lattice panels. Lattice panels come in many styles, colors, and sizes. The biggest benefit of this type of screening is that it provides plenty of ventilation while still allowing you to enjoy some privacy. It's also easy to install and can be placed directly onto the pergola beams or posts.
Another option for privacy screening on your pergola is outdoor fabric curtains. This is especially great if you'd like to instantly add a bit of cozy vibes and a touch of glamor. You can hang them from the beams or posts, as well as tie them together at the corner for added style.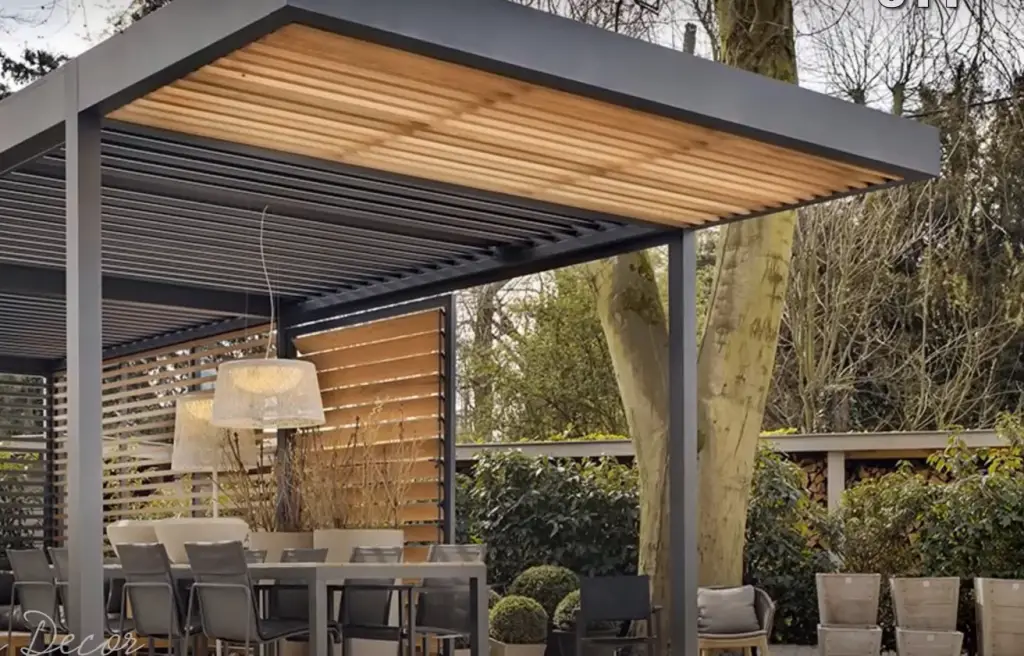 If you live in an area with strong winds then using trellis panels may be your best option. These panels are usually made from wrought iron or wood and provide strong wind protection while still adding an attractive design element to your pergola.
With the right choice, you'll be able to enjoy more privacy and style at the same time.
How To Screen In Pergola
Creating a pergola privacy wall is an easy DIY project that can be completed in just a few steps. Here's how:
Step 1 – Measure Your Pergola. Before you start buying materials, make sure to take accurate measurements of your pergola. Measure the length, width and height of each side you want to be covered.
Step 2 – Select Your Materials. You'll need to choose a material that's both attractive and durable. Popular options include lattice, bamboo and reed fencing.
Step 3 – Cut Your Fencing. With your measurements in hand, cut the fencing to size and shape based on your pergola's dimensions.
Step 4 – Attach the Fencing to Your Pergola. You'll need to use strong screws and secure the fencing to the pergola's support beams.
Step 5 – Add Decorative Trim. For a finishing touch, consider adding decorative trim to your privacy wall. This could include a trellis, potted plants or even a hanging planter. [4]
---
FAQ
How do you add privacy to a pergola?
One way to add privacy to a pergola is to install lattice panels. These can be made from wood, vinyl, or composite material and are great for adding height while still allowing air circulation around your seating area. You can also add curtains hung from the sides of the pergola or hang vertical planks of wood to create an enclosed area. Alternatively, you can add plants or greenery to the sides of your pergola for added privacy and visual appeal. Finally, you can install a privacy wall around the perimeter of your pergola to really block out unwanted views.
How can I make an inexpensive privacy screen?
A privacy screen for your pergola can be made from a variety of materials, depending on the size and style you want to achieve. If you're looking for an inexpensive option, lattice panels are an effective choice. The lattice pattern provides semi-privacy while still letting light through. You can also use wooden planks or canvas panels to create a more solid wall. If you're feeling creative, recycled materials like old doors or window frames can be used and transformed into a unique privacy screen for your pergola. If you have an area that needs additional shade from the sun, consider adding fabric drapes. This will not only provide extra privacy but it's also a great way to add color and pattern to your space. You can tie the fabric onto the pergola beams for an easy, breezy look. This is a great solution if you want to bring some privacy to your outdoor living area without blocking out too much light.
Can you add walls to a pergola?
Yes, you can add walls to a pergola! Adding walls to your pergola creates a more enclosed space providing additional privacy and protection from the elements. There are several creative ways you can incorporate walls into your pergola design including using fencing panels, lattice panels, or adding curtains for a stylish and unique look.
Incorporating wood, metal, or vinyl fencing panels around the perimeter of your pergola will create a completely secluded area that's perfect for relaxing or entertaining. You can also customize the height and style of your walls to fit your pergola and space.
How to build a privacy wall for a patio?
One of the most popular ways to create privacy on a patio is to build a wall. A privacy wall can be made from a variety of materials such as wood, metal or vinyl. Each material has its own advantages and disadvantages, so it's important to consider which one will best suit your needs before constructing the wall.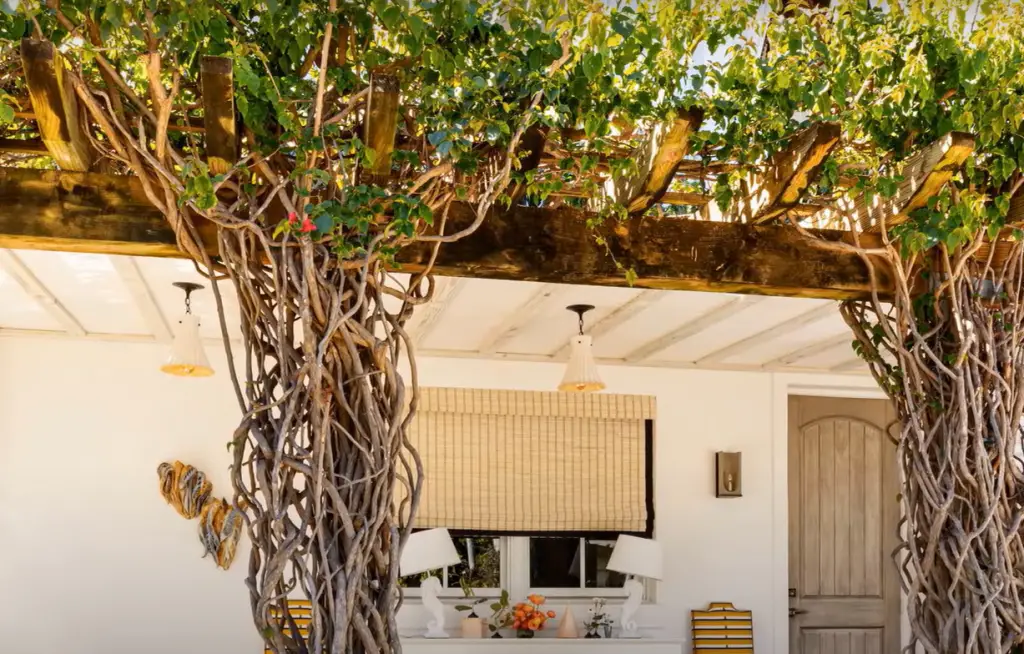 When selecting the material for your privacy wall, it's important to consider how much time and effort you're willing to put into maintaining it. Wood may require regular staining or painting in order to keep it looking its best, while metal and vinyl can be left alone with minimal maintenance required.
Is it possible to screen in a pergola?
Yes, it is possible to screen in a pergola. This can be done by adding screening materials directly onto the wood structure or by creating a separate wall that attaches to the pergola. For example, you could add lattice panels as part of the wooden frame, or attach lightweight fabric screens directly onto the wood beams. You could also build a separate wall that stands independently from the pergola and use it to screen off your outdoor space. This is a great option if you want more control over airflow and privacy, as well as additional decoration possibilities. Additionally, adding decorative trellis to the top of the pergola can help create a sense of enclosure without blocking out the natural light. There are many options for screening materials, including wood, bamboo, plastic, and even metal mesh.
Will the pergola block view?
The answer to this question depends on the specific pergola design you choose. If you opt for a latticework wall, partial visibility may still exist from certain angles and at different heights. A solid paneled privacy wall, however, will completely block out prying eyes. When selecting your pergola privacy walls, consider the level of privacy you need and how much sun or wind protection is necessary.
What are the disadvantages of privacy screens?
The main disadvantage of privacy screens is that they can be expensive to purchase and install. Additionally, depending on the material used, they may require regular maintenance or need to be replaced over time as they wear out. If a more permanent solution is desired, such as a pergola with a privacy wall attached, the cost is even higher.
How do you make a simple patio privacy screen?
Creating a simple patio privacy screen can be done with the use of pergolas. Pergolas are structures made up of vertical posts and horizontal beams that provide an open, airy look while still providing some shade and privacy. To make a patio privacy screen using a pergola, you will need to choose the right location for your structure. Ideally, you should choose a spot that will be able to get some sun during the day while also providing enough shade in the evening. Once you have chosen a location, you can begin by constructing the pergola framework. You will need to measure and mark out four posts of equal length and then attach them together with horizontal beams. The beams should be spaced a few inches apart to provide an open look, but if you want more privacy you can make the spacing closer together. Once the framework is constructed, you can then add decorative features like latticework or climbing vines to further enhance your patio privacy screen.
Are there different types of privacy screens?
Yes, there are several different types of privacy screens that can be used on a pergola.
Privacy screens come in many shapes and sizes – from lightweight fabric to heavier solid boards or panels. Additionally, they provide varying levels of opacity, so depending on your desired level of privacy you can choose the best option for your needs.
What is a pergola with walls called?
A pergola with walls is commonly referred to as a gazebo or pavilion. Essentially, it is an outdoor structure consisting of columns supporting a roof, usually partially or entirely open on all sides. Generally, adding walls to a pergola provides extra protection from the elements and can be used to create semi-enclosed outdoor living spaces.
Useful Video: 200 Backyard Patio Design Ideas 2023 Rooftop Garden Landscaping ideas House Exterior Pergola design
Conclusion
In conclusion, there are many pergola privacy wall ideas that can help you create a cozy and private outdoor space. Whether you choose to go with one of the popular options or design your own custom privacy wall, you'll be sure to enjoy the added security and comfort these walls offer. With a bit of planning and creativity, you can turn your outdoor space into a serene, private retreat that is perfect for relaxing and entertaining. With the right design and materials, you can create a pergola privacy wall that will last for many years to come.
---
References:
https://renson.net/gd-gb/blog/4-pergola-privacy-wall-ideas
https://designingidea.com/pergola-privacy-wall/
https://www.barretteoutdoorliving.com/product-category/decorative-accents/pergola-privacy-screens
https://www.realhomes.com/design/pergola-ideas