Looking to add a touch of elegance and sophistication to your outdoor space? White pergolas are the perfect way to do it. Whether you're looking for a classic white pergola or something more modern, there is sure to be an option that's right for you.
White pergolas can provide shade and privacy while still allowing light in and creating an inviting atmosphere. They come in all shapes, sizes, styles, materials, and colors so finding one that fits your style should not be too difficult. Here we will look at some of the different options available when it comes to white pergolas ideas from traditional wood designs to metal structures with intricate details. With these ideas in mind you can create a beautiful outdoor oasis that will make summer evenings spent outdoors even more enjoyable!
Dreamy Vines
Vines are a great way to add both beauty and practicality to your pergola.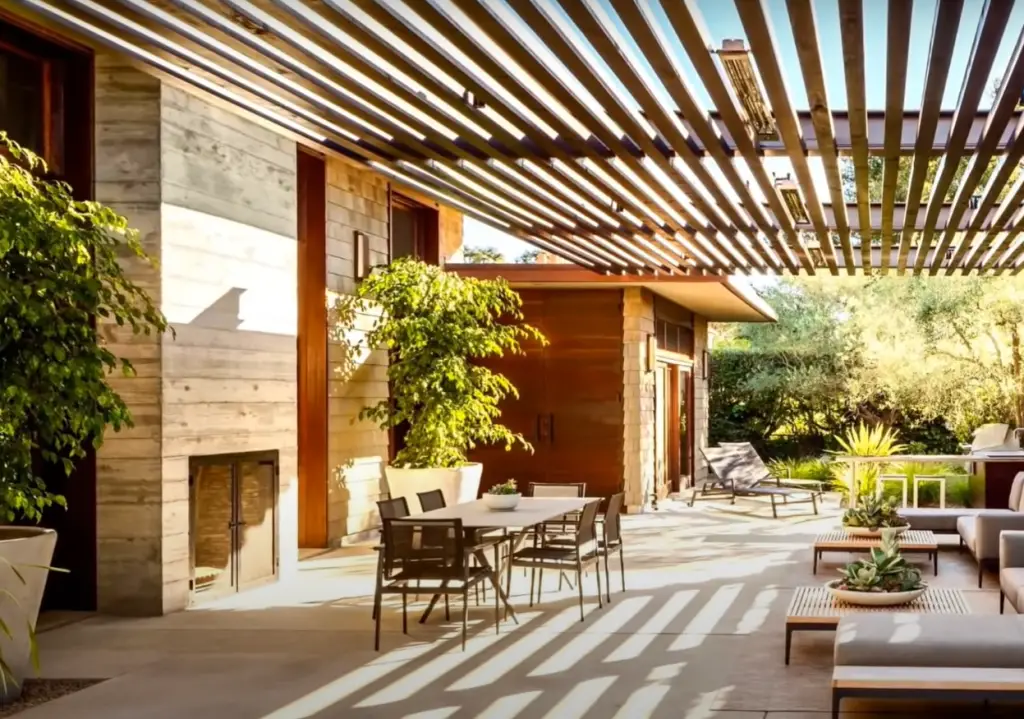 A white metal pergola with dreamy vines twining around the posts creates an enchanting atmosphere and provides plenty of shade and privacy for those hot summer days. If you want a more subtle look, consider using small, light-colored flowers like sweet alyssum or baby's breath.
Curved Top
One of the more unique white pergola ideas, this curved top design adds a touch of sophistication and elegance to any outdoor space. This type of structure is perfect for giving your garden or patio an extra bit of character and charm. It features four sturdy posts with a peaked center beam and curved beams at the top. The curved design gives it an open-air feel that is perfect for allowing air to circulate and letting in plenty of natural light. The white color adds a crisp, fresh look while the curves bring a touch of softness to the overall structure. This type of pergola can be accessorized with lights, hanging plants, or other decorations to create a truly unique outdoor area.
Trellised Gazebo
Another great white pergola idea is the trellised gazebo. This type of structure usually has a roof and four walls, made out of latticework or panels. The panels are often painted white to create a cohesive look with other white outdoor furniture pieces, such as chairs and tables.
For added privacy, vines or flowers can be planted along the perimeter of the gazebo to provide additional shade and seclusion. With plenty of seating options available, this type of pergola is perfect for entertaining guests or just enjoying some time outdoors. It's also a great way to add some simple, classic charm to an outdoor space.
[1]
White Out
A white pergola is a beautiful addition to any outdoor space, providing both structure and style. Whether you're looking to create a romantic atmosphere with draped fabric or just put up some extra seating and provide additional shade from the sun, white pergolas are an excellent choice.
White pergolas can be used to create a stunning focal point in your garden, framing the area and providing height and definition that will draw the eye. You can use a white pergola as part of an overall landscape design, or you can let it stand alone as the star of your outdoor space. Either way, it will add a touch of elegance and charm to any outdoor area.
When it comes to materials, wood and metal are the two most popular choices for white pergolas. Wooden pergolas offer a natural look that can easily be painted or stained to change the color of the structure. Metal options, such as aluminum or wrought iron, are stronger and more durable than wood, but may require more maintenance to keep them looking pristine.
Attached And Angeled
Some of the most popular white pergola ideas use an attached or angled design to add interest and functionality to a space. An attached pergola is typically built directly into the house, so it becomes part of the structure of your home. It's usually at least partially covered by a roof for added protection from the elements. Angled pergolas are typically built on a slanted surface like a hill or terraced ground, creating an aesthetically pleasing focal point in your yard. With this type of design, you can still enjoy the shade and protection from the sun that pergolas provide while also adding an interesting visual element to your landscape. Both attached and angled designs are great options for creating a unique outdoor space that fit your style and needs.
Make It Rain-Proof
A white pergola can bring a touch of modern elegance to your outdoor space, but before you install one be sure to make it rain-proof. This will help keep your outdoor furniture and plants from getting soaked during an unexpected downpour. You can waterproof a white pergola by adding a coat of sealant paint or using a rubberized membrane. Additionally, you could add a retractable canopy over the top of your white pergola to provide some extra protection against rain and other weather conditions. This will help ensure that your outdoor living area stays dry even on a rainy day. [2]
Add Wisteria
If you want to create a cozy, romantic retreat in your backyard, adding wisteria to your white pergola is the perfect way to do it. The cascading flowers of wisteria will provide a stunning focal point for your outdoor space and will add texture and color that can't be achieved with just a white pergola.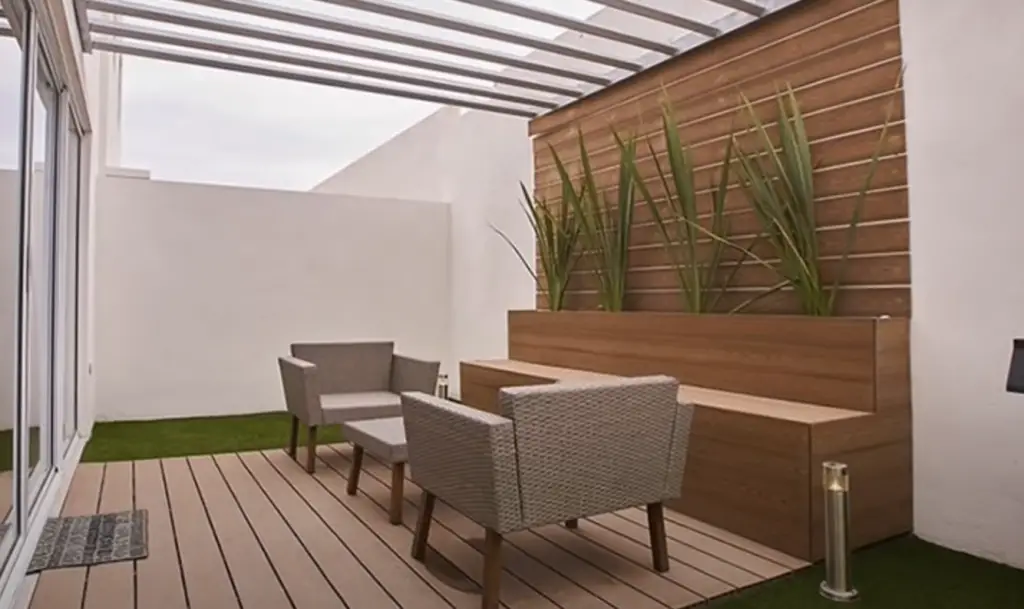 Consider adding some cushions and throws to complete the cozy look. With plenty of space in your pergola, you can even add a dining table and chairs for outdoor eating or entertaining guests. The romantic atmosphere created by the wisteria will make it a favorite place for family gatherings and dinner parties.
Heating System
If you live in a climate that experiences colder temperatures, integrating a heating system into your white pergola can take outdoor entertaining to the next level. A built-in electric heater or an infrared patio heater are great options for providing comfortable warmth during cooler nights. This is especially great for kicking off summer early by extending the pergola season. If you don't want to invest in a dedicated heating system, consider installing a fire pit or chiminea. This adds beauty and ambiance while providing additional warmth for your outdoor oasis.
Romantic Setting
For a romantic outdoor setting, white pergolas can be a great option. They look stunning in the evening when lit by ambient lighting or candles. With their classic, timeless style and bright color, these structures create an inviting atmosphere for intimate gatherings. Plant some fragrant flowers or vines around your white pergola to enhance its beauty and bring a delightful scent to your outdoor space. You can even drape fabric along the pergola's vertical or horizontal supports for added privacy during romantic evenings. Styling your white pergola with antiques and vintage furniture can also create an elegant atmosphere for cozy get-togethers under the stars. [3]
Rose Decoration
For a romantic and luxurious outdoor decor, you can choose to install a white pergola with rose decorations. Roses are known for their beauty and symbolism of love, so this is an ideal choice if you want to add that special touch to your garden. For the best effect, choose beautiful climbing roses with vibrant colors like pink or red. You can train the vines to grow up and around the pergola to create a stunning effect. Alternatively, you could add hanging baskets of roses or wreaths with silk rosettes for a more traditional look. Whichever route you choose, adding rose decorations to your white pergola will give it an elegant and romantic air that will be enjoyed by all who come and visit.
Optimized Dining
A white pergola is a great way to create an optimized dining experience in your outdoor space. Not only will the shade provide a cool and comfortable environment for dining, but the bright white color of the pergola can also add a touch of elegance and sophistication to your outdoor aesthetic.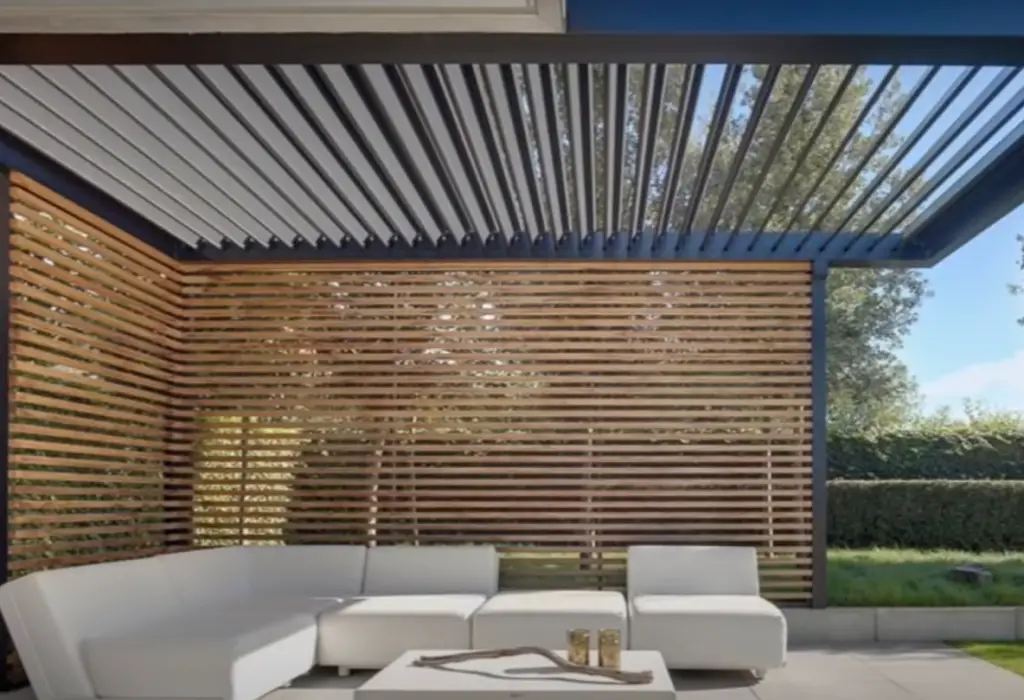 Whether you choose to keep it plain or opt for a more ornate design, your white pergola is sure to make an impact. Hang string lights above the pergola to create a cozy atmosphere or place plants and flowers in planters around the base of the structure to add life and color. No matter what you choose, your outdoor dining space will be sure to impress! [4]
---
FAQ
What is the best color for a pergola?
The best color for a pergola depends on the look and feel you're hoping to achieve. Generally, white is a popular choice as it helps to keep the space bright and airy. It also pairs well with other outdoor elements such as plants and furniture. However, if you want something more bold or unique, there are plenty of other colors to choose from. You can also add a pop of color with decorative accents or accessories.
How do you make a pergola look good?
A white pergola can be a beautiful addition to any outdoor space. It adds an elegant touch and provides shelter from the sun and rain. However, there are some steps you need to take in order to make your white pergola look its best. First, consider the placement of your pergola. You want to make sure it's in an area that receives the right amount of sunlight, as too much can cause fading. You also want to ensure it is properly positioned so that it doesn't interfere with walkways or views. Next, consider the materials you use for your pergola.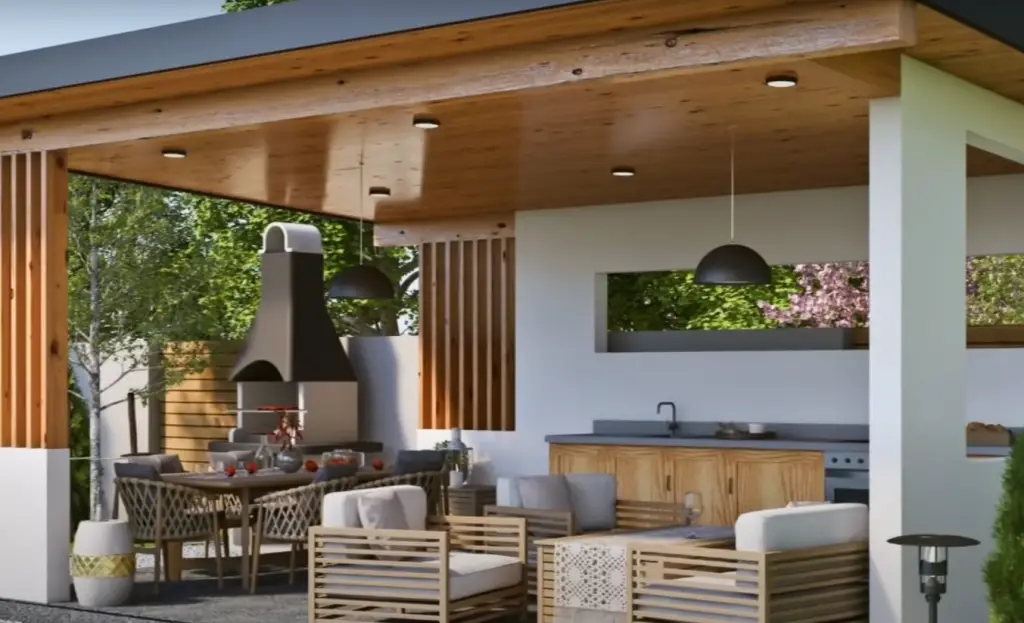 A white vinyl material is a popular choice as it is durable and requires little maintenance. For a more ornate look, wooden posts and beams are another great option but may require more upkeep. Finally, you should think about accessories for your white pergola. Strings of lights or hanging plants can add a pop of color to the overall look and create a relaxing atmosphere.
Is it cheaper to build your own pergola?
Building your own pergola can be a great way to save money over buying one pre-made. The cost of the materials you need to build your own pergola will vary depending on the size and design you choose, but in general they are cheaper than purchasing a ready-to-go model.
If you are handy with tools and have some basic woodworking skills, building your own pergola can be a great way to save money while achieving a unique result that you can be proud of. It is possible to build a pergola without any special tools or assistance, but it may require more work and take longer than if you have access to the right equipment.
What do you put under a pergola?
When it comes to what to put under a pergola, there are endless possibilities. Depending on the style of your pergola and outdoor space, you could consider installing a waterproof canopy or shade sail for extra protection from the elements. Or why not create an inviting seating area with comfortable furniture and plenty of colorful cushions? It's also a great opportunity to add some greenery and natural beauty with potted plants, hanging baskets or climbing vines. Add outdoor lighting for a romantic ambience in the evenings, or an outdoor kitchen island if you plan to entertain guests. Lastly, don't forget about adding some cozy rugs and decorative accents to tie everything together.
Should you paint a pergola?
The decision to paint a pergola will depend on your individual needs and preferences. On one hand, painting can make the structure look more attractive and uniform in appearance. It can also help protect it from the elements, such as rain and sun damage. However, if you prefer a more natural look or are looking to save money, leaving the pergola unpainted can be the better option. Another factor to consider is your budget and timeline. Painting a pergola takes time and money, both for materials like paint and brushes, as well as labor if you hire someone to do it for you.Once you've decided whether or not to paint your pergola, you'll need to decide what color to paint it. White is a popular choice for pergolas because it can give the structure an airy and light feel while also reflecting the sun's rays.
Is it better to stain or paint pergola?
When it comes to pergolas, there are many options available for customizing your outdoor space. One of the main decisions is usually whether to stain or paint the wood for a white pergola. Both can look great, depending on your desired aesthetic and what kind of upkeep you're willing to put in overtime.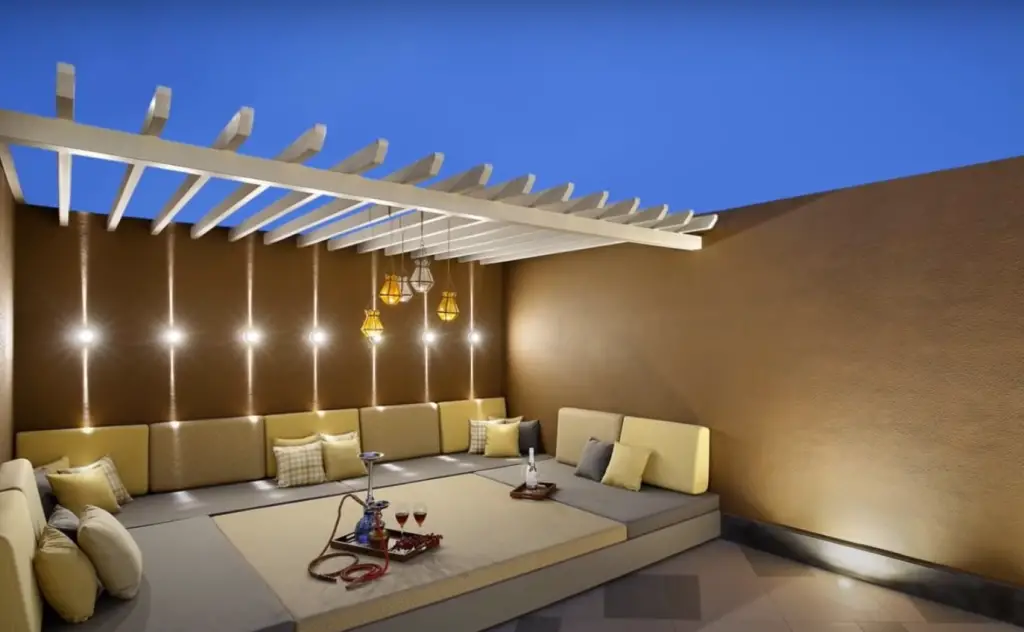 Staining is a great option for achieving an elegant and natural look with your white pergola. Stains come in a variety of colors, from clear to dark, and they can help protect the wood from weathering over time. The downside is that you will need to reapply stains every 1-2 years in order to maintain the same color. Paint is another great option for a white pergola, and it can last longer than stain. It also comes in an array of colors, so you can pick something that's perfect for your outdoor space.
Should a pergola be attached to a house?
This is a subject of debate among homeowners who are considering building a pergola. On the one hand, an attached pergola can provide extra shade and protection from sun and rain. Additionally, it can be built to match a home's existing architecture for a seamless look. On the other hand, having an unattached pergola can provide more flexibility when it comes to entertaining and seating arrangements. Ultimately, the decision of whether or not to attach a pergola to a house is up to the homeowner.
Does it matter which way a pergola faces?
When planning out your white pergola, it's important to consider the orientation of the structure. This will have a significant impact on how much sun exposure your outdoor space gets and can ultimately determine how comfortable it is for you and your guests. Generally, when positioning a pergola, you should face the structure so that it runs parallel to the sun's path during the day. This will allow maximum sunlight exposure when it is sunny during the day, while still providing shade and shelter from direct evening sunlight. Additionally, facing your pergola eastward or westward will provide protection from any strong winds in those directions.
What should I put on top of my pergola?
When it comes to the top of your pergola, you have a few options. You can choose from an array of materials such as wood, metal, or PVC. Each material brings its own unique look and feel along with varying levels of durability. Wood is a classic option that adds a natural touch to your outdoor space while being relatively easy to maintain. On the other hand, metal is a more modern option that brings a sleek, contemporary look. Lastly, PVC offers excellent protection against weather and pests while also being lightweight and easy to install.
What is the lifespan of a pergola?
When properly taken care of, a pergola can last for many years. Depending on the materials used and the climate in which it is located, a white pergola may last anywhere from 10 to 25 years. To ensure your pergola's longevity, it is important to protect it from extreme weather conditions and regular upkeep. This includes cleaning it periodically, applying sealants when needed, and making repairs as necessary. With proper maintenance, you can enjoy your white pergola for many years to come.
Useful Video: Top 200 Backyard Patio Design Ideas 2023 | Garden Landscaping ideas Rooftop Wooden Pergola design
Conclusion
When it comes to white pergola ideas, there are endless possibilities. White pergolas can be used to create a romantic, tranquil atmosphere or an inviting gathering space for entertaining. They can also add visual interest and contrast to outdoor spaces and provide a functional shade option. No matter what design style you're going for, there's sure to be a white pergola that will suit your needs. With some careful planning, you can create an outdoor space that is both beautiful and practical.
---
References:
https://www.decorpad.com/search/white-pergola
https://www.goodhousekeeping.com/home/decorating-ideas/g43379335/pergola-ideas/
https://azenco-outdoor.com/white-pergola-color/
https://www.wayfair.com/outdoor/sb1/white-pergolas-c1828022-a112164~356100.html