Having a small yard doesn't mean you can't create an amazing garden. With the right planning, materials and creativity, it's possible to make something beautiful out of even the smallest outdoor space! Here are some tips on how to get started with creating a courtyard garden in your own backyard.
Create An Outdoor Living Room
The first step to creating a courtyard garden is to create an outdoor living room. You can do this by adding seating, a coffee table or side table and some cozy blankets. This will give you the perfect place to relax during the day or entertain guests in the evening. Use furniture that fits your style and color palette, such as wrought iron tables and chairs, or classic wood furniture with a modern twist. You can also add plants around the seating area to create an inviting atmosphere. [1]
Add A Cover Overhead
If you have a courtyard garden that's exposed to the elements, it can make spending time in the space difficult. To get around this problem and make your courtyard more enjoyable, consider adding an overhead cover like a canopy or gazebo. It will provide shade from sunlight and keep most of the rain away, which will make your garden much more inviting.
The cover can be made from different materials, like wood or metal, and it can feature a retractable roof if you want the ability to open up the area when the weather is nice. You don't need a lot of space for an overhead cover either; even small courtyards can accommodate one. [1]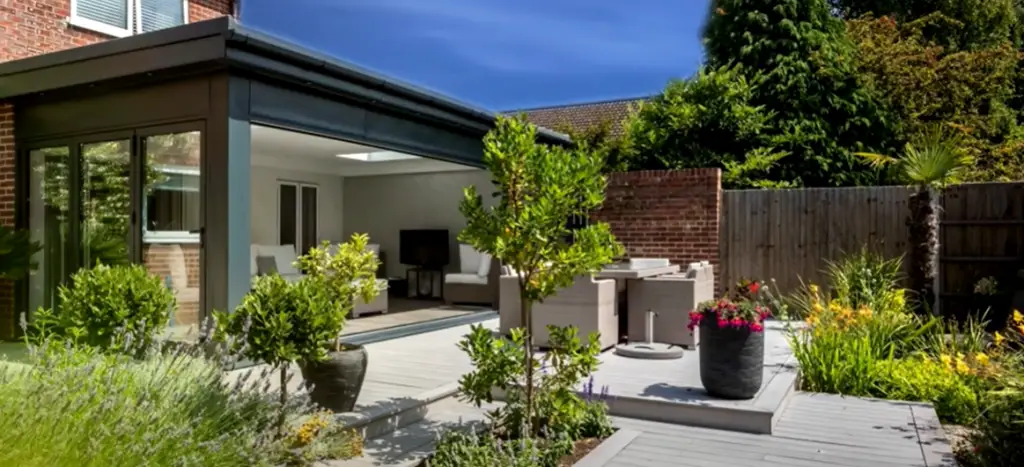 Set The Scene For A Film Night With Friends
If you have a small outdoor area, you don't need to be limited when it comes to entertaining. A unique idea for your courtyard garden is setting up a makeshift outdoor cinema with your friends! You can make the most of limited space by finding some comfortable seating and putting up a projector screen or even just hanging up a white sheet on the wall. Add some cushions and blankets to make it even more comfortable, and you've got a space for a movie night that can be enjoyed in your very own backyard. You could also bring out some snacks or BBQ treats to really give the night a special feel. With the right decorations, this could become a regular event for you and your friends. [1]
Slot In A Sofa
Creating a comfortable and inviting area in a small yard can seem tricky. However, this doesn't mean it's not achievable: you just need to be creative with the space you have! One clever solution is to slot a sofa or armchair into one corner of the yard, surrounded by plants and foliage. This will instantly create an oasis of calm and a place for you to sit and relax. If your yard is particularly small, why not consider an outdoor day bed or hanging chair? These items don't take up much space but will add comfort and character to your garden. To create a cozy feel in the evening, string up some fairy lights or set out some lanterns – this will create a wonderfully atmospheric setting for summer evenings. [1]
Fill With Vintage Features For An Eclectic Vibe
Are you looking for a unique way to spruce up your small courtyard garden? Vintage accessories can add an eclectic touch, creating a stylish space that's full of character. Furniture such as bistro sets, rocking chairs or benches give the area a certain charm and are perfect for enjoying an evening with friends. Plant boxes make great use of vertical space, while planters on wheels can be moved to different areas of the garden with ease. A vintage fountain or birdbath will add a splash of color and sound to the area, creating an inviting atmosphere. Hang up fairy lights for a magical vibe, and accessorize with antique pieces such as candelabras or statues for a truly special look. With the right vintage elements, your small courtyard garden can be transformed into an exciting outdoor space. [1]
Keep Things Toasty With A Fire Pit
Fire pits are a great way to bring warmth and ambience to your small courtyard garden. Not only do they provide light and heat, but they also create an inviting setting for entertaining friends or enjoying some alone time. There are many styles of fire pit that you can choose from, such as portable metal ones that you can move around the yard or gas-powered fire pits that will give off more heat. If you choose to go with a wood burning pit, make sure it's placed in an area where there is no risk of sparks igniting nearby plants or combustible materials. Once you have the perfect spot for your fire pit, you can start thinking about seating options and accessories. Adirondack chairs make an inviting place to sit, while a few outdoor cushions can provide extra comfort. If you're feeling adventurous, consider adding a chiminea or fire bowl for roasting marshmallows or hot dogs on warm summer nights! [1]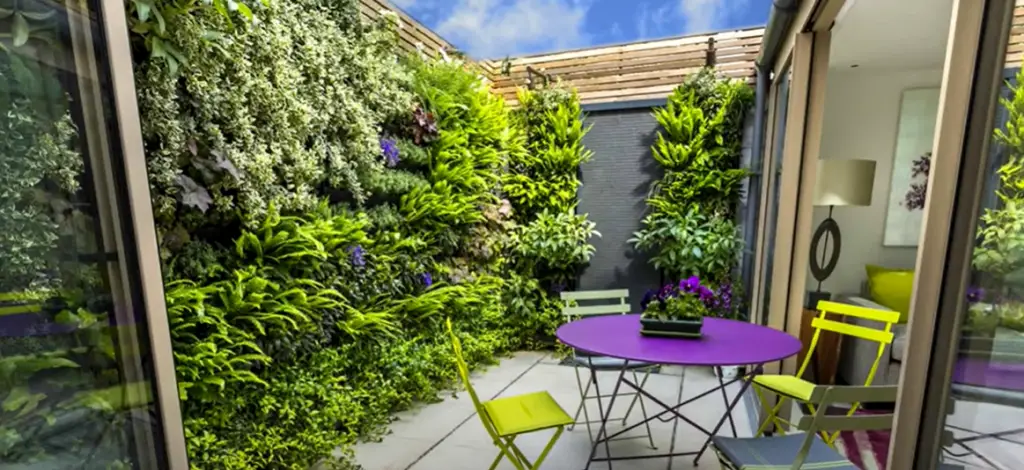 Add Extra Interest With An Outdoor Rug
Adding an outdoor rug to your small courtyard garden adds visual interest and texture, while also anchoring the seating area. Plus, if you choose a contrasting color palette, it helps define separate areas so that your space looks larger than it really is. Choose a rug made of durable materials such as synthetic fibers which can stand up to weathering better than natural fibers. For added protection, you can also spray it with a water-repellant to ensure it lasts a long time.
Also consider adding some plants or potted trees around the perimeter of the rug for extra texture and interest. This will help add height to your garden space, as well as be visually appealing. Finally, large outdoor cushions can be placed on top of the rug to create a cozy and inviting seating area for you and your guests. [1]
Use Statement Planting For Dramatic Effect
Adding a few statement plants to your small courtyard garden can really bring it to life. Select plants that add drama or interest, such as a tall slender tree with weeping branches, a decorative grass or an architectural palm. Place larger plants at the back of the bed and smaller ones in front for the best effect.
Finally, remember that if you use a statement plant with an architectural form, such as a palm or a standard bay tree, you will need to prune it regularly to maintain its shape.  This can seem daunting for a novice gardener, so make sure you research the correct technique for your chosen plant and have protection from thorns or any other hazards when working near the plant. [1]
Hoose Multi-Tasking Pieces
When you have limited space, it is important to choose furniture that serves more than one purpose. For instance, opt for a bench with storage underneath or a table which can be used as seating. Additionally, look for pieces that are lightweight and can easily be moved around the garden when needed. This will help create flexibility in your outdoor space and give you the ability to rearrange it when needed.
Similarly, look for décor and accessories that can be multi-tasked. For example, you could use a ladder as a small bookshelf or hang planters from old pallets. Another great idea is using an old window frame as a trellis for vines. Have fun with it and be creative! [1]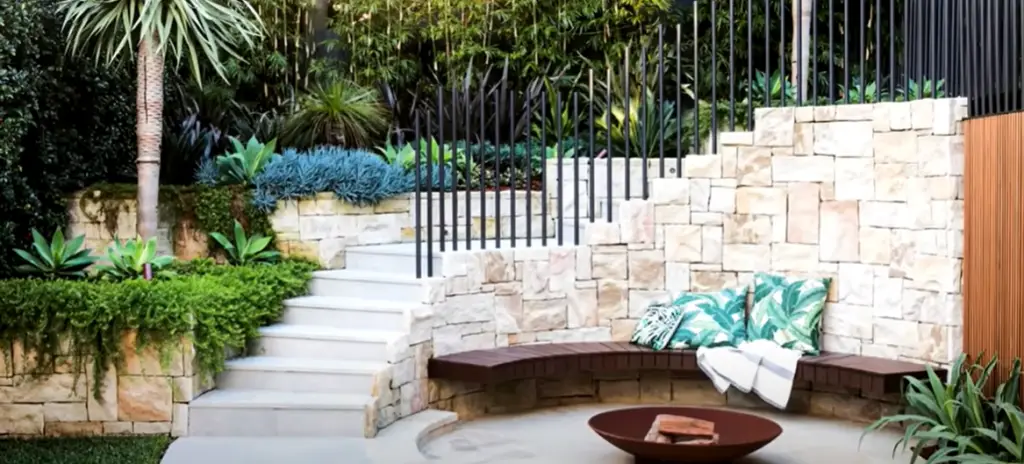 Revamp Your Furniture
If you're looking to make your small courtyard garden look larger, then revamping the furniture is a great way to do so. Choose pieces that are light and airy, like wicker or wrought iron chairs, as these materials won't take up too much space. Alternatively, go for lounge seating with deep padded cushions – this will create a comfy atmosphere, perfect for relaxation in your garden.
When it comes to tables, opt for glass-topped or acrylic designs. Not only do they look modern and stylish, but they won't be as bulky as wooden furniture pieces. And if you want to spruce up the overall look of your courtyard, try adding some colorful accent cushions or blankets to your furniture.
Finally, adding a few accessories like bird feeders and lanterns can take your small courtyard garden up a notch. Not only are these pieces aesthetically pleasing, but they'll also provide birds with an inviting place to visit – bringing nature right into your yard! [1]
Choose Quirky Accessories
Adding some quirky accessories to your small courtyard will make it look unique and inviting. Think of something like a garden gnome, wind chimes or an outdoor art sculpture that reflects your personal style. It doesn't have to be expensive – you can find lots of interesting pieces at flea markets and second-hand stores. If space is limited, you can hang a few pieces on the wall or fence to create an eye-catching display. You could even make your own accessories – like a mosaic stepping stone or a hanging planter made from recycled materials. Have fun with it and let your creativity shine! [1]
Add A Level
Adding a level change to your small courtyard garden is an effective way to create the illusion of space and depth. Step, terrace, or slope the ground at different levels to divide the area into distinct zones. Plant taller shrubs around the edges to block views of neighboring yards and add a sense of privacy. Consider adding some structural elements like built-in benches or stone steps to bring a contemporary look. [1]
Keep Planting Simple
Creating a nice looking courtyard garden doesn't have to take a lot of effort. In fact, the less you try and cram into it, the more impressive your yard will look. Think about how much area you've got to work with, then focus on choosing plants that fit nicely within that limited space. Choose the right number of plants so that the whole courtyard looks well balanced. 
You can also use landscaping features to create visual interest, such as adding a small water feature or installing some stepping stones. These will help break up the area, giving your yard dimension and making it look larger than it actually is. [1]
Limit Your Colors
When you're dealing with a small space, it's important to limit your color palette. Choose between two and three colors for an elegant, cohesive look. Too many different hues can make the garden seem disjointed or overwhelming. Stick to one bright accent color and blend in neutrals like whites and grays for a softer feel. To anchor the area, use larger pieces in darker shades. This will create a point without feeling too cramped or cluttered. [1]
Squeeze In An Outdoor Bar
You don't need a large patio area to add an outdoor bar. If you have the space, adding a bar can be a great way to entertain guests, relax after work and make the most of your small courtyard garden ideas. This type of set up does not have to take up too much room – just enough for a couple of bar stools and a few shelves behind them. Look for outdoor bars that are made to be weatherproof in order to ensure they last while you enjoy the outdoors. If there is no room for an actual bar, consider adding a small table and chairs or even just some comfortable seating with a side table for drinks nearby. [1]
Use Reflections To Create An Illusion
One great tip for small courtyard gardens is to use reflections to create an illusion of space. Mirrors, water features, and even polished metal and glass can all be used to reflect light and give the impression of a larger area. Not only will this add visual interest to your garden, it also gives you a practical way to work with a limited space. [1]
Go For A Luxe Look
When you have a small courtyard garden, it's easy to go for a luxe look with minimal effort. Think of the kind of luxury hotel gardens you might find. Large terracotta planters filled with olive trees, columns covered in ivy and lush climbing flowers, elegant water features and other elements that add an extra layer of sophistication to the space.
Although it's important not to go overboard and clutter up your courtyard garden, there are plenty of luxe elements that can be introduced without taking up too much room. For example, if you're looking for a feature wall, try using vertical trellises with plants growing through them, or large mirrors that reflect the light and add some sparkle. [1]
Decorate The Walls
One of the best ways to make a small courtyard garden appear larger and more inviting is to decorate the walls. If possible, opt for trellises or hanging baskets filled with colorful blossoms, or add vertical planters that can be hung from the wall. This will create extra height and give your garden some extra personality! Additionally, you can add small sculptures, lights or mirrors that will help to create the illusion of more space. Don't forget to hang a birdhouse too – it's sure to attract wildlife and make your garden even more inviting! [1]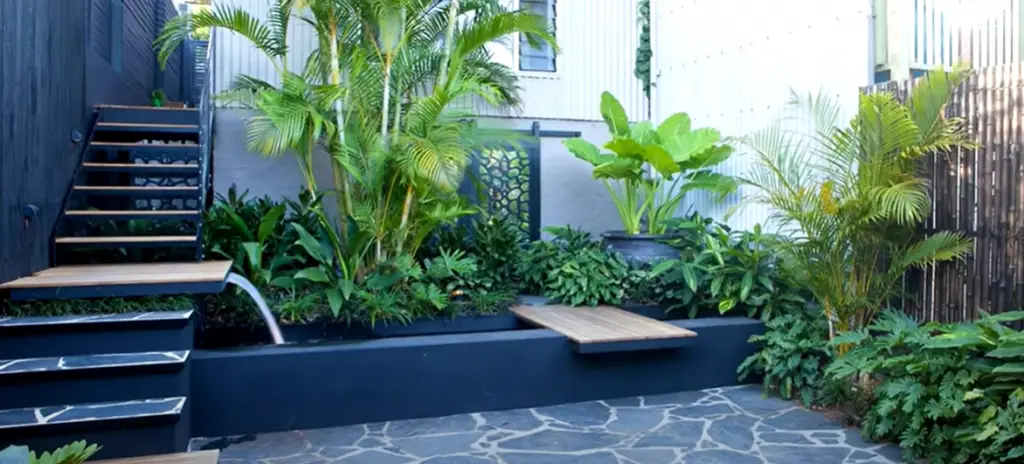 Lounge In Style
When you have a small courtyard, it's important to make the most of your outdoor space. Incorporate some comfy seating into your design and create a cozy lounge area for you to enjoy. Add in some colorful cushions and cozy throws for added comfort and warmth. If you have enough room, add in a fire pit or small BBQ grill to create the perfect atmosphere for a gathering or simply relaxing after a long day.
Creating the perfect outdoor lounge space in your courtyard will help you make the most of your small outdoor space and give you a place to relax with family and friends. [1]
Zone Your Space
To make the most of your small courtyard garden, it is important to think about how you can divide the space into different areas. For instance, create a seating area for relaxing and entertaining with comfortable furniture such as hammocks or armchairs. You could also add an outdoor dining table and chairs if you have enough space. If you want to grow plants or vegetables, consider creating a small raised bed in an area that gets plenty of sunlight. If you want to add some decoration and character to your courtyard, you could use pots and planters with trailing plants such as ivy around them. This will help bring the outdoors in and give your outdoor space a more homely feel. [1]
Set The Mood With Lights
One of the best small courtyard garden ideas is to set the mood with lights. You can use fairy lights, solar-powered lamps, or even some creative DIY projects to decorate your space. Lights can help create a cozy and inviting atmosphere for you and your guests in any size yard. Try using uplighting to bring attention to trees or shrubs. String lights can be hung around the perimeter of your yard or from an arbor, gazebo, or pergola. Lights also can draw attention to features you want to highlight in your courtyard garden design. For a truly magical evening, hang some twinkle lights or festoon lighting between trees and plants for a soft glow. [1]
And Relax
Once your garden design is complete and you've enjoyed watching it come to life, there's nothing quite like sitting back and enjoying the fruits of your labor. The beauty of small courtyard gardens is that since they are so contained and easy to manage, you won't have to spend too much time tending to them. This means you can take the time to relax and enjoy your garden in peace. To make the most of your outdoor space, here are some ideas for how to turn your courtyard into a relaxation haven:
Create a cozy seating area with comfortable cushions, throws, and pillows – ideal for snuggling up with a cup of coffee and a good book.
Add in some mood lighting for the evenings to turn your courtyard into a magical, atmospheric retreat as the sun goes down.
Consider adding some potted plants that you can move around easily if you're looking for something different – this will give you plenty of options for changing the look of your courtyard with the seasons.
Make sure there's a place to hang up plants to give you some extra green, not just on the ground but up in the air too. [1]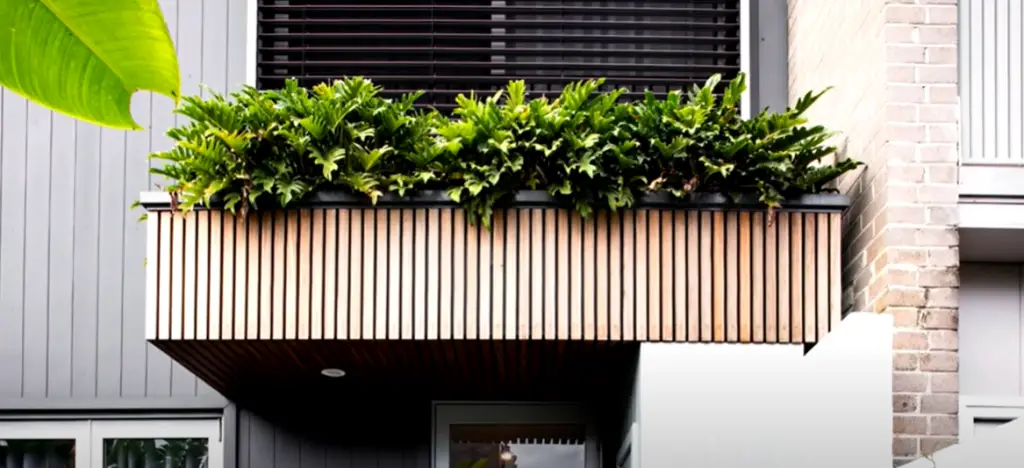 Ore Top Tips For Making A Courtyard Garden Look Good
Creating a beautiful courtyard garden with limited space can feel like an impossible task, but it doesn't have to be! Here are our top tips for making the most of your small outdoor space:
Make use of vertical surfaces – Climbing plants or trellises can be used to add interest and color to a small courtyard garden.
Create multiple "rooms" – By adding different levels, you can create the illusion of more space and make the garden feel larger.
Use bright colors – Brightly colored flowers and plants will instantly create a vibrant atmosphere in your outdoor space.
Choose low-maintenance plants – You don't want to be spending your weekends tending to the garden, so choose low-maintenance varieties.
Utilize all available space – Even if you can't plant directly in the ground, planters and hanging baskets are a great way to use walls or balconies for planting. [1]
What Colors Should You Use In A Courtyard Garden?
Choosing colors for your courtyard garden can make a huge impact on the overall look and feel. Generally, it's best to stick with bright and bold colors that will contrast nicely against the background of brick or stone walls. Think about vibrant hues such as cobalt blue, orange, yellow, and emerald green. Monochromatic color schemes can also be striking. For example, if you use light pastel blues and purples in different shades, they will create a calming atmosphere. Ask yourself how you want to feel when visiting your courtyard garden and then choose colors accordingly. [1]
FAQ
What do you put in a small courtyard?
A small courtyard can be a great place to relax and enjoy the outdoors. Many people opt to fill their small courtyards with lush plants, vibrant flowers, and comfortable seating areas. You may also choose to include a water feature or an outdoor firepit in your design.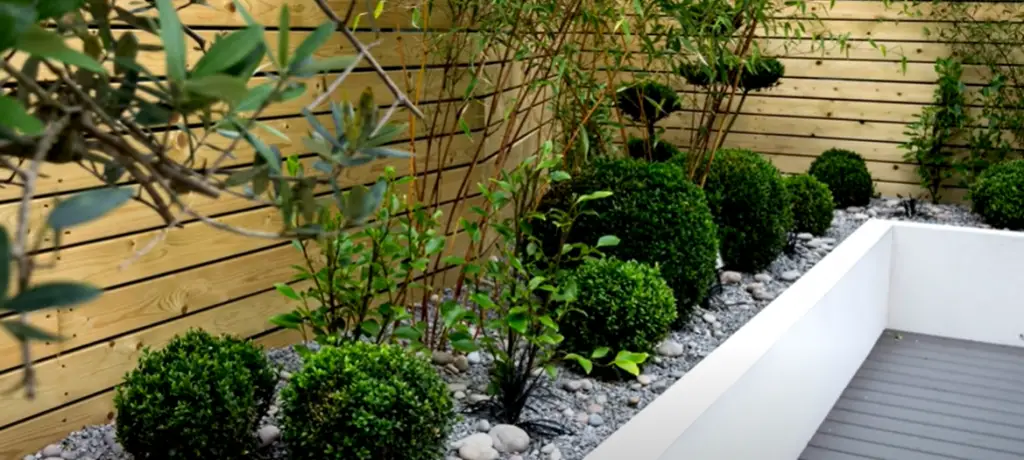 How do you build a small courtyard garden?
Building a small courtyard garden is not as difficult as it may seem. First, plan out the layout and determine how much space you have to work with. Then, create sections of your garden by using raised beds or decorative containers. Finally, choose plants that will thrive in your particular climate and give you the desired look. Be sure to include a variety of colors, textures, and heights for an interesting visual effect. Finally, incorporate comfortable seating and outdoor lighting for a cozy atmosphere.
How to decorate a small outdoor courtyard?
Decorating a small outdoor courtyard can be a fun and creative process. Start by selecting furniture that is comfortable and fits the scale of your yard. Then, add some colorful accents such as pillows, throw blankets, or wall art. You can also create visual interest with strings of lights, hanging plants, and wind chimes. Finally, think about adding a small fountain or water feature to add the sound of soothing running water.
What are the characteristics of a courtyard garden?
A courtyard garden is typically defined by its four walls and enclosed space. This set up allows for a lot of creativity in design, as you can divide the area into different sections or rooms. The main characteristics of a courtyard garden include privacy and protection from the elements, which makes it an ideal spot for relaxation. Additionally, courtyards are a great way to maximize your outdoor space, as even small areas can be transformed into beautiful and inviting places.
What is the difference between a courtyard and a patio?
The main difference between a courtyard and a patio is the type of space they occupy. A courtyard is usually an enclosed area with walls, while patios are generally open-air spaces. Additionally, courtyards often contain gardens or areas for plants, whereas patios will typically just have furniture and decor. Finally, you can use patios for entertaining, while courtyards are more often used as a personal retreat.
What are the disadvantages of courtyard houses?
Although courtyard houses are generally appealing due to their privacy and ability to maximize space, there are a few potential drawbacks. For example, courtyards can quickly become too hot in the summer and not retain enough warmth in the winter. Additionally, courtyards require more upkeep than other types of outdoor spaces due to their enclosed nature. Furthermore, courtyards can limit the amount of natural light that enters the home, and may not be suitable for larger gatherings.
What is the minimum size of a courtyard?
There is no minimum size for a courtyard. Generally, the larger the area, the easier it will be to create more interesting spaces and incorporate different design elements. However, with proper planning and creative use of space, even small courtyards can be transformed into beautiful outdoor retreats.
What should be in a courtyard?
The elements that should be included in a courtyard depend largely on the size and style of the space. Generally, it's best to stick with plants and seating for a cozy atmosphere. If there is room, you may also choose to include an outdoor fireplace or firepit, a water feature, or even an outdoor kitchen. Ultimately, the goal is to create an inviting and comfortable area that reflects your personal style.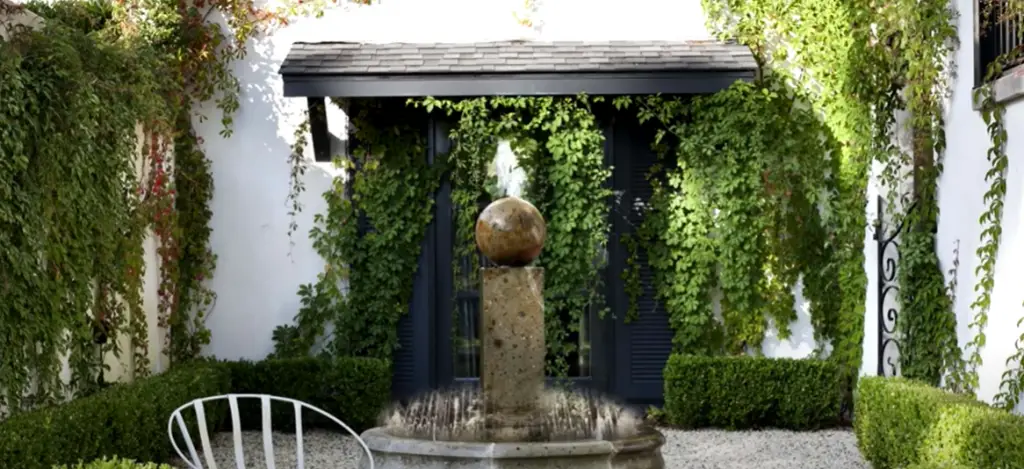 What is the purpose of the courtyard?
The purpose of a courtyard is to create an outdoor area for relaxation and entertainment. Courtyards can also be used to add visual interest to the home, and may even help increase privacy from neighbors or passersby. Additionally, courtyards are a great way to take advantage of small spaces and maximize your outdoor living area. Whatever their purpose, courtyards should be designed to reflect your personal style and create a space that you love spending time in.
Useful Video: 58+ Courtyard Garden Design Ideas
Conclusion
It's possible to bring a lot of beauty and charm to even the tiniest of garden spaces. All it takes is a little bit of creativity and planning. With these small courtyard garden ideas, you can create an outdoor oasis that is both functional and beautiful. Plus, because it's so small, you won't have to worry about keeping up with the maintenance.
Don't be intimidated by your small yard; it's actually a great opportunity to get creative and explore different ideas. Have fun coming up with your own unique design that fits your needs and tastes. With a little bit of effort, you can make a tiny courtyard look like a million bucks!
Good luck as you embark on your small courtyard garden journey!
References:
https://www.gardeningetc.com/design/courtyard-garden-ideas